Hingis stopped short by Clijsters ... again
Martina Hingis expected to reach the quarterfinals of the French Open. However, after taking the court for the third time in as many days, she was no match for No. 2 Kim Clijsters, writes Greg Garber.
Updated:
June 6, 2006, 6:37 PM ET
By
Greg Garber
| ESPN.com
PARIS -- Melanie Molitor schemed shrewdly.
She gave birth to a daughter on Sept. 30, 1980, in Kosice, Slovakia (it was known as Czechoslovakia in those days), and named her Martina, after Martina Navratilova. It was the timing, even more than the name, that would prove critical.
Martina Hingis flowered early and, before the WTA age restrictions came into being, won her first Grand Slam singles title at the age of 16. She arrived just as the great champion Steffi Graf was leaving the scene, and before the Williams sisters began to assert themselves.
In that narrow window, she won five Grand Slam singles titles in a span of nine events. Hingis was not particularly powerful, but the acute angles of her analytical game made her the game's best player from 1997-99. Guile and guts were her signature.
And then, Big Girl Tennis left her irrelevant.
Clijsters vs. Henin-Hardenne
Belgians Justine Henin-Hardenne (the defending champion) and Kim Clijsters (the No. 2 seed) have a long history together, playing each other since they were kids. But their semifinal match is going to come down to who is stronger mentally on the given day and who wants it more.

On clay, Henin-Hardenne's game is a little more complete -- she uses more of the court and the angles. But for me, Clijsters' game is ideal for this surface. She can defend until the very end and hits heavy enough where she can hurt you and open up the court.

But it's going to come down to who can handle the stage because their games are so similar. We'll see if Henin-Hardenne feels the pressure since everyone thinks she's now the one to beat. However, it's a semifinal and not a final, so maybe that will help Clijsters. A lot of components go into this matchup.

-- Mary Joe Fernandez

Hingis made five finals winning her last Slam, the 1999 Australian Open, and lost to, in order, Graf in a comeback at the 1999 French Open, Serena Williams in the 1999 U.S. Open, Lindsay Davenport in the 2000 Australian Open and Jennifer Capriati in the 2001 and 2002 Australian Opens. Simply, they overpowered her.
When Hingis left the game for three years, the Big Girls could no longer touch her, and life was good. When she returned for the 2006 season, they hadn't gone away.
Hingis had a nice little run through the first four rounds here at Roland Garros, disposing of three unseeded players and No. 31 seed Shahar Peer. On Tuesday, however, she ran into Kim Clijsters, who blew her off Court Philippe Chatrier 7-6 (5), 6-1 in a match of only 76 minutes.
The result was the same as it was back in January, when Clijsters ended Hingis' Australian Open, also in the quarterfinals. At least Hingis won a set in that match.
Afterward, Hingis said she was tired after playing two matches that stretched over each of the previous three days.
"I was a little flat," she said. "I was a little tired. I was just a little late. I didn't have the energy I had in the first three matches.
"She's not an opponent you can just walk on the court and think she's going to give it to you. You just have to be full on. If you're not, you're going to lose. That's what happened today."
Clijsters was not impressed with that analysis.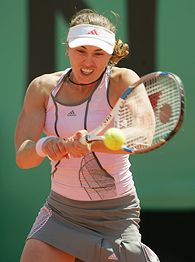 Matthew Stockman/Getty ImagesPlaying for the third time in as many days finally caught up to Martina Hingis Tuesday.
"I played some matches, too," she said. "I can't answer for her. I don't know how she was feeling. If that's what she said, I think that's what you guys should write about."
Clijsters, the No. 2 seed, advanced to the semifinals, where she will play her dogged fellow Belgian, Justine Henin-Hardenne. The No. 5 seed dispatched Anna-Lena Groenefeld 7-5, 6-2.
While Clijsters hits her shots with Roger Clemens-like fire, Hingis is a control-pitcher who hits spots. Think Greg Maddux. For most of the first set, Hingis was able to keep Clijsters' big game marginally under control.
In the tiebreaker, though, two points made the difference. With Hingis serving to level the breaker at 5-all, Clijsters stepped into a short ball and unloaded a sweet backhand winner. Serving for the first set at 6-5, Clijsters ripped a backhand passing shot after luring Hingis to net with a dropshot.
That was pretty much it. Hingis simply didn't have the weapons to hurt Clijsters -- and isn't likely to develop them at this stage of her career.
Still, she said she was encouraged halfway through her first season back.
"I never regret one minute of coming back," Hingis said. "I had some great matches in the last six months. Of course, you have ups and downs, highs and lows, which is normal. Like yesterday, it was one of the happiest days. The next day you go out there and lose, you know, you just kind of have to dig deep and keep going."
Clijsters will keep going, right into the semifinal that will resonate with sentimentality for both. Henin-Hardenne beat Clijsters in the 2003 final here at Roland Garros.
"Justine, for me, is the best clay court player that we have at the moment," Clijsters said. "This is where it started for both of us, in a way. I think now for us to be in a similar situation, the same situation again, has just shown what a great career we both have had."
Greg Garber is a senior writer for ESPN.com.
Writer, Reporter
Greg Garber joined ESPN in 1991 and provides reports for NFL Countdown and SportsCenter. He is also a regular contributor to Outside the Lines and a senior writer for ESPN.com.
SPONSORED HEADLINES
MORE TENNIS HEADLINES
MOST SENT STORIES ON ESPN.COM
Wimbledon
Dates: June 26-July 9
Defending champions: Venus Williams, Roger Federer
Coverage: ESPN2
Time difference: Great Britain is 5 hours ahead of ET

Week 2
• Day 13: Federer wins men's title
• Garber: Federer maintains supremecy
• Sheppard: Nadal No. 2, and closing, on grass
• Notebook: Gilbert deal to coach Murray not official ... yet
• Jensen: Federer learned from French Open

• Day 12: Mauresmo wins women's title
• Garber:Mauresmo keeps nerves in check
• Sheppard: Bryans complete career Grand Slam
• Shriver, Fernandez: Mauresmo held up when it mattered
• Men's final preview: Nadal won't be an easy out
• Day 11: Men's semis
• Garber: Flawless Federer
• Sheppard: Don't write off Nadal on grass
• Notebook: Henin-Hardenne doesn't watch women's tennis
• Day 10: Women's semis | Nadal reaches semifinals
• Garber: Mauresmo breaks through
• Garber: Nadal's transition to grass
• Shriver: Two Grand Slam finals in one
• Navratilova loses final Wimbledon match
• Paul Goldstein blog
• Day 9: Men's quarterfinals
• Garber: Baghdatis awaits Nadal-Nieminen winner
• Garber: Navratilova wants one more title
• Sheppard: Bjorkman wins five-set marathon
• Notebook: Women's semifinal previews
• Nestor-Knowles win longest Grand Slam doubles match in history
• Day 8: Women's quarterfinals
• Garber: Belgians meet for third time in '06
• Garber: Mauresmo at home in Wimbledon
• Hawkins: Sharapova not fazed by streaker, Dementieva
• Notebook: Quarterfinal previews

• Day 7: Men | Women
• Garber: Ancic hopes to end Federer's streak
• Sheppard: State of American tennis
• Notebook: Na Li makes history for Chinese
• Week 1 photo gallery
Week 1