Youngsters step up with breakthrough performances
Seven of the top eight seeds advanced to the French Open quarterfinals. However, a closer look at those who reached the final eight shows a changing of the guard in the women's game.
Updated:
June 5, 2007, 1:55 PM ET
By
Greg Garber
| ESPN.com
PARIS -- With all eyes on the grand dames of this French Open -- at 25, Serena Williams and Justine Henin were the oldest women left in the draw -- a quiet revolution continued on Tuesday.
While Henin advanced to the semifinals, she is joined there by three young and charismatic stars. Ana Ivanovic, 19, defeated Svetlana Kuznetsova 6-0, 3-6, 6-1 to advance to a match with 20-year-old Maria Sharapova, a 6-3, 6-4 winner over Anna Chakvetadze, another 20-year-old Russian.
Jelena Jankovic, 22, defeated Nicole Vaidisova 6-3, 7-5, but the 18-year-old Vaidisova saved four match points in the process.
A year ago, Serbians Jankovic and Ivanovic were ranked No. 32 and No. 21. Today, they are No. 5 and No. 7, respectively. It will be the first Grand Slam singles semifinal for Ivanovic and only the second for Jankovic, who reached the U.S. Open semis last year, only to lose to Henin -- her opponent on Thursday.
This also marks the first time two Serbian women have advanced to the semifinals of a Grand Slam. Novak Djokovic, a 20-year-old Serb, meets Igor Andreev in Wednesday's first men's quarterfinal.
"Wherever you go, it's just Serbians all over the place, winning all these matches," said Jankovic, laughing. "It's just incredible. I'm just proud of that and just, hopefully, we can keep going."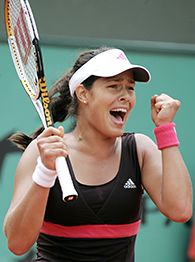 AP Photo/David VincentThe 19-year-old Ivanovic has reached her first, of probably many, Grand Slam semifinals.
Seven of the top eight women's seeds advanced to the quarterfinals, and the one interloper was No. 9 Chakvetadze, who supplanted No. 5 Amelie Mauresmo -- hardly a huge upset. This produced the usual grumbling that women's tennis is too predictable.
But, on second look, the four quarterfinal matches all seemed too close to call with certainty, a refreshing development.
Thirty minutes before the first serve, ESPN analyst Mary Joe Fernandez, a frenzy of pastels, walked into Court Suzanne Lenglen to call the Jankovic-Vaidisova match.
"This is as good as it gets," Fernandez said. "You can't have closer matches. Everyone has always criticized women's tennis for lopsided matches. Well, they're not lopsided any more.
"These youngsters have stepped up. They're playing with confidence and their rankings show it. They've all had their breakthroughs. This is a huge day toward making that next breakthrough."
As it turned out, Ivanovic took the biggest step forward.
She had been the least impressive entering the quarterfinals, defeating Sofia Arvidsson, Sania Mirza, qualifier Ioana Raluca Olaru and Anabel Medina Garrigues to get there. Still, she had beaten Kuznetsova -- the 2004 U.S. Open champion -- three weeks ago in the Berlin final.
That match ended in a third set tiebreaker, but this one almost bordered on psychotic. Ivanovic won the first set at love, dropped the second set and then won the third 6-1. She is a much better player, she said, than the 17-year-old who advanced to the quarters in here first appearance at Roland Garros.
"My fitness [is] a big difference," she said. "And also, a lot of experience because I played so many matches since then. That experience helped me a lot and made me more calm today."
Jankovic continues to be the most successful player on the women's side this year. She has now won 44 of 54 matches. Her speed and relentless retrieving more than neutralized Vaidisova's bigger serve and ground strokes.
WTA Tour Rank
| | | |
| --- | --- | --- |
| | May 29, 2006 | May 28, 2007 |
| Sharapova | 4 | 2 |
| Jankovic | 32 | 5 |
| Ivanovic | 21 | 7 |
| Chakvetadze | 30 | 9 |
| Vaidisova | 16 | 10 |
In the sixth game of the first set, her signature shot -- a pure backhand down the line -- broke Vaidisova's serve and was part of a 10-point run that changed the chemistry of the match. After saving four match points, she dropped a forehand into the net and Jankovic was destined (doomed?) to face Henin, who not only knocked her out of the 2006 U.S. Open but also beat her twice last month on clay, both times in three sets.
Jankovic, despite her recent success, still has a reputation of being something of a head case. She did nothing to dispel that notion in her matches against Henin in Warsaw and Berlin.
"I will focus on my objectives, and whether or not she buckled under pressure, I mean, it doesn't matter," Henin said. "You might think that's an asset for me, the fact that she's psychologically weak, but I don't pay attention to that. I will have to be cautious, in fact."
Roland Garros was the one Grand Slam tournament in which Sharapova had never reached the semifinals -- until Tuesday. After weathering a draining three-set match with Patty Schnyder, she breezed in this one. There was no evidence of a sore right shoulder; her serve actually bailed her out a few times against Chakvetadze.
"I really didn't know what to expect from [the shoulder]," Sharapova said. "I thought it was going to be worse than it was, so after the match, especially, I'm very pleased. But I wouldn't say I'm surprised or shocked by the situation."
Sharapova last played Ivanovic in Tokyo back in February but retired with a hamstring injury trailing 1-6, 1-0.
"She's had some good success this clay-court season," Sharapova said. "It will definitely be a very tough match."
Another potentially explosive, 50-50 match? Parity has finally risen to the top of women's tennis. Enjoy it.
Greg Garber is a senior writer for ESPN.com.
Writer, Reporter
Greg Garber joined ESPN in 1991 and provides reports for NFL Countdown and SportsCenter. He is also a regular contributor to Outside the Lines and a senior writer for ESPN.com.
SPONSORED HEADLINES
MORE TENNIS HEADLINES
MOST SENT STORIES ON ESPN.COM
2007 FRENCH OPEN

May 27-June 10
Defending champions:
Women: Justine Henin
Men: Rafael Nadal
TV schedule
DAY 15
• Nadal wins third straight title
• Garber: Federer's brick wall on terre battue
• DeSimone: Nadal's evolving game
• Nadal's notable notes
DAY 14
• Henin wins third straight title
• DeSimone: Henin's personal journey
• Garber: Third set hard to come by in final
• Top 10 facts about Henin
• Federer-Nadal daily watch
• Making the case for Rafa, Roger
DAY 13
• It's Federer vs. Nadal in French Open final
• Garber: Another record for Roger
• DeSimone: Rafa rolling toward third final
• DeSimone: Ivanovic coach-free for final
• Who will win women's final?
DAY 12
• Women
• DeSimone: Sharapova looking toward Wimbledon
• Garber: Henin puts hammer down
• Notebook: Federer, Nadal one win from clash

DAY 11
• Men
• DeSimone: Nadal has it all going for himself
• Garber: Djokovic well ahead of his years
• Notebook: Serbian opponents await top two seeds
DAY 10
• Women | Men
• Garber: WTA's next generation
• DeSimone: Henin too good for Serena in quarters
• Notebook: Davydenko ends Canas' run
DAY 9
• Men
• Garber: Mallorca's main event: Moya vs. Nadal
• DeSimone: French Open's bracket buster
• Federer-Nadal daily watch
DAY 8
• Men | Women
• Garber: Henin-Serena preview
• DeSimone: Canas continues to "clean" his name
• Notebook: Sharapova survives two match points
2007 FRENCH OPEN
• Week 1 Coverage
• Preview Coverage