French Open champ wins in straight sets ... again
Two-time defending champion Justine Henin had a difficult draw at the French Open. Maybe that's why the final seemed easy, writes Greg Garber.
Updated:
June 10, 2007, 2:13 PM ET
By
Greg Garber
| ESPN.com
PARIS -- The look on Mary Pierce's face was as wooden as the Roland Garros chair that was her vantage point during Saturday's women's championship. As she fanned herself and wiped her brow in the steady sun, you had to wonder if Pierce was having flashbacks.
For she had seen this final before. Indeed, Pierce had lived it
The 2000 French Open champion was the guest of the French Tennis Federation and the choice to present the sterling silver trophy to the winner. For the fourth time in four finals, it was Justine Henin. She bludgeoned 19-year-old Serbian Ana Ivanovic 6-1, 6-2.
Two years ago, Henin ruined Pierce in the final here by a similar 6-1, 6-1 count.
"It's like my garden," Henin said. "I just feel home over here. And I always walk on the court with the goal to give my best and be ready for a tough fight. And if the match is easier than what I could expect for, that's pretty good news."
Henin, 25, has now reached 10 Grand Slam finals. And while she has won only two of six at the other three Grand Slams, she is a flawless 4-0 at Roland Garros. She has lost all of 17 games in those matches, an average score of, say, 6-2, 6-2.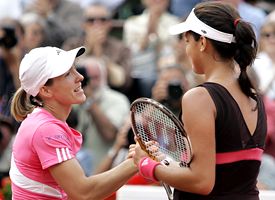 AP Photo/Lionel CironneauJustine Henin, left, has lost a combined total of 17 games in her four French Open final appearances.
Those finals all break down basically the same. Henin outhits, outlasts a bigger, stronger opponent.
In 2003, Henin's first Grand Slam victory, she blitzed Kim Clijsters 6-0, 6-4. After handling Pierce in 2005, she took out Svetlana Kuznetsova 6-4, 6-4 a year ago here. All three opponents had been to Grand Slam finals before, and yet Henin handled them with relative ease.
Henin has now won a record 17 consecutive matches at Roland Garros in straight sets. Not even Chris Evert or Stefi Graf can say that.
For a two-time defending champion, Henin had a difficult draw. Maybe that's why the final seemed easy.
"I was at the draw ceremony and I wasn't very pleased to be playing Serena [Williams] in the quarters. When you look at seven matches, pretty tough names on the road, and you have to build something day after day -- and I did."
And so, the last six finals here, going back to Serena Williams' awkward 7-5, 6-3 victory over sister Venus in 2002, have been two-and-out, straight-sets affairs. After 11 consecutive straight-sets finals at the U.S. Open, that's the second-longest streak in Grand Slams. Previously, there were seven three-set women's finals among the last 10.
Blame Henin, since three of the last four flameouts came courtesy of her.
At the outset, it didn't seem destined to happen. Ivanovic broke Henin's serve, converting the third of three break point opportunities. The teenager's forceful forehand was working and Henin actually double-faulted to give her the game.
Ivanovic, serving big, ran out to a 40-love lead and, suddenly -- eight minutes into the match -- she seemed to realize where she was. Her service toss went haywire and she couldn't hit a flat backhand to save her life.
Henin won the next eight games. In finals here, she has that effect on people.
"She's been there before," Ivanovic said. "So she knew how to deal with the nerves. And for me, that was the first time. I was a little overexcited, and maybe trying to do too much."
Henin said she, too, felt stress -- she just managed it like the champion she is.
"I believe stress is something positive," she said. "It gives you energy. Stress should not inhibit me. It should help me build something. And this is something I was able to change.
"At a certain time in my life, I was blocked by stress. And now I can make something positive out of it. I'm sure the best athletes feel the same way."
Greg Garber is a senior writer for ESPN.com.
Writer, Reporter
Greg Garber joined ESPN in 1991 and provides reports for NFL Countdown and SportsCenter. He is also a regular contributor to Outside the Lines and a senior writer for ESPN.com.
SPONSORED HEADLINES
MORE TENNIS HEADLINES
MOST SENT STORIES ON ESPN.COM
2007 FRENCH OPEN

May 27-June 10
Defending champions:
Women: Justine Henin
Men: Rafael Nadal
TV schedule
DAY 15
• Nadal wins third straight title
• Garber: Federer's brick wall on terre battue
• DeSimone: Nadal's evolving game
• Nadal's notable notes
DAY 14
• Henin wins third straight title
• DeSimone: Henin's personal journey
• Garber: Third set hard to come by in final
• Top 10 facts about Henin
• Federer-Nadal daily watch
• Making the case for Rafa, Roger
DAY 13
• It's Federer vs. Nadal in French Open final
• Garber: Another record for Roger
• DeSimone: Rafa rolling toward third final
• DeSimone: Ivanovic coach-free for final
• Who will win women's final?
DAY 12
• Women
• DeSimone: Sharapova looking toward Wimbledon
• Garber: Henin puts hammer down
• Notebook: Federer, Nadal one win from clash

DAY 11
• Men
• DeSimone: Nadal has it all going for himself
• Garber: Djokovic well ahead of his years
• Notebook: Serbian opponents await top two seeds
DAY 10
• Women | Men
• Garber: WTA's next generation
• DeSimone: Henin too good for Serena in quarters
• Notebook: Davydenko ends Canas' run
DAY 9
• Men
• Garber: Mallorca's main event: Moya vs. Nadal
• DeSimone: French Open's bracket buster
• Federer-Nadal daily watch
DAY 8
• Men | Women
• Garber: Henin-Serena preview
• DeSimone: Canas continues to "clean" his name
• Notebook: Sharapova survives two match points
2007 FRENCH OPEN
• Week 1 Coverage
• Preview Coverage