Henin, Jankovic, Ivanovic, Sharapova in French semifinals
Updated:
June 5, 2007, 10:18 PM ET
Associated Press
PARIS -- Befuddled all match, Serena Williams reacted to one flubbed backhand by spiking her racket to the court, drawing full-throated boos from spectators.
It was as spirited as Williams -- or the crowd -- got during her lopsided French Open quarterfinal loss to No. 1 Justine Henin, the one moment Tuesday when the last U.S. singles player in the tournament truly appeared to want to turn things around.
Too many mistakes and too little fight followed from Williams, though, and Henin beat her 6-4, 6-3 to close in on a third straight title at Roland Garros. This meeting bore no resemblance to their infamous 2003 French Open semifinal, a three-set tussle that featured far more drama, acrimony and, well, competitive tennis.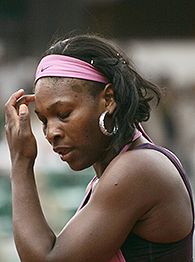 AP Photo/Lionel CironneauSerena Williams was the last American standing in either singles draw at Roland Garros.
"All she had to do was show up," said Williams, who won the Australian Open in January for her eighth major championship. "I thought that she did well, but I've played against her when she's played even better."
Told of those comments, Henin took the high road.
"Well, it's her opinion," the Belgian said. "I thought I did a good job. I see it from my point of view, and I did everything I could to control the match."
She certainly did, and in the process extended her record streak to 31 consecutive sets won at the French Open.
In the women's semifinals Thursday, Henin will face No. 4 Jelena Jankovic of Serbia, who defeated No. 6 Nicole Vaidisova of the Czech Republic 6-3, 7-5. The other women's semifinal pits No. 2 Maria Sharapova against No. 7 Ana Ivanovic of Serbia.
Henin is trying to win her sixth Grand Slam and fourth French Open title; the other women never have been to the final four at the clay-court major.
Justine Henin vs. Serena Williams
Head-to-head matches on clay

| | | |
| --- | --- | --- |
| Event | Winner | Score |
| '07 French | Henin | 6-4, 6-3 |
| '03 French | Henin | 6-2, 4-6, 7-5 |
| '03 Charleston | Henin | 6-3, 6-4 |
| '02 Rome | Williams | 7-6 (6), 6-4 |
| '02 Berlin | Henin | 6-2, 1-6, 7-6 (5) |
"I didn't come off the court and go, 'Wow, I'm in the semifinals.' That wasn't really the feeling that I had," said Sharapova, who needed rest and a cortisone shot for her injured right shoulder before coming to Paris. "In any tournament that I play -- whether it's on clay or mud or whatever it is -- I know what I'm capable of."
She beat No. 9 Anna Chakvetadze of Russia 6-3, 6-4, while Ivanovic got past No. 3 Svetlana Kuznetsova, last year's runner-up, 6-0, 3-6, 6-1.
Ivanovic dumped a backhand into the net on the very first point, then won 25 of the next 32 points, prompting this postmatch analysis: "I would say I was pretty good."
Kuznetsova, who won the 2004 U.S. Open, made things more interesting until aggravating an abdominal muscle injury while serving in the second set's final game. Ivanovic took 15 of the last 16 points.
"Everything was happening really fast," Ivanovic said, "and I didn't have time to think much."

Nothing worked today. Sometimes you just have days like that. ... All she had to do was show up.
Serena Williams
Williams didn't seem to think Henin's play had much to do with the way things went in their match, played on the same court four years to the day after their last French Open showdown. Back in 2003, Williams was No. 1 and owner of a 33-match Grand Slam winning streak. Nowadays, it's Henin who tops the rankings and owns Roland Garros.
That other match featured a flap over whether Henin tried to call time, and Williams also fired up the crowd by arguing line calls. Williams lost, was jeered off the court, then teared up while talking about the rough experience.
Once again, there was more support in the stands for the French-speaking Henin, and several black-yellow-and-red Belgian flags flapped in the wind. But the only time the fans really gave Williams a hard time was when she treated her racket like a football.
Her outburst came when she executed a sliced backhand so badly the ball bounced before it got to the net, allowing Henin to break in the second set's opening game. Williams then won 10 of the next 12 points to go up 2-1.
But serving at 2-2, 40-15, Williams fell apart, making errors on five of the next six points to get broken again.
"I never play like that," she said. "Sometimes you've got to just step back and say, 'OK, try this, try that, or try Plan B.' But I think my Plan B was to make errors."
It didn't help that Henin determined the tempo of rallies, switching speeds and angles at will, something Williams referred to as "her little tactics."
Henin used those tactics to wrap things up in a hurry, taking eight of the final nine points.
"She didn't look very aggressive," Henin said. "So I just understood, if I was mentally and emotionally under control today, I was going to win this match."

Copyright 2007 by The Associated Press
SPONSORED HEADLINES
MORE TENNIS HEADLINES
MOST SENT STORIES ON ESPN.COM
2007 FRENCH OPEN

May 27-June 10
Defending champions:
Women: Justine Henin
Men: Rafael Nadal
TV schedule
DAY 15
• Nadal wins third straight title
• Garber: Federer's brick wall on terre battue
• DeSimone: Nadal's evolving game
• Nadal's notable notes
DAY 14
• Henin wins third straight title
• DeSimone: Henin's personal journey
• Garber: Third set hard to come by in final
• Top 10 facts about Henin
• Federer-Nadal daily watch
• Making the case for Rafa, Roger
DAY 13
• It's Federer vs. Nadal in French Open final
• Garber: Another record for Roger
• DeSimone: Rafa rolling toward third final
• DeSimone: Ivanovic coach-free for final
• Who will win women's final?
DAY 12
• Women
• DeSimone: Sharapova looking toward Wimbledon
• Garber: Henin puts hammer down
• Notebook: Federer, Nadal one win from clash

DAY 11
• Men
• DeSimone: Nadal has it all going for himself
• Garber: Djokovic well ahead of his years
• Notebook: Serbian opponents await top two seeds
DAY 10
• Women | Men
• Garber: WTA's next generation
• DeSimone: Henin too good for Serena in quarters
• Notebook: Davydenko ends Canas' run
DAY 9
• Men
• Garber: Mallorca's main event: Moya vs. Nadal
• DeSimone: French Open's bracket buster
• Federer-Nadal daily watch
DAY 8
• Men | Women
• Garber: Henin-Serena preview
• DeSimone: Canas continues to "clean" his name
• Notebook: Sharapova survives two match points
2007 FRENCH OPEN
• Week 1 Coverage
• Preview Coverage