Facts and stats from Nadal's three-peat
Rafael Nadal added a third straight French Open title to his trophy case and notched up a few more notable stats along the way.
Updated:
June 10, 2007, 11:47 PM ET
By
Keith Hawkins
and
Matt Wilansky
| ESPN.com
He didn't become the first player since Bjorn Borg in 1980 to win the French Open without dropping a set, but Rafael Nadal did just about everything else on Sunday.
The 21-year-old Spaniard won his third straight French Open crown, and for the second consecutive year, he beat top-seeded Roger Federer in four sets.
What else did Rafa accomplish in the final? Here's a look at the most notable statistics from his three-peat performance at Roland Garros.
0 -- Losses in 34 career clay-court matches that Nadal has played which were a best-of-five format.
1 -- Clay-court match lost this season (26-1).
2 -- Number of players since 1925 who have won the French Open at least three years in a row. Nadal joins Bjorn Borg, who won the French four consecutive years from 1978 to 1981.
3 -- Losses by Roger Federer in his Past nine Grand Slam events. They have all come at Roland Garros and each time Federer lost to Nadal in four sets -- 2005 semifinals and 2006-07 finals.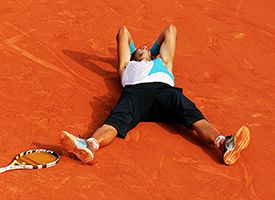 Clive Rose/Getty ImagesRafael Nadal has lost just three sets in his three career wins against Federer at the French Open.
4 -- Total sets lost by Nadal at the French Open in the past two years.
5 -- Titles in 2007, most on the ATP Tour.
6 -- Years it has been since the No. 1 seed won the French Open. (In 2001, top-seeded Gustavo Kuerten beat Alex Corretja.)
7 -- Number of men who have won three or more French Open titles: Bjorn Borg (6), Henri Cochet (4), Nadal, Gustavo Kuerten, Mats Wilander, Ivan Lendl and Rene Lacoste (3 each).
8 -- Career wins against Federer. Nadal is 8-4 against the world's No. 1 player, including 6-1 on clay.
9 -- Nadal and Federer have combined to win the past nine Grand Slam titles. The last player not named Nadal or Federer to win a major was Marat Safin, who won the 2005 Australian Open.
10 -- Break points faced -- and saved -- by Nadal in the first set of the final.
ESPN.com news services contributed to this report.
Tennis editor
ESPN Tennis Editor
Joined ESPN in 1998
2007 FRENCH OPEN

May 27-June 10
Defending champions:
Women: Justine Henin
Men: Rafael Nadal
TV schedule
DAY 15
• Nadal wins third straight title
• Garber: Federer's brick wall on terre battue
• DeSimone: Nadal's evolving game
• Nadal's notable notes
DAY 14
• Henin wins third straight title
• DeSimone: Henin's personal journey
• Garber: Third set hard to come by in final
• Top 10 facts about Henin
• Federer-Nadal daily watch
• Making the case for Rafa, Roger
DAY 13
• It's Federer vs. Nadal in French Open final
• Garber: Another record for Roger
• DeSimone: Rafa rolling toward third final
• DeSimone: Ivanovic coach-free for final
• Who will win women's final?
DAY 12
• Women
• DeSimone: Sharapova looking toward Wimbledon
• Garber: Henin puts hammer down
• Notebook: Federer, Nadal one win from clash

DAY 11
• Men
• DeSimone: Nadal has it all going for himself
• Garber: Djokovic well ahead of his years
• Notebook: Serbian opponents await top two seeds
DAY 10
• Women | Men
• Garber: WTA's next generation
• DeSimone: Henin too good for Serena in quarters
• Notebook: Davydenko ends Canas' run
DAY 9
• Men
• Garber: Mallorca's main event: Moya vs. Nadal
• DeSimone: French Open's bracket buster
• Federer-Nadal daily watch
DAY 8
• Men | Women
• Garber: Henin-Serena preview
• DeSimone: Canas continues to "clean" his name
• Notebook: Sharapova survives two match points
2007 FRENCH OPEN
• Week 1 Coverage
• Preview Coverage