Commentary
Nadal passes the Djoker test with flying colors
Rafael Nadal was in full throttle, taking the life out of Novak Djokovic in their semifinal showdown at the French Open on Friday. If there were any doubts how the Spaniard would react to his first true test, those all have been dispelled.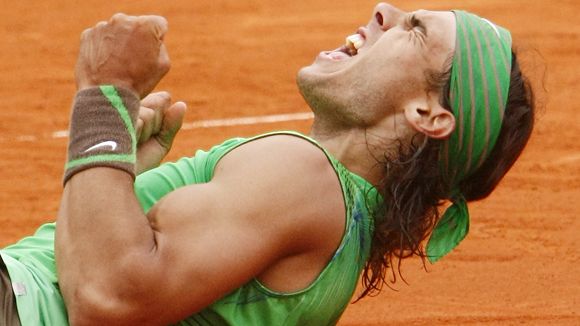 AP Photo/Michel SpinglerFor the second straight year, Rafael Nadal enters the French Open final without having dropped a set.
PARIS -- After the most anticipated match of the French Open fizzled into predictability like the elongated hiss of the air escaping a newly opened can of tennis balls, a clearly glowing Rafael Nadal was asked to recall the last time he'd been nervous -- really nervous -- on the center court where he's undefeated.
Nadal, always the people pleaser, vigorously scratched his head and scrunched up his face in deep thought. You could see him rifling through snapshots in his mind, rejecting one after another. The long pause said more than a thousand words, but Nadal did come up with an answer. He cited matches against two French players,
Paul-Henri Mathieu
and
Sebastien Grosjean
, in 2006 and 2005 respectively. Nadal lost a set in each and had to contend with raucous crowds as well. "No more times, I think," he said.
Novak Djokovic
, who lost to Nadal 6-4, 6-2, 7-6 (3) Friday, didn't make the list. Notably, neither did
Roger Federer
, who will try to roll the boulder uphill against Nadal in Sunday's final for the third year in a row. Coming into this tournament, Djokovic was thought by many to be among the few players to have a chance to make Nadal sweat a bit, to pick the lock and swipe the No. 2 ranking he's held since July 2005. But that hope faded as Nadal rampaged through the bracket without losing a set, gaining momentum as he went.
Friday he mercilessly extinguished it.
"I expected a lot from this match, of course," a downcast Djokovic said afterward. "I wasn't performing the tennis that I usually can perform, and I think I can do better." Still, if you have to lose badly in a Grand Slam semifinal, this is the one in which people might cut you the most slack. This court is Nadal's casa. He doesn't just inhabit it, he possesses it, and that is worth much more than nine points of the law in tennis. Just as Federer has the princely prerogative to admire his own prowess in postmatch comments, Nadal is completely within his rights to say that his grip on the first two sets was "almost perfect" and to add that it would be difficult for him to do any better. For a while it looked as if the only factor that would push the match much beyond the two-hour mark was the deliberate service routine that is the indulgence of both men. But taking time didn't help Djokovic, whose first-serve percentage averaged an abysmal 45 percent through the first two sets. Meanwhile, in the upper deck, spectators marveled at Nadal's spins and slices, which from above resembled a schematic of a Cold War-era strategic missile defense system. "[Expletive],
quelle balle!
[What a shot!]" echoed around the seats. Nadal was conservative, for him, in choosing his spots, waiting for Djokovic to make the first misstep in long rallies. Leading 3-0 in the third set, Nadal perhaps understandably lost some focus. He said he was thinking ahead about wind direction, a heavy handicap on one end of the court. Djokovic wasn't quite beaten into submission and shouldered into the narrow opening by finding his misplaced serve and going full-throttle on his groundstrokes.
[+] Enlarge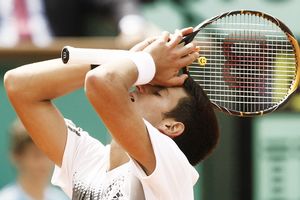 AP Photo/Michel SpinglerDjokovic lost to Nadal for the second straight year in the French Open semifinals.
He broke Nadal twice and had a set point on Nadal's serve at 6-5, but the triple defending champion struck an inside-out forehand he described as "tough but safe." "It was tough mentally, because you have the match totally under control, and for some moment you see the match is complicated," Nadal observed of Djokovic's comeback, but it's a measure of the aura he feels here that he was able to remain calm. "If he wants to beat me, he has to play two more sets like this, no?" Nadal said, arching one eyebrow. The applause for Djokovic was sustained and warm as he walked off the court, but it wasn't a pity party. Everyone watching knows that these two men will meet again here, and that Djokovic never will concede a point before it happens. Furthermore, this marks the fifth time in a big event this year that Federer, Nadal and Djokovic have all made the semifinals, and it won't be the last. Djokovic, like any good athlete, was happy to bring up the next major. "I have no reason not to expect any big results, so I look forward to it," he said of Wimbledon. Three horses now loom bigger than the others on the carousel, and at any given moment, each of them can generate enough centrifugal force to send the other two packing. Except for here. Tough but safe probably sums up Nadal's campaign for his fourth straight championship as well.
Bonnie D. Ford covers tennis and Olympic sports for ESPN.com. She can be reached at bonniedford@aol.com.
Enterprise and Olympic Sports
Bonnie D. Ford is a senior writer for ESPN.com.
SPONSORED HEADLINES
MORE TENNIS HEADLINES
MOST SENT STORIES ON ESPN.COM
2008 FRENCH OPEN
May 25-June 8
Defending champions:
Women: Justine Henin
Men: Rafael Nadal

Day 15
•
Men
•
Ford: Nadal simply too good against Federer
•
Garber: Federer resolute in confidence, ability
•
Harwitt: Rafael Nadal the best clay-courter ever?
•
Photo gallery: Best of Week 2 from Paris
•
Ubha: French Open men's final instant analysis
Day 14
•
Women
•
South Americans take men's doubles
•
Garber: Maturation, confidence help Ivanovic
•
Ford: Zen-like calm elevating Ivanovic
•
Harwitt: Can Ivanovic hang on to No. 1 ranking?
•
Ubha: French Open women's final instant analysis
Day 13
•
Men
•
Bob Bryan, Azarenka win French mixed doubles
•
Garber: Federer in need of a monumental effort
•
Ford: Nadal handles Djokovic with relative ease
•
Harwitt: Borg spends birthday extolling Nadal
•
Who will win the French Open women's final?
Day 12
•
Women
•
Garber: Ivanovic, Safina set to duke it out
•
Ivanovic to take over No. 1 ranking
•
Ford: Djokovic ready to reshuffle world order
•
Latest Dirt: Men's semifinal preview
•
The big three: Federer looking past Monfils?
•
Harwitt: Safina's mom has reason to extol virtue
Day 11 • Men | Women
• Latest Dirt: Women's semifinal preview
• The big three: Federer semifinal streak lives on
• Harwitt: Rolling out the red carpet
• Tennis.com: Federer's time right now

Day 10 • Men | Women
• Garber: Serbs thriving because of each other
• Chip and Charge: Assessing the French
• The big three: Nadal-Djokovic ready to battle
• Sharapova to fall from top spot after French Open

Day 9 • Men | Women
• Garber: Sharapova sent packing by Safina
• Latest Dirt: Americans officially done
• Garber: Ranking the sweet 16 players
• The big three: Federer and Gonzo to clash

Day 8 • Men | Women
• Garber: Ferrer worthy of being in top five
• Latest Dirt: Evaluating the top-five players
• The big three: Humdrum day for Nadal, Djokovic
• ITF to probe player's claim she was told to lose
• Ex-French Open winner Pierce hoping for return

See all stories from Week 1