Commentary
Zen-like calm elevating Ivanovic to new heights
Ana Ivanovic has found her safe place. More aware of anxious moments that have overcome her in the past, the new French Open champion has learned to block out the negative.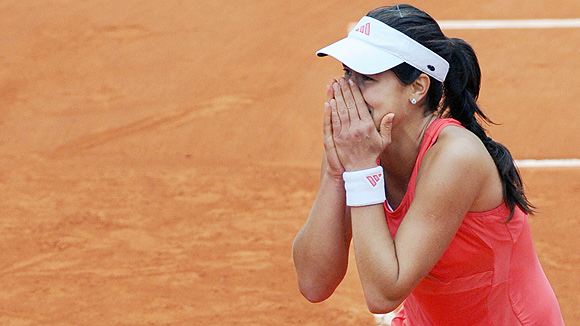 Pierre-Franck Colombier/AFP/Getty ImagesThe only time emotions got the best of Ana Ivanovic was just after converting match point.
PARIS -- If it appeared that Ana Ivanovic was able to maintain a Zen-like calm when it counted during the French Open final, there's a reason for that.
She's breathing.
Sounds simple, but for an intelligent young athlete prone to high emotion on both ends of the spectrum, it has been the last and most difficult challenge in becoming a champion.
Like any discipline, this takes practice. Before Saturday's match, a camera caught Ivanovic in a corridor, dancing delicately around little orange cones to mimic the footwork she would later have to do on court, while her strength and conditioning coach, Australian Scott Byrnes, looked on. Turns out Byrnes has been doing a less visible kind of training as well.
"I was lucky enough to spend a year in a Buddhist monastery on the Sunshine Coast of Australia,'' said Byrnes, who has worked with Ivanovic for almost two years. "Learned some things I've been able to pass along. But that's not the answer. She found that within herself.''
Byrnes has encouraged Ivanovic to meditate, and to tap back into that still, safe place when waves of negative -- or even overly positive -- feelings start to wash over her. She does that by focusing on her breath, listening to it and following it through her body for a few seconds, bringing her needle back to the middle from the red zone.
Ivanovic had lost two Grand Slam finals during the last calendar year -- one here in Paris because she panicked, and another in Melbourne partly because she got ahead of herself.
"It was very tough loss for me, and I had few sleepless nights after that, honestly,'' Ivanovic said. "But, yeah, it's something I learned from. I was again in that final, like in Paris -- it was much better -- but still, I was -- part of me was already thinking about possibly holding a trophy. So this time I really tried to change that and don't think about that at all and just focus on my game.
"And there were some moments where, you know, this thought would still come up, but I managed to control it much better and to be aware of every moment of my game. That's something I'm really, really happy about today's game.''
Later, as she described how happy she was to have kept her cool in the first set when Dinara Safina came back from a double break down, Ivanovic, who tends to speak in torrents anyway, was verbalizing at an even faster pace than usual. She paused and excused herself: "I'm trying to speak slow, but I'm so excited,'' she said.
But a giddy lass can learn to downshift, just as an outwardly sweet, charming person can throttle up to fierceness and block her opponent's exit routes. The more agitated Safina got -- at one point, she refused to serve and muttered angrily because a baby was crying in the stands -- the more grounded Ivanovic seemed to be.
"Every time you go somewhere you've never been before, it's like going to Mars,'' her coach, Sven Groeneveld, said afterward. "Nobody's been there before, because it's your trip and your trip is special. You can come back to earth and take that information and try to digest it and give it some order and learn from it. And she's a great student of the game.
"She didn't seem to be bothered by anything that Dinara was doing, which I found very refreshing to see.''
For the second consecutive year, Groeneveld watched the final from an undisclosed location -- in this instance, the Adidas corporate suite. He's under contract to the sporting goods giant to work with elite players and can't actively coach a player when they're up against another athlete sponsored by the company. In fact, he has spent considerable time with Safina in the past and said she still calls him for advice.
So once again, Ivanovic's story departs from the usual script. As has been so famously chronicled, she played some of her early tennis in an empty swimming pool; now she's willing to dive into the deep end without water wings.
She had people to turn to in the stands, for sure, but in a game where so many women are overly dependent on their coaches, and where parents are not only willing, but eager to share the spotlight, Ivanovic has neither issue. Groeneveld is able to walk her only so far. Her parents have stayed resolutely in the background, declining to give interviews.
"A coach is like a safe harbor you can drive into when the sea is rough,'' said Swiss entrepreneur Dan Holzmann, the man with the foresight to bankroll Ivanovic's training when she was a young teenager. "She did this without her coach sitting up there cheering for her. She's very connected to her team. This wasn't easy, but she did it in two sets and she's pretty much done it herself.''
Perhaps that has conspired to build a player capable of making the difference in a match by inhaling and not waiting to exhale.
Bonnie D. Ford covers tennis and Olympic sports for ESPN.com. She can be reached at bonniedford@aol.com.
Enterprise and Olympic Sports
Bonnie D. Ford is a senior writer for ESPN.com.
2008 FRENCH OPEN
May 25-June 8
Defending champions:
Women: Justine Henin
Men: Rafael Nadal

Day 15
•
Men
•
Ford: Nadal simply too good against Federer
•
Garber: Federer resolute in confidence, ability
•
Harwitt: Rafael Nadal the best clay-courter ever?
•
Photo gallery: Best of Week 2 from Paris
•
Ubha: French Open men's final instant analysis
Day 14
•
Women
•
South Americans take men's doubles
•
Garber: Maturation, confidence help Ivanovic
•
Ford: Zen-like calm elevating Ivanovic
•
Harwitt: Can Ivanovic hang on to No. 1 ranking?
•
Ubha: French Open women's final instant analysis
Day 13
•
Men
•
Bob Bryan, Azarenka win French mixed doubles
•
Garber: Federer in need of a monumental effort
•
Ford: Nadal handles Djokovic with relative ease
•
Harwitt: Borg spends birthday extolling Nadal
•
Who will win the French Open women's final?
Day 12
•
Women
•
Garber: Ivanovic, Safina set to duke it out
•
Ivanovic to take over No. 1 ranking
•
Ford: Djokovic ready to reshuffle world order
•
Latest Dirt: Men's semifinal preview
•
The big three: Federer looking past Monfils?
•
Harwitt: Safina's mom has reason to extol virtue
Day 11 • Men | Women
• Latest Dirt: Women's semifinal preview
• The big three: Federer semifinal streak lives on
• Harwitt: Rolling out the red carpet
• Tennis.com: Federer's time right now

Day 10 • Men | Women
• Garber: Serbs thriving because of each other
• Chip and Charge: Assessing the French
• The big three: Nadal-Djokovic ready to battle
• Sharapova to fall from top spot after French Open

Day 9 • Men | Women
• Garber: Sharapova sent packing by Safina
• Latest Dirt: Americans officially done
• Garber: Ranking the sweet 16 players
• The big three: Federer and Gonzo to clash

Day 8 • Men | Women
• Garber: Ferrer worthy of being in top five
• Latest Dirt: Evaluating the top-five players
• The big three: Humdrum day for Nadal, Djokovic
• ITF to probe player's claim she was told to lose
• Ex-French Open winner Pierce hoping for return

See all stories from Week 1
MOST SENT STORIES ON ESPN.COM