Commentary
Passive-aggressive approach fails to work for Blake
He's always done it his way. But Thursday at the French Open, James Blake's blueprint to temper his game and play more conservatively ended in an all-too-familiar way: clay-court disappointment.
Updated:
May 29, 2008, 1:12 PM ET
By
Greg Garber
| ESPN.com
PARIS -- The iron door to the Court 1 media seats creaked open mid-point, and John Martin of The New York Times stepped through. Scowling, James Blake sauntered to the ad side of the court, just 20 feet away.
"You all set?" he asked sarcastically. "You all right?"
Martin, flustered, did not respond.
Two points later, Blake continued. "You know the changeover is every two games?"
"Sorry, Jim -- uh, James," Martin said, quite sincerely.
[+] Enlarge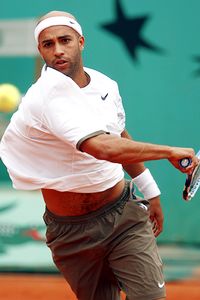 AP Photo/David VincentBlake's more judicious strategy was not the answer, losing a four-set match in the second round at the French.
Clearly, Blake has remarkable peripheral vision. Apparently, his hearing is even more acute.
By now, Blake's all-in game is familiar to tennis fans. He hits the ball flat and hard. At its best, it can be glorious. At its worst … frivolous and infuriating.
Historically, critics have argued for a kinder, gentler game from Blake, suggesting a slightly-less-is-more philosophy would reap greater rewards.
On Thursday, against hard-hitting Latvian teenager Ernests Gulbis, Blake stepped out of character and took a little something off the ball, didn't go for the lines like he usually does. That didn't work, either.
It was Gulbis, ranked No. 80 in the world, who advanced to the third round of the French Open, 7-6 (2), 3-6, 7-5, 6-3. Blake, No. 8, ended another clay season in disappointment.
"He's got really heavy strokes, and he also can be pretty streaky," said Blake, arms crossed and somewhat dour. "So there are times when you feel like you should just get the ball in and he might self-destruct. When you do that, just get the ball in, he's going to hurt you. He did that enough times in big moments, and that's the difference, him going for big shots in the big moments and me maybe not going after it.
"I think I played the way too many commentators think I should play. A lot of people that talk about tennis don't play tennis, and they don't play me. It's funny that today was a perfect example of what not to do in my game."
Indeed, Blake's 29 winners and 16 unforced errors were efficient numbers well below his typical totals. But in the end, it was his unreliable first serve and an inability to deal with Gulbis' clever drop shots (there were a dozen) that did him in. That, and a blown forehand volley that would have erased a critical break point in the fourth set.
And so, the education of James Riley Blake continues. He is 28, old by the standards of professional tennis, but for better or worse, he always has done it his way.
He has dazzling athletic skills. He still is one of the fastest players in the game and has a big serve and forehand that carried him to a career-high ATP ranking of No. 4 in 2006. But for all his gifts, Blake has managed to reach only two Grand Slam quarterfinals, both at the U.S. Open, where the swift courts maximize his game. He has won 45 of his 70 Grand Slam singles matches, but the best he has ever done at the Euro Slams -- Roland Garros and Wimbledon -- is the third round.
[+] Enlarge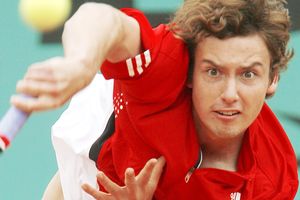 AP Photo/David VincentGulbis hit 16 more winners than Blake during their second-round French encounter.
U.S. Davis Cup captain Patrick McEnroe has been among those calling for a more passive-aggressive approach, something McEnroe said his coach at Stanford, Dick Gould, termed "aggressive with margin." For the record, Blake was 5-2 in singles matches last year as the United States won its first Davis Cup title since 1995. "I think he's tempering his game -- not changing it," McEnroe said Thursday morning over a café crème in the basement at Suzanne Lenglen. "James does well attacking the second serve, takes it so early and hits it so hard. In Davis Cup, we say, 'James, you'll win just as many points hitting it back to the middle of the court.' "Now, at 3-4, 30-all, with his opponent serving, instead of trying for a clean winner on the return, now he still hits it big but down the middle instead of the corner."
Still, McEnroe allowed, presciently, "Let's face it -- he's very streaky. James tends to have those matches that make guys like me scratch my head."
Blake, sporting a Houston Astros cap, didn't literally scratch his head after the match. He didn't have to.
"My game flows out of my forehand and my attacking game," he said. "Being able to attack and put pressure on him. I wasn't forcing points. I wasn't the one that was dictating all the time.
"The Americans, a lot of times, don't have the highest expectations on clay. But I really felt like this match today was a match I could have won."
Greg Garber is a senior writer for ESPN.com.
Writer, Reporter
Greg Garber joined ESPN in 1991 and provides reports for NFL Countdown and SportsCenter. He is also a regular contributor to Outside the Lines and a senior writer for ESPN.com.
2008 FRENCH OPEN
May 25-June 8
Defending champions:
Women: Justine Henin
Men: Rafael Nadal

Day 15
•
Men
•
Ford: Nadal simply too good against Federer
•
Garber: Federer resolute in confidence, ability
•
Harwitt: Rafael Nadal the best clay-courter ever?
•
Photo gallery: Best of Week 2 from Paris
•
Ubha: French Open men's final instant analysis
Day 14
•
Women
•
South Americans take men's doubles
•
Garber: Maturation, confidence help Ivanovic
•
Ford: Zen-like calm elevating Ivanovic
•
Harwitt: Can Ivanovic hang on to No. 1 ranking?
•
Ubha: French Open women's final instant analysis
Day 13
•
Men
•
Bob Bryan, Azarenka win French mixed doubles
•
Garber: Federer in need of a monumental effort
•
Ford: Nadal handles Djokovic with relative ease
•
Harwitt: Borg spends birthday extolling Nadal
•
Who will win the French Open women's final?
Day 12
•
Women
•
Garber: Ivanovic, Safina set to duke it out
•
Ivanovic to take over No. 1 ranking
•
Ford: Djokovic ready to reshuffle world order
•
Latest Dirt: Men's semifinal preview
•
The big three: Federer looking past Monfils?
•
Harwitt: Safina's mom has reason to extol virtue
Day 11 • Men | Women
• Latest Dirt: Women's semifinal preview
• The big three: Federer semifinal streak lives on
• Harwitt: Rolling out the red carpet
• Tennis.com: Federer's time right now

Day 10 • Men | Women
• Garber: Serbs thriving because of each other
• Chip and Charge: Assessing the French
• The big three: Nadal-Djokovic ready to battle
• Sharapova to fall from top spot after French Open

Day 9 • Men | Women
• Garber: Sharapova sent packing by Safina
• Latest Dirt: Americans officially done
• Garber: Ranking the sweet 16 players
• The big three: Federer and Gonzo to clash

Day 8 • Men | Women
• Garber: Ferrer worthy of being in top five
• Latest Dirt: Evaluating the top-five players
• The big three: Humdrum day for Nadal, Djokovic
• ITF to probe player's claim she was told to lose
• Ex-French Open winner Pierce hoping for return

See all stories from Week 1
MOST SENT STORIES ON ESPN.COM