Commentary
Federer in need of a monumental effort versus Nadal
It didn't come easy but Roger Federer passed the Gael Monfils test, advancing to the French Open final. And like the last two years, when he has failed to capture the elusive French Open title, Federer will be staring history -- and Nadal -- square in the eyes.
Updated:
June 8, 2008, 2:45 AM ET
By
Greg Garber
| ESPN.com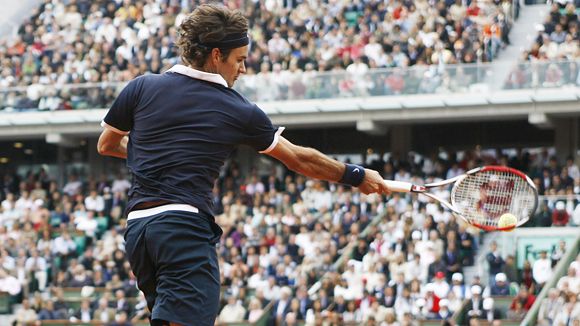 AP Photo/David VincentRoger Federer became the 10th player in history to reach 15 Grand Slam finals.
PARIS -- Forgive the good folks at Roland Garros if you've seen this one before. The French Tennis Federation is just doing its job, trying to bring you the world's finest clay-court championship final.
For the third consecutive year, that just happens to be Roger Federer versus Rafael Nadal.
On Friday, Federer eliminated flamboyant Frenchman Gael Monfils 6-2, 5-7, 6-3, 7-5 after Nadal scorched Novak Djokovic 6-4, 6-2, 7-6 (3) in the first semifinal. And so the big three has been reduced to its pure, original form: No. 1 vs. No. 2.
Federer's match took only 16 minutes longer than Nadal's, but it felt much longer. Federer seemed irritated through most of the match, but when he won after more than three hours, he spun to face his box in the north end zone and hopped crab-style, pumping his fists.
Afterward, Federer dispassionately repeated what has become his 2008 campaign speech, hitting most of the familiar talking points:
"I've been hoping for this to happen. It's a big thrill to play Rafa again here in the final. I have the tactics, the fitness to beat him. It's so much better to win the French Open by beating him.
"Of course I believe very strongly this is my year."
If no one outside the Federer camp is terribly excited about this one, it's because there is little historical precedent for a victory by the Swiss star. The two have played nine matches on clay, and Nadal -- who at 22 is nearly five years younger than Federer -- has won eight. The lone exception: the 2007 Hamburg final. That aberration is of little solace here because Nadal has never, ever lost a best-of-five match on clay (he's 40-0), nor has he lost at Roland Garros, where he is 27-0.
These would seem to be fairly definitive numbers.
Nadal is well beyond nerves here and seems to be getting smarter and stronger -- if that is possible.
"Rafa just ripped through him," Federer said of Nadal's match with Djokovic. "Rafa is tough to beat here."
Sill, Federer has responded to this omnipresent obstacle with trademark obsession. He has practiced religiously with left-handed partners who simulate Nadal's heavy, toxic forehand. He also has rethought his clay-court schedule and even hired clay guru Jose Higueras to bring his game to the highest possible level.
"I just have to keep doing what I've been doing against Rafa," Federer said. "I feel better every year. It's no joke."
All that still might not be enough, though. The previous two times these two have matched up this year -- at Monte Carlo and Hamburg -- Federer played good tactical tennis and ran out to early leads, but lost four of the pair's five sets in 2008. After that performance, you get the idea that Federer does not truly believe he can beat Nadal. This lack of confidence is revealed in the big moments and will take a monumental effort to reverse.
For the better part of two weeks, the anticipation of the inevitable Nadal-Djokovic semifinal has skewed sensibilities here at Roland Garros. In the wake of that hype, Federer has quietly, confidently done what he always seems to do. Win.
Federer's consistency is unnerving.
When he sent Fernando Gonzalez on his way in the fourth round, Federer added to an already unreal statistic: This was his 16th consecutive appearance in a Grand Slam semifinal. Think about what that means. For four years now, going back to Wimbledon in 2004, Federer has been perfect in the first five rounds; that's 80-0 for those of you counting at home.
[+] Enlarge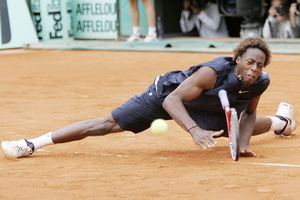 AP Photo/Christophe EnaGael Monfils went to all lengths to give his hometown fans the French Open champion they have been clamoring for.
The next-best streak in the four decades of the Open era? Eight, by Ivan Lendl. And beyond that, Federer has failed to reach the final only three times in that sensational span. Thursday was a struggle -- Federer faced 13 break points on his serve, but saved 10 of those points under duress. By contrast, he was 7-for-15 on break points against Monfils.
Did Monfils, who finished the match caked in red clay, really play better than most expected? Or did Federer play worse? Monfils came to Roland Garros with a 5-7 record after a knee injury kept him off the court until March. Against Federer, he played good defense and hung around in points long enough to cause uncharacteristic errors by the No. 1.
It's been a tough year for Federer. An early bout with mononucleosis sapped his energy and contributed to a slow start. He was beaten by Djokovic in the semifinal at the Australian Open and has lost seven matches already -- more than he lost in 2004, 2005 or 2006 -- creating an uneasy air of vulnerability. Federer has won only a single tournament, in Estoril, Portugal, but he finds himself, at last, where he aches to be.
In his career, Federer has accumulated five Wimbledon trophies, four U.S. Opens and three Australian Opens, but the Roland Garros title has eluded him thus far. Federer has all but said a French Open title will complete him. Here is his latest, best chance. At 26, he's the oldest player in the semifinal among men and women and probably has two or three legitimate opportunities left.
Before the match, there was an intriguing wager floating around the broadcast compound. Who would win more games in defeat, Djokovic against Nadal, or Monfils against Federer? When Djokovic -- the No. 3 player in the world -- got 12 games from Nadal, it looked like an imposing number. Then Monfils passed him with his first game in the fourth set.
On Sunday, Nadal will be attempting to win his fourth consecutive title at Roland Garros. Bjorn Borg (1978-81) is the only person to achieve that since the tournament went international in 1925. Given that Nadal hammered the No. 3 player in straight sets and Federer struggled to take down the No. 59 player in four sets, the conclusion seems obvious.
"I will try and face history," Nadal said. "Even if you're perfect, you have to wait and see what happens.
Greg Garber is a senior writer for ESPN.com.
Writer, Reporter
Greg Garber joined ESPN in 1991 and provides reports for NFL Countdown and SportsCenter. He is also a regular contributor to Outside the Lines and a senior writer for ESPN.com.
SPONSORED HEADLINES
MORE TENNIS HEADLINES
MOST SENT STORIES ON ESPN.COM
2008 FRENCH OPEN
May 25-June 8
Defending champions:
Women: Justine Henin
Men: Rafael Nadal

Day 15
•
Men
•
Ford: Nadal simply too good against Federer
•
Garber: Federer resolute in confidence, ability
•
Harwitt: Rafael Nadal the best clay-courter ever?
•
Photo gallery: Best of Week 2 from Paris
•
Ubha: French Open men's final instant analysis
Day 14
•
Women
•
South Americans take men's doubles
•
Garber: Maturation, confidence help Ivanovic
•
Ford: Zen-like calm elevating Ivanovic
•
Harwitt: Can Ivanovic hang on to No. 1 ranking?
•
Ubha: French Open women's final instant analysis
Day 13
•
Men
•
Bob Bryan, Azarenka win French mixed doubles
•
Garber: Federer in need of a monumental effort
•
Ford: Nadal handles Djokovic with relative ease
•
Harwitt: Borg spends birthday extolling Nadal
•
Who will win the French Open women's final?
Day 12
•
Women
•
Garber: Ivanovic, Safina set to duke it out
•
Ivanovic to take over No. 1 ranking
•
Ford: Djokovic ready to reshuffle world order
•
Latest Dirt: Men's semifinal preview
•
The big three: Federer looking past Monfils?
•
Harwitt: Safina's mom has reason to extol virtue
Day 11 • Men | Women
• Latest Dirt: Women's semifinal preview
• The big three: Federer semifinal streak lives on
• Harwitt: Rolling out the red carpet
• Tennis.com: Federer's time right now

Day 10 • Men | Women
• Garber: Serbs thriving because of each other
• Chip and Charge: Assessing the French
• The big three: Nadal-Djokovic ready to battle
• Sharapova to fall from top spot after French Open

Day 9 • Men | Women
• Garber: Sharapova sent packing by Safina
• Latest Dirt: Americans officially done
• Garber: Ranking the sweet 16 players
• The big three: Federer and Gonzo to clash

Day 8 • Men | Women
• Garber: Ferrer worthy of being in top five
• Latest Dirt: Evaluating the top-five players
• The big three: Humdrum day for Nadal, Djokovic
• ITF to probe player's claim she was told to lose
• Ex-French Open winner Pierce hoping for return

See all stories from Week 1