Commentary
Maturation, confidence evident in Ivanovic's title run
After desultory performances in her previous two Slam finals, Ana Ivanovic finally saw her dream of capturing a Grand Slam title come to fruition. And to boot, she now owns the world No. 1 ranking.
Updated:
June 7, 2008, 4:56 PM ET
By
Greg Garber
| ESPN.com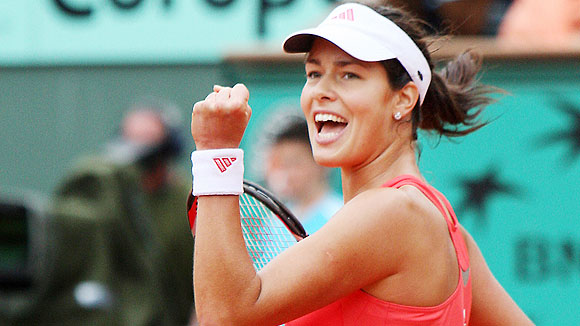 Pierre Verdy/AFP/Getty ImagesAfter failing to capitalize in her first two Grand Slam final appearances, Ana Ivanovic came through.
PARIS -- Growing up in Serbia,
Ana Ivanovic
dreamed of playing in a Grand Slam final, just like her idol, Monica Seles.
In 2007, here at Roland Garros, Ivanovic finally achieved that goal, but was embarrassed by Justine Henin 6-1, 6-2. It happened again Down Under back in January, when Maria Sharapova ruined Ivanovic's second major final with a 7-5, 6-3 defeat.
Ivanovic, through the tears, took these devastating losses to heart.
"When I went to play these finals I was thinking more about result -- what if I win this match, not what I have to do to win the match," Ivanovic said on Friday, the day before her third Grand Slam final. "So that's something I want to change. Tomorrow, when I go on the court, keep working hard for each point."
Part of her, she reiterated on Saturday, was already thinking of holding the trophy.
This time, Ivanovic never got too far ahead of herself. The 20-year-old Serbian stubbornly stayed in the massive moment. Point by point, game by game she built a grinding 6-4, 6-3 victory over Dinara Safina.
Seeing Safina -- playing in her first Grand Slam final -- across the net had a soothing effect, for Ivanovic saw herself.
"When I was in the court, I realized she was nervous," Ivanovic said. "It made me more calm because I had that experience."
Ivanovic, with her fresh, Catherine Zeta-Jonesish features, is now on top of the women's tennis world. Not only has she earned her first Grand Slam singles title, but on Monday she will become the No. 1 player when the Sony Ericsson WTA Tour singles rankings are updated.
"You want to make one more step and win a title," Ivanovic said. "Obviously, there were a lot of emotions inside, but until the last point I tried to [not] think about the occasion."
Ivanovic is not, it turns out, too nice to win a major championship.
And after the last shot trickled off Safina's racket, after Ivanovic had buried her face in her hands and hugged Safina at the net, Ivanovic looked truly tentative for the first time. She paused, trying to imagine a path to the people in her box. Eventually, she stepped up onto a rickety linesperson's chair, negotiated the railing and was engulfed by coaches, family and friends.
The first set was an appropriate opportunity for Ivanovic to collapse as she had against Henin and Sharapova. She was up a break and serving at 40-love when Safina exerted herself and broke back to level the match at 4-4. But Ivanovic never stopped firing those huge groundstrokes. She broke Safina back and then held at 5-4 in the best game of the match. Ivanovic blew a set point, then saved a game point, then thundered another forehand that Safina could not keep in the court.
Safina, who was also seeking her first Grand Slam title, has worked hard to improve her on-court demeanor. It worked gloriously in the past two tournaments, in which she won 12 straight matches and sent home six top-10 players. She even survived match points here against Sharapova and Elena Dementieva. But when Ivanovic broke her serve in the third game of the second set, the racket was sent bouncing into the dirt and the flow of the Russian's self-flagellation increased.
This is not to say there weren't flashes of nerves.
Serving at 3-2 in the second set, Ivanovic started tightening up. She double-faulted on game point and pushed a fragile backhand into the net. On the 13th and 14th points, Ivanovic escaped when Safina sent back-to-back forehands wide. In the end, Safina simply did not have another three-set comeback in her.
[+] Enlarge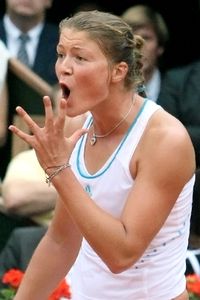 JACQUES DEMARTHON/AFP/Getty ImagesAfter successfully avoiding her irascible ways for most of the tournament, Dinara Safina was not able to handle the big stage.
"I didn't have any more of that fire that I had in those matches," she said. "I was just, I think, tired. Even if I would want, but my heart couldn't and my body couldn't do it any more."
That the sterling championship trophies were awarded by Henin was appropriate. Henin, who won the past three titles here at Roland Garros, retired before she could win a record fourth and fifth overall. Did she see this coming? Perhaps. Henin wore a jacket that was precisely the same color as Ivanovic's boiled-lobster-red dress. Henin, giving more than 6 inches to each player, looked tiny standing between Safina and Ivanovic.
When the strains of Serbia's national anthem wafted over Court Philippe Chatrier, tears welled in Ivanovic's eyes. When it was over, there was a new world order. For the first time ever, a Serbian player -- not an American, Belgian, Russian or Swiss -- is No. 1 in the world. The new top five will feature two Serbs (Ivanovic and Jelena Jankovic) and three Russians (Svetlana Kuznetsova, Sharapova and Dementieva).
In January, Novak Djokovic won a Grand Slam singles title for a war-torn country not know for its tennis. Now, Ivanovic is Serbia's first No. 1 player. These events are not random occurrences.
"Going into today's final, I thought of his victory earlier this year," she said. "And I thought, 'Why not? I can win a title as well.'
"It's something that motivates us, and I'm sure he will also reach his goal of being No. 1 one day. I feel so happy. It's my incentive to keep working hard, so I can win more."
Greg Garber is a senior writer for ESPN.com.
Writer, Reporter
Greg Garber joined ESPN in 1991 and provides reports for NFL Countdown and SportsCenter. He is also a regular contributor to Outside the Lines and a senior writer for ESPN.com.
2008 FRENCH OPEN
May 25-June 8
Defending champions:
Women: Justine Henin
Men: Rafael Nadal

Day 15
•
Men
•
Ford: Nadal simply too good against Federer
•
Garber: Federer resolute in confidence, ability
•
Harwitt: Rafael Nadal the best clay-courter ever?
•
Photo gallery: Best of Week 2 from Paris
•
Ubha: French Open men's final instant analysis
Day 14
•
Women
•
South Americans take men's doubles
•
Garber: Maturation, confidence help Ivanovic
•
Ford: Zen-like calm elevating Ivanovic
•
Harwitt: Can Ivanovic hang on to No. 1 ranking?
•
Ubha: French Open women's final instant analysis
Day 13
•
Men
•
Bob Bryan, Azarenka win French mixed doubles
•
Garber: Federer in need of a monumental effort
•
Ford: Nadal handles Djokovic with relative ease
•
Harwitt: Borg spends birthday extolling Nadal
•
Who will win the French Open women's final?
Day 12
•
Women
•
Garber: Ivanovic, Safina set to duke it out
•
Ivanovic to take over No. 1 ranking
•
Ford: Djokovic ready to reshuffle world order
•
Latest Dirt: Men's semifinal preview
•
The big three: Federer looking past Monfils?
•
Harwitt: Safina's mom has reason to extol virtue
Day 11 • Men | Women
• Latest Dirt: Women's semifinal preview
• The big three: Federer semifinal streak lives on
• Harwitt: Rolling out the red carpet
• Tennis.com: Federer's time right now

Day 10 • Men | Women
• Garber: Serbs thriving because of each other
• Chip and Charge: Assessing the French
• The big three: Nadal-Djokovic ready to battle
• Sharapova to fall from top spot after French Open

Day 9 • Men | Women
• Garber: Sharapova sent packing by Safina
• Latest Dirt: Americans officially done
• Garber: Ranking the sweet 16 players
• The big three: Federer and Gonzo to clash

Day 8 • Men | Women
• Garber: Ferrer worthy of being in top five
• Latest Dirt: Evaluating the top-five players
• The big three: Humdrum day for Nadal, Djokovic
• ITF to probe player's claim she was told to lose
• Ex-French Open winner Pierce hoping for return

See all stories from Week 1
MOST SENT STORIES ON ESPN.COM