Commentary
Is Rafael Nadal the best clay-court player ever?
Rafael Nadal is now 28-0 with four titles in his French Open career. Does this record make him the best clay-court player of all time?
Updated:
June 8, 2008, 3:31 PM ET
By
Sandra Harwitt
| Special to ESPN.com
After Rafael Nadal captured one of the most stunning 6-1, 6-3, 6-0 Grand Slam final victories in the Open era over world No. 1 Roger Federer on Sunday, he left fans in disbelief at just how good a player he is on clay courts.
Nadal won his fourth consecutive French Open trophy and is a perfect 28-0 in matches at Roland Garros. This time around, however, he won the event without dropping a set.
One of the classiest guys on the tour, Nadal was demure in victory, not wanting to rub it in to Federer that he brutally crushed him and made the supposed best in the business look no better than marginal on the court all day long.
The Spanish matador had too much spin, too many angles, too much firepower for Federer. Nadal played what he himself called close to perfect tennis, executing only seven unforced errors in the match, compared to Federer's 35.
[+] Enlarge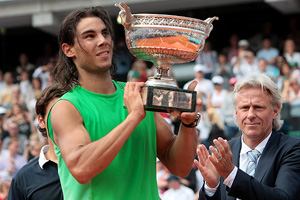 Jacques DeMarthon/AFP/Getty ImagesBjorn Borg, right, still has two more career French Open titles than Rafael Nadal.
After this victory -- the most lopsided French Open final since Guillermo Vilas destroyed Brian Gottfried 6-0, 6-3, 6-0 in 1977 -- it would be easy to fill a book with accolades on the greatness of Nadal.
Not surprisingly, Nadal's spectacular win raises the issue as to whether he is the best clay-court player ever to play the game or whether he still needs to overtake Bjorn Borg's record of six French Open titles. He's working toward the goal of upending Borg, and his win today equaled the Swede's record of four successive titles from 1978 to 1981.
Many of the top names who were on hand to watch the match were willing to weigh in on the one overarching question:
Is Rafael Nadal the best clay-court player of all time?
"I think he still has a couple of more titles to go to equal Borg, but this was very impressive. He was impressive before, but Nadal is the player who has improved the most on clay courts since last year. This tournament he has been so dominant, and he just looks better and better. He's just improved everything -- he's stronger, he has a better backhand, he has a better slice and his body, he's still strong but he looks leaner, which will help him on the hard courts. Roger started the match very slow, and that means he wasn't going to have a chance. He looks tired on the court, so maybe he needs to take a little break." -- Andres Gomez, 1990 French Open champion.
"I think today was an amazing match, and yeah, we can say that now [that Nadal is the best clay-court player of all time]. He still has a way to go to do better than the record of Bjorn Borg, but I think he is very strong and he is playing very unbelievable tennis. He is playing with a confidence I haven't seen in a long time. Today was a very tough day for Roger. I wasn't surprised that Rafa won because I was expecting him to win more than ever, because he arrived to this final better than ever both physically and mentally. But the score was a little much." -- Conchita Martinez, 1994 Wimbledon champion.
"Yes, I've said that Nadal is the best clay-court player to ever play the game -- I reckon I've said that for a good year now. I said he was the greatest clay-courter I've ever seen before this tournament, and today only confirms it. It was incredible. I think that the modern rackets and modern strings make him the greatest. It's almost impossible to beat him the way he is physically, how fast he is and how determined he is. It's very tough because you never can really compare generations. But, heck, Borg with the wooden racket and Nadal with today's rackets, how can you beat him? So he's the greatest we've ever seen. That's not to say he's more talented than Borg or has better shots than Borg or better fitness or determination -- I don't think that's the case -- but because of the way he plays, no one can beat him. Roger came in the tournament not playing that well, so he went into the match and had to go for it, which I think he did and I give him credit for that. I think he [Rafa] can win Wimbledon. Ten years ago that game wouldn't win Wimbledon, but now it can because of the conditions, because of the strings and because of the rackets. It would be exciting." -- Pat Cash, 1987 Wimbledon champion.
"Well, I don't know if he's the best, because Borg won here six times, so Rafael has another two to go. But definitely he is right up there. I think the talented and the will and the strength he has is just the same no matter when you play. He's already won the four in a row like Borg, so I don't see any reason why he wouldn't be one of the favorites again next year unless he's injured or something. But I think his game and physical abilities are as sharp as he can get them to be. For him it's just the matter of staying there. Today, we were all a little bit disappointed because we were hoping for a little closer final, but Roger didn't play his best. But that's how it goes sometimes that the finals are not the best matches. But he'll [Federer] probably get his revenge on grass." -- Guy Forget, French Davis Cup captain.
Sandra Harwitt is a freelance tennis writer for ESPN.com.
Sandra Harwitt is a freelance tennis writer for ESPN.com.
2008 FRENCH OPEN
May 25-June 8
Defending champions:
Women: Justine Henin
Men: Rafael Nadal

Day 15
•
Men
•
Ford: Nadal simply too good against Federer
•
Garber: Federer resolute in confidence, ability
•
Harwitt: Rafael Nadal the best clay-courter ever?
•
Photo gallery: Best of Week 2 from Paris
•
Ubha: French Open men's final instant analysis
Day 14
•
Women
•
South Americans take men's doubles
•
Garber: Maturation, confidence help Ivanovic
•
Ford: Zen-like calm elevating Ivanovic
•
Harwitt: Can Ivanovic hang on to No. 1 ranking?
•
Ubha: French Open women's final instant analysis
Day 13
•
Men
•
Bob Bryan, Azarenka win French mixed doubles
•
Garber: Federer in need of a monumental effort
•
Ford: Nadal handles Djokovic with relative ease
•
Harwitt: Borg spends birthday extolling Nadal
•
Who will win the French Open women's final?
Day 12
•
Women
•
Garber: Ivanovic, Safina set to duke it out
•
Ivanovic to take over No. 1 ranking
•
Ford: Djokovic ready to reshuffle world order
•
Latest Dirt: Men's semifinal preview
•
The big three: Federer looking past Monfils?
•
Harwitt: Safina's mom has reason to extol virtue
Day 11 • Men | Women
• Latest Dirt: Women's semifinal preview
• The big three: Federer semifinal streak lives on
• Harwitt: Rolling out the red carpet
• Tennis.com: Federer's time right now

Day 10 • Men | Women
• Garber: Serbs thriving because of each other
• Chip and Charge: Assessing the French
• The big three: Nadal-Djokovic ready to battle
• Sharapova to fall from top spot after French Open

Day 9 • Men | Women
• Garber: Sharapova sent packing by Safina
• Latest Dirt: Americans officially done
• Garber: Ranking the sweet 16 players
• The big three: Federer and Gonzo to clash

Day 8 • Men | Women
• Garber: Ferrer worthy of being in top five
• Latest Dirt: Evaluating the top-five players
• The big three: Humdrum day for Nadal, Djokovic
• ITF to probe player's claim she was told to lose
• Ex-French Open winner Pierce hoping for return

See all stories from Week 1
MOST SENT STORIES ON ESPN.COM