Commentary
Success fleeting for many at French
The American contingent has fallen behind the eight ball at the French Open this decade, and it's only snowballed. Snapping this lengthy drought is going to take a mammoth effort and, likely, a fortuitous set of circumstances.
Updated:
May 28, 2008, 9:52 AM ET
By
Sandra Harwitt
| Special to ESPN.com
When it comes to the French Open, the American men have not fared very well in the 21st century.
To be blunt, doing the clay-court slide just doesn't come naturally, at least not for the Yanks of note in the game today.
[+] Enlarge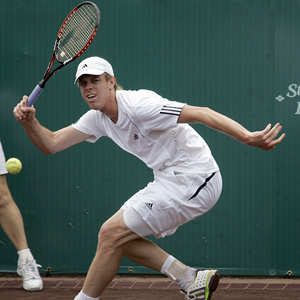 AP Photo/Pat SullivanOstensibly, Sam Querrey doesn't appear to have a game well suited for clay, but his quarterfinal appearance at Monte Carlo would prove otherwise.
Andy Roddick
, whose best result at Roland Garros came on his first visit to the Grand Slam, when he reached the third round in 2001, will sit out this year's French with a bum right shoulder.
James Blake
,
Mardy Fish
,
Robby Ginepri
,
Sam Querrey
,
John Isner
and
Donald Young
all are consciously giving the dirt a concerted effort this season. Of that list, however, only Blake has gone beyond the first round, making the third round in 2006, and Isner and Young will be making their Roland Garros debuts.
"We just rely so much on a surface that allows our balls to penetrate the court," Fish said, calling from Europe. "These other guys grow up on the surface, and they have their games tailored around it. Our hard courts, they're an equalizer because everybody can move well on them, but on clay, you have to put together points and you've gotta have patience -- it's definitely the toughest court."
How well the American men will do in Paris is anyone's guess. While some would say it probably will take a great deal of luck for any of the American contingent to pull off a sensational showing, no one is willing to totally discount the possibility.
Thus far this season, Blake, Querrey and Fish appear to have the most promise on clay. Blake reached the final at Houston on green clay and the quarterfinals in Rome. The power-serving Querrey surprised all by reaching the Monte Carlo quarterfinals, and Fish was a quarterfinalist in Houston.
"It's a shame about Andy Roddick, because this year, all the guys, including Andy, made more of a commitment to the clay, going over there earlier and posting some big results," said former player Justin Gimelstob, who now is being lauded as one of the newer on-air tennis commentators.
Fish thrilled
For Mardy Fish, overcoming some serious injuries -- a left wrist problem that required two surgeries in 2005 and shoulder, foot and knee issues last year -- is definitely acting as a boost to his backbone.
This year has been good to the 26-year-old Floridian, who will soon become bicoastal when he marries Stacey Gardner -- a California attorney as well as a briefcase model on "Deal or No Deal" -- on Sept. 28. Fish will continue to train at the Saddlebrook Academy on the west coast of Florida and spend quality time in California where Gardner is based. Fish best results this year were reaching the final of the Masters Series Indian Wells and quarterfinals at San Jose, Delray Beach and Houston. "Yup, absolutely, I'm healthy," said Mardy Fish, whose joy at being back in peak form was easy to detect during a phone call from Europe earlier this month. "I've had a great start to the year, pretty solid results." Fish is convinced his unexpected final berth at Indian Wells has provided him with great confidence to build on for the year. "If you're playing well, you're not going to get down on yourself and you're going to play the big points well," Fish said. "Playing the big points well has been a big boost for me this year." Fish, who wants to stay away from making lofty goals, did admit he'd like to have a good summer so that he could be seeded in the top 32 at the U.S. Open. But it's not all serious business these days for Fish. Taking time out for a little fun recently, Fish was treated to a spectacular Bachelor's party organized by Andy Roddick, who didn't skimp on any of the plans. The pre-wedding ritual was held for 12 or so of Fish's closes friends in the 10,000 square foot, two-floor Hardwood Suite at The Palms casino in Las Vegas. "It had an indoor basketball court, but we did go out a couple of times and we didn't get much sleep, said Fish, who joked that he couldn't offer the R-rated version of the all-boy's gathering. "He set it up real nice and we had a great time and it was so nice having everybody around."
-- Sandra Harwitt
"The game has developed a lot more with dedicated clay-court players. We're behind the eight ball from the beginning. It's just a cultural thing. But Blake has some good chances and is pushing some good wins on the clay, and Sam Querrey has had some encouraging wins, too."
Fish agrees that if everything comes together in a serendipitous way, an American could again find some footing on the clay.
"We're still all good players," Fish said. "There can be some good draws, and you can find some players who fall away. It's a matter of getting our feet wet on the court. … I don't think our expectations are extremely high, but it's doable."
It shouldn't go unmentioned that while clay is a noticeable concern for this generation of American players, it was not so with the last generation of American stars.
Of the U.S. men who reigned in the 1980s and 1990s, three of the most successful four pulled in a victory at the French Open. Michael Chang, who will be inducted into the International Tennis Hall of Fame this summer, won his lone Grand Slam title as a teenager at the 1989 French Open. Jim Courier scored the title at the 1991 and 1992 French Opens. A dirt-baller with the best of them, Courier delighted the French crowds with his acceptance speeches in French. And after missing out on two French Open final appearances early in his career, Andre Agassi completed his set of all four Grand Slam titles by winning the 1999 trophy.
And although Pete Sampras ended his career without a French Open title amongst his record 14 Grand Slam victories, he did at least make the semifinals in 1996.
If there is good news for the American men, it's that they don't stand alone in their frustration to win in Paris.
Probably the most despondent country in terms of conquering the terre battue at Roland Garros is France itself.
Yannick Noah, born in the Cameroons, was the first Frenchman since Marcel Bernard in 1946 to win the title, in 1983, and remains the last Frenchman to enjoy success. Henri Leconte, a noted comedian on the court, was the last Frenchman with a chance to deliver when he played his way to the final in 1988, losing in straight sets to Mats Wilander.
"Desperation might not be the word I choose," said French journalist Cecile Soler of Le Figaro. "But we are certainly tired of writing unending stories and feeding our readers with at-length explanations for the lack of their success of their countrymen in their home Grand Slam. … We'd love to be able to report about the French players after the first week in Roland Garros."
And longtime tennis writer Linda Pearce of The Age in Melbourne admits there hasn't been too much in the way of demands put on Australian players to win at the French.
"In the dozen years that I've been covering tennis for The Age, I don't think there has been any serious expectation that an Australian would win the French Open," Pearce said. "[Patrick] Rafter's semi [in 1997] was unexpected, and with the benefit of hindsight now seems even more extraordinary, considering how slim the subsequent pickings have been. Even when [Lleyton] Hewitt was No. 1, his chances of winning were always far better at the three other slams than in Paris.
"It's more that the French -- unlike the other three, where Hewitt, Rafter and [Mark] Philippoussis have all been finalists in the past decade -- is a title that is obviously beyond reach. It has been for a long time. Will be, it seems, for a few years yet."
When asked whether the American men are in crisis mode at the French, former champion Jim Courier, who understood the artistry of playing on clay demands the patience and gamesmanship of a chess match, chooses to view the American situation in the glass-half-full theorem.
"France, Australia, England -- they're all desperate for home-grown winners at their Slams. The U.S., lucky for us, is the only country spoiled with recent winners in both singles draws."
And that is the truth of the matter.
Sandra Harwitt is a freelance sportswriter, covering tennis around the world.
Sandra Harwitt is a freelance tennis writer for ESPN.com.
SPONSORED HEADLINES
MORE TENNIS HEADLINES
MOST SENT STORIES ON ESPN.COM
2008 FRENCH OPEN
May 25-June 8
Defending champions:
Women: Justine Henin
Men: Rafael Nadal

Day 15
•
Men
•
Ford: Nadal simply too good against Federer
•
Garber: Federer resolute in confidence, ability
•
Harwitt: Rafael Nadal the best clay-courter ever?
•
Photo gallery: Best of Week 2 from Paris
•
Ubha: French Open men's final instant analysis
Day 14
•
Women
•
South Americans take men's doubles
•
Garber: Maturation, confidence help Ivanovic
•
Ford: Zen-like calm elevating Ivanovic
•
Harwitt: Can Ivanovic hang on to No. 1 ranking?
•
Ubha: French Open women's final instant analysis
Day 13
•
Men
•
Bob Bryan, Azarenka win French mixed doubles
•
Garber: Federer in need of a monumental effort
•
Ford: Nadal handles Djokovic with relative ease
•
Harwitt: Borg spends birthday extolling Nadal
•
Who will win the French Open women's final?
Day 12
•
Women
•
Garber: Ivanovic, Safina set to duke it out
•
Ivanovic to take over No. 1 ranking
•
Ford: Djokovic ready to reshuffle world order
•
Latest Dirt: Men's semifinal preview
•
The big three: Federer looking past Monfils?
•
Harwitt: Safina's mom has reason to extol virtue
Day 11 • Men | Women
• Latest Dirt: Women's semifinal preview
• The big three: Federer semifinal streak lives on
• Harwitt: Rolling out the red carpet
• Tennis.com: Federer's time right now

Day 10 • Men | Women
• Garber: Serbs thriving because of each other
• Chip and Charge: Assessing the French
• The big three: Nadal-Djokovic ready to battle
• Sharapova to fall from top spot after French Open

Day 9 • Men | Women
• Garber: Sharapova sent packing by Safina
• Latest Dirt: Americans officially done
• Garber: Ranking the sweet 16 players
• The big three: Federer and Gonzo to clash

Day 8 • Men | Women
• Garber: Ferrer worthy of being in top five
• Latest Dirt: Evaluating the top-five players
• The big three: Humdrum day for Nadal, Djokovic
• ITF to probe player's claim she was told to lose
• Ex-French Open winner Pierce hoping for return

See all stories from Week 1