Commentary
Results aren't matching Vaidisova's irrefutable talent
Nicole Vaidisova has been touted as one of the up-and-coming stars. But after changes aplenty to her life in recent months and now a first-round loss at the French Open, the on-court collateral damage is piling up.
Updated:
May 26, 2008, 11:37 AM ET
By
Greg Garber
| ESPN.com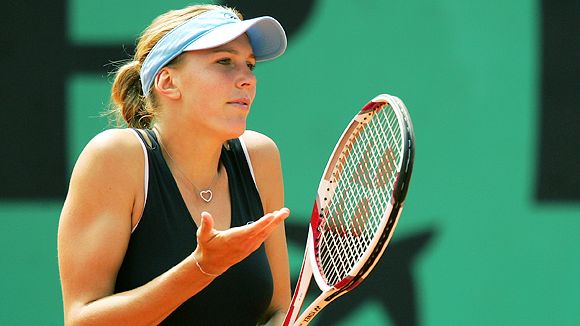 Matthew Stockman/Getty ImagesNicole Vaidisova has lost six straight matches dating back to the first round of Dubai in March.
PARIS -- While a sullen
Nicole Vaidisova
raced through her postmatch press conference in cramped Interview Room No. 2 on Sunday,
Ana Ivanovic
entertained a large media contingent in the spacious comfort of Interview Room No.1.
Ivanovic is 20 years old, seeded second and the It girl here at Roland Garros. Two years ago, it was Vaidisova who played that role. A freshly minted 17-year-old, she knocked off Amelie Mauresmo and Venus Williams, then pushed Svetlana Kuznetsova to three sets in the French Open semifinals. Her potential seemed unlimited.
But after reaching the semifinals of the 2007 Australian Open and the quarterfinals at Roland Garros and Wimbledon, Vaidisova has suddenly crashed and burned. She just lost to her best friend, fellow Czech Republic player Iveta Benesova, 7-6 (2), 6-1 in the first round of the 2008 French Open.
After losing the first-set tiebreaker, Vaidisova dissolved into a storm cloud of bad body language when she repeatedly admonished herself and slapped her thigh. It ended, predictably, with two double-faults.
Vaidisova, almost inconceivably, has lost six straight matches. Since losing to Ivanovic in Dubai, Vaidisova has fallen to such household names as Casey Dellacqua, Alisa Kleybanova, Gisela Dulko, Ekaterina Makarova and now Benesova, who had to qualify to get in.
How did this come to pass? After making yet another error in the Benesova match Vaidisova, exasperated, pointed to her head. This seems as good an explanation as any.
"You know what?" Vaidisova said. "I feel like I'm in a good place. I just think I've been changing things, obviously, on my team. It's not going to pay off right away, but I think I'm working hard."
She did not sound especially convincing.
In April, Vaidisova parted ways with her coach of more than 12 years, step-father Alex Kodat, and replaced him with David Felgate. Breaking with the man who brought her from the Czech Republic to the Nick Bollettieri Tennis Academy in Bradenton, Fla., when she was 11 years old, clearly has caused some collateral damage.
"I think my tennis and everything around me needed that," Vaidisova said. "I'm just in a stage where I think I can take responsibility for my actions and for myself, so I think that comes with time and I think that comes with age. I think there is a point where you have to do that."
Vaidisova's hunger for independence, perhaps not coincidentally, has netted her -- at the very least -- a boyfriend. Radek Stepanek, who was engaged to Martina Hingis as recently as last summer, and Vaidisova are a very public couple. She was in the stands a few weeks ago when Stepanek upset Roger Federer in Rome.
The couple has not acknowledged an official union, but the Bradenton Herald reported that the couple applied for a marriage license back in December. Stepanek, it should be noted, owns a condominium in Bradenton, where Vaidisova still trains.
Although Vaidisova insisted that she has been working hard, her recent results suggest otherwise. Her chief weapons are a huge forehand and a laser serve. Movement for someone who is six feet tall is never easy, but when she was fit the last two years here, she was enormously effective.
[+] Enlarge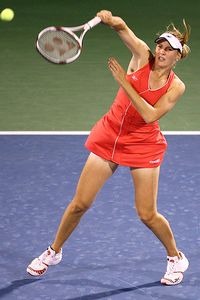 Julian Finney/Getty ImagesVaidisova is a two-time Grand Slam semifinalist -- including at the 2006 French Open.
Against Benesova she was sluggish and consistently late getting in position to hit. She often tried for too much to compensate and finished with 33 unforced errors. After the match, Benesova conceded that her goal was to "come in and try to attack her and make her move."
"If you are not fit or committed, clay will reveal it," said ESPN analyst Mary Carillo. "This stuff will strip you of your clothes."
Consider Vaidisova revealed. She was asked to explain the difference between the player she is today and the one who reached the semifinals here two years ago.
"I think I'm two years older," Vaidisova said. "I think I'm more independent, I'm doing my own decisions. I just think I grew up a lot."
When Benesova was asked what was going on with her good friend, she averted her eyes.
"I don't want to say," she said.
Is she in love?
Benesova paused.
"I think she's very happy," she said, smiling. "She's in love so she's happy."
Said Vaidisova, "I don't think you can play good all the time. So I'm not going to be depressed about this. I'm not going to be sad abut it. Obviously, right now I'm bummed because I lost. But tomorrow I'll wake up and be ready to go and practice and improve."
Is she happy when she's playing?
"Yes," she said brusquely, not sounding that way.
Greg Garber is a senior writer for ESPN.com.
Writer, Reporter
Greg Garber joined ESPN in 1991 and provides reports for NFL Countdown and SportsCenter. He is also a regular contributor to Outside the Lines and a senior writer for ESPN.com.
SPONSORED HEADLINES
MORE TENNIS HEADLINES
MOST SENT STORIES ON ESPN.COM
2008 FRENCH OPEN
May 25-June 8
Defending champions:
Women: Justine Henin
Men: Rafael Nadal

Day 15
•
Men
•
Ford: Nadal simply too good against Federer
•
Garber: Federer resolute in confidence, ability
•
Harwitt: Rafael Nadal the best clay-courter ever?
•
Photo gallery: Best of Week 2 from Paris
•
Ubha: French Open men's final instant analysis
Day 14
•
Women
•
South Americans take men's doubles
•
Garber: Maturation, confidence help Ivanovic
•
Ford: Zen-like calm elevating Ivanovic
•
Harwitt: Can Ivanovic hang on to No. 1 ranking?
•
Ubha: French Open women's final instant analysis
Day 13
•
Men
•
Bob Bryan, Azarenka win French mixed doubles
•
Garber: Federer in need of a monumental effort
•
Ford: Nadal handles Djokovic with relative ease
•
Harwitt: Borg spends birthday extolling Nadal
•
Who will win the French Open women's final?
Day 12
•
Women
•
Garber: Ivanovic, Safina set to duke it out
•
Ivanovic to take over No. 1 ranking
•
Ford: Djokovic ready to reshuffle world order
•
Latest Dirt: Men's semifinal preview
•
The big three: Federer looking past Monfils?
•
Harwitt: Safina's mom has reason to extol virtue
Day 11 • Men | Women
• Latest Dirt: Women's semifinal preview
• The big three: Federer semifinal streak lives on
• Harwitt: Rolling out the red carpet
• Tennis.com: Federer's time right now

Day 10 • Men | Women
• Garber: Serbs thriving because of each other
• Chip and Charge: Assessing the French
• The big three: Nadal-Djokovic ready to battle
• Sharapova to fall from top spot after French Open

Day 9 • Men | Women
• Garber: Sharapova sent packing by Safina
• Latest Dirt: Americans officially done
• Garber: Ranking the sweet 16 players
• The big three: Federer and Gonzo to clash

Day 8 • Men | Women
• Garber: Ferrer worthy of being in top five
• Latest Dirt: Evaluating the top-five players
• The big three: Humdrum day for Nadal, Djokovic
• ITF to probe player's claim she was told to lose
• Ex-French Open winner Pierce hoping for return

See all stories from Week 1