Jankovic advances as Venus joins sister Serena in second round
Updated:
May 26, 2008, 2:24 PM ET
Associated Press
PARIS -- Jelena Jankovic got a little love from the net to help her beat Monica Niculescu 7-6 (3), 6-2 and advance to the second round of the French Open before rain halted play for the day Monday.
[+] Enlarge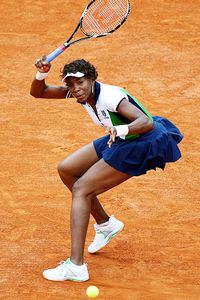 Mike Hewitt/Getty ImagesDespite losing a set to the oldest woman in the French Open draw, Venus Williams kept her hopes alive of claiming her first French Open crown.
No. 8 Venus Williams was also among Monday's winners. Venus joined sister Serena in the second round, but she struggled in the second set before beating Tzipora Obziler of Israel 6-3, 4-6, 6-2.
"It's nice to have a quick match but it's nice to have a challenge also," said Williams, who had eight double-faults. "I'm glad at the end that I figured it out."
No. 10 seed Patty Schnyder also moved on at Roland Garros after beating Ekaterina Bychkova of Russia 6-3, 6-4, while No. 12 Agnes Szavay and No. 32 Karin Knapp also advanced, while No. 23 Alona Bondarenko lost to Petra Cetkovska 6-3, 6-0.
Leading 4-2 in the first-set tiebreaker, last year's French Open semifinalist Jankovic had a drop volley hit the top of the net and roll along the tape before falling into the opposite court.
The third-seeded Jankovic put her hand up as if to say, "Sorry." The Serb then bent down and kissed the white tape.
In the second set, Jankovic lost her serve after breaking her Romanian opponent in the opening game, then dominated rest of the match. But she had more trouble in the first set, despite jumping out to a 3-0 lead.
"She hit quite good drop shots and I got a little bit confused, because, first of all, I didn't know her game, I didn't know how she plays, and I didn't know what to expect from her," Jankovic said. "And then I started making some errors and I lost my rhythm a little bit."
The 20-year-old Niculescu was making her debut at Roland Garros after losing in the first round at the Australian Open in her first major tournament.
Tennis scores
Need the scores from any match played in this or any other tournament? Results
"She plays slice and she plays high balls and she plays drop shots and all the different kind of shots," Jankovic said. "She's a different player than the other girls, and it took time for me to get used to that because I never played against her before."
Williams led 4-1 in the second set but Obziler won five straight games to even the match. The Israeli then broke Williams in the opening game of the deciding set, but the eighth-seeded American broke back to level the score at 1-1, and then broke again to take a 3-1 lead.
After trading two more breaks, Williams won twice more on Obziler's serve.
The 27-year-old Williams, a six-time Grand Slam champion who has never won the French Open, is the oldest woman currently ranked in the top 10. Obziler, at 35, is the oldest woman in the field at Roland Garros.
Also on the women's side, Amelie Mauresmo match was pushed back to Tuesday.
Anastasia Pavlyuchenkova of Russia, the youngest person in the singles tournament at 16, reached the second round by beating Maria Emilia Salerni of Argentina 6-1, 6-1.

Copyright 2008 by The Associated Press
2008 FRENCH OPEN
May 25-June 8
Defending champions:
Women: Justine Henin
Men: Rafael Nadal

Day 15
•
Men
•
Ford: Nadal simply too good against Federer
•
Garber: Federer resolute in confidence, ability
•
Harwitt: Rafael Nadal the best clay-courter ever?
•
Photo gallery: Best of Week 2 from Paris
•
Ubha: French Open men's final instant analysis
Day 14
•
Women
•
South Americans take men's doubles
•
Garber: Maturation, confidence help Ivanovic
•
Ford: Zen-like calm elevating Ivanovic
•
Harwitt: Can Ivanovic hang on to No. 1 ranking?
•
Ubha: French Open women's final instant analysis
Day 13
•
Men
•
Bob Bryan, Azarenka win French mixed doubles
•
Garber: Federer in need of a monumental effort
•
Ford: Nadal handles Djokovic with relative ease
•
Harwitt: Borg spends birthday extolling Nadal
•
Who will win the French Open women's final?
Day 12
•
Women
•
Garber: Ivanovic, Safina set to duke it out
•
Ivanovic to take over No. 1 ranking
•
Ford: Djokovic ready to reshuffle world order
•
Latest Dirt: Men's semifinal preview
•
The big three: Federer looking past Monfils?
•
Harwitt: Safina's mom has reason to extol virtue
Day 11 • Men | Women
• Latest Dirt: Women's semifinal preview
• The big three: Federer semifinal streak lives on
• Harwitt: Rolling out the red carpet
• Tennis.com: Federer's time right now

Day 10 • Men | Women
• Garber: Serbs thriving because of each other
• Chip and Charge: Assessing the French
• The big three: Nadal-Djokovic ready to battle
• Sharapova to fall from top spot after French Open

Day 9 • Men | Women
• Garber: Sharapova sent packing by Safina
• Latest Dirt: Americans officially done
• Garber: Ranking the sweet 16 players
• The big three: Federer and Gonzo to clash

Day 8 • Men | Women
• Garber: Ferrer worthy of being in top five
• Latest Dirt: Evaluating the top-five players
• The big three: Humdrum day for Nadal, Djokovic
• ITF to probe player's claim she was told to lose
• Ex-French Open winner Pierce hoping for return

See all stories from Week 1
MOST SENT STORIES ON ESPN.COM