Safina rallies again, will meet Kuznetsova in semifinals
Updated:
June 4, 2008, 6:13 PM ET
Associated Press
PARIS -- Once again on the verge of elimination, Dinara Safina instead advanced to the French Open semifinals.
[+] Enlarge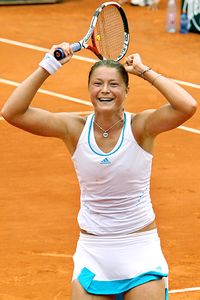 Thomas Coex/AFP/Getty ImagesDinara Safina rallied from the brink of defeat for the second straight match to win on Wednesday and reach the French Open semifinals.
Safina came within a point of defeat for the second consecutive match, then rallied past fellow Russian
Elena Dementieva
4-6, 7-6 (5), 6-0. The semifinal berth is the first in a major tournament for the younger sister of two-time Grand Slam champion
Marat Safin
.
"I was one step away [from losing]," Safina said, "so I'll be especially glad to be back tomorrow."
Her latest comeback was remarkably similar to the one she mounted against top-ranked Maria Sharapova in the fourth round.
The No. 13-seeded Safina trailed Dementieva 5-2 in the second set and faced a match point in the next game, but Dementieva dumped a return into the net. That triggered a sudden reversal, and Safina lost only one game the rest of the way.
Against Sharapova, Safina also lost the first set, trailed 5-2 in the second and faced a match point in the next game.
Her opponent Thursday will be another Russian, 2004 U.S. Open champion Svetlana Kuznetsova.
"Dinara is playing very well," Kuznetsova said. "She has too many lives, so I have to be careful with her."
Kuznetsova recovered from her own slow start to beat unseeded Kaia Kanepi 7-5, 6-2. Kuznetsova was runner-up at Roland Garros to Justine Henin in 2006.
The other semifinal will be an all-Serbian match, with No. 2-seeded Ana Ivanovic playing No. 3 Jelena Jankovic. Ivanovic beat Patty Schnyder 6-3, 6-2 Tuesday, and Jankovic defeated unseeded Carla Suarez Navarro by the same score.
The big-hitting Safina changed tactics when she fell behind in the second set, switching to a less aggressive approach. The strategy coaxed a flurry of errors from an increasingly flustered Dementieva.
"I changed my game completely," Safina said. "I think she got confused, because I wasn't hitting the ball anymore like I did in the first set. I was like, 'OK, you have to hit winners.' "
Safina won five consecutive games to climb back into the match, and Dementieva had to erase three set points in the next game to hold for 6-all.
In the tiebreaker, Dementieva committed three consecutive unforced errors to fall behind 6-3. On Safina's sixth set point, she skipped a backhand off the baseline for a winner to take the 80-minute set and even the match.
It was then a sprint to the finish. A dejected Dementieva gave away the final set, committing 15 unforced errors while winning only 14 points.
Kanepi, an Estonian playing in her first Grand Slam quarterfinal, was hurt by her own mistakes, too. She committed 31 unforced errors and lost 16 of 24 points on her second serve.
Still, Kanepi took an early lead.
"She started very well. She was hitting so hard," Kuznetsova said. "I showed her that I was tough, and so at some moments she started to miss more."
Kuznetsova lost serve to fall behind 4-2 when she ended an 11-stroke exchange by putting a forehand into the net. Kanepi raised a fist, bent over and yelled in excitement, while her supporters in the guest box stood and cheered while waving Estonian flags.
Kanepi went ahead 40-love in the next game, a point from a 5-2 lead, before her game unraveled. Kuznetsova won the next point, a 12-stroke rally, with a forehand winner, and Kanepi dropped the next four points too, all on her miscues, capped by a double-fault on break point.
That began a run in which Kuznetsova won five of six games -- and 23 of 32 points -- to take the first set.
She raced to a 5-1 lead in the second set, and after closing out the victory with a forehand winner, she waved a clenched fist as she walked to the net.

Copyright 2008 by The Associated Press
SPONSORED HEADLINES
MORE TENNIS HEADLINES
MOST SENT STORIES ON ESPN.COM
2008 FRENCH OPEN
May 25-June 8
Defending champions:
Women: Justine Henin
Men: Rafael Nadal

Day 15
•
Men
•
Ford: Nadal simply too good against Federer
•
Garber: Federer resolute in confidence, ability
•
Harwitt: Rafael Nadal the best clay-courter ever?
•
Photo gallery: Best of Week 2 from Paris
•
Ubha: French Open men's final instant analysis
Day 14
•
Women
•
South Americans take men's doubles
•
Garber: Maturation, confidence help Ivanovic
•
Ford: Zen-like calm elevating Ivanovic
•
Harwitt: Can Ivanovic hang on to No. 1 ranking?
•
Ubha: French Open women's final instant analysis
Day 13
•
Men
•
Bob Bryan, Azarenka win French mixed doubles
•
Garber: Federer in need of a monumental effort
•
Ford: Nadal handles Djokovic with relative ease
•
Harwitt: Borg spends birthday extolling Nadal
•
Who will win the French Open women's final?
Day 12
•
Women
•
Garber: Ivanovic, Safina set to duke it out
•
Ivanovic to take over No. 1 ranking
•
Ford: Djokovic ready to reshuffle world order
•
Latest Dirt: Men's semifinal preview
•
The big three: Federer looking past Monfils?
•
Harwitt: Safina's mom has reason to extol virtue
Day 11 • Men | Women
• Latest Dirt: Women's semifinal preview
• The big three: Federer semifinal streak lives on
• Harwitt: Rolling out the red carpet
• Tennis.com: Federer's time right now

Day 10 • Men | Women
• Garber: Serbs thriving because of each other
• Chip and Charge: Assessing the French
• The big three: Nadal-Djokovic ready to battle
• Sharapova to fall from top spot after French Open

Day 9 • Men | Women
• Garber: Sharapova sent packing by Safina
• Latest Dirt: Americans officially done
• Garber: Ranking the sweet 16 players
• The big three: Federer and Gonzo to clash

Day 8 • Men | Women
• Garber: Ferrer worthy of being in top five
• Latest Dirt: Evaluating the top-five players
• The big three: Humdrum day for Nadal, Djokovic
• ITF to probe player's claim she was told to lose
• Ex-French Open winner Pierce hoping for return

See all stories from Week 1