Commentary
Bonus chapter in this great rivalry
Originally Published:
June 3, 2011
By
Kamakshi Tandon
| Special to ESPN.com
PARIS -- Two weeks' worth of matches, drama and heroics on the red clay of Roland Garros, and who is left at the end: Roger Federer and Rafael Nadal. So familiar, yet so unexpected.
Nadal was always supposed to get here somehow, despite the struggles and doubts. Never mind the four straight losses to Novak Djokovic. He was still the five-time champion, beaten in Paris only once in his career, still the Rey of Clay until someone manages to wrest the French Open crown from the Spaniard's head and wear it himself.
Tweet, tweet
Don't miss a moment of the latest tennis coverage from around the world. Follow us on Twitter and stay informed. Join »
Federer is a surprise arrival. His slot had been booked for Djokovic, the new second man in men's tennis. Instead, with an opportunity to take the No. 1 ranking and win his record-tying 42nd straight match since the beginning of the season and reach the final of the French Open for the first time, Djokovic fell to Federer in four sets.
The Serb was not always at his best during the match, but Federer was frequently remarkable. He served well when it counted, finishing the match with a sizzling delivery down the line. He hit his backhand with pace and variety. He scrambled behind the baseline and stepped up to hit glorious winners. The pro-Federer French crowd was electric with excitement. This was the Federer of old, holding his own against newer, better opposition.
Now he faces his old rival for a shot at a second French Open crown. Back down to earth? He has lost to Nadal in three finals at this event, his lone win coming in 2009 after Nadal was upset by Robin Soderling in the fourth round. Despite their history in Paris and Federer's poor head-to-head against the Spaniard -- 8-16, with 10 of the losses coming on clay -- he says he is looking forward to the occasion.
[+] Enlarge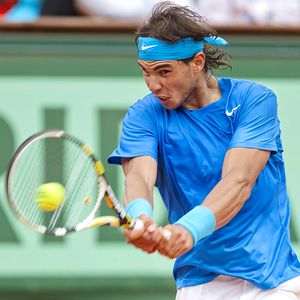 Susan Mullane/US PresswireThere are no secrets: Rafael Nadal and Roger Federer have been down this road before.
"[It] almost feels somewhat like I've won the tournament, which is not the case, you know," Federer said after his win against Djokovic. "Silverware is still out there to be won, and I'm looking forward to the match with Rafa, which I guess is my true rival for all those years, you know, since he became world No. 1. It always seems to me that Rafa needs to be in a French Open final to make it special, and I got the match I guess I was hoping for.
"After beating Novak, it's in a way a gift that I get the chance, and I'm looking forward to it."
After the match, the atmosphere was indeed like a title victory. Federer's parents toasted friends with beer. His wife, Mirka, talked and texted excitedly, unable to stop smiling. Agent Tony Godsick's phone was in overdrive.
There were celebrations for Nadal after his semifinal victory over Andy Murray as well, but of a different nature. It was Rafa's 25th birthday, and he was feted with cake by the tournament. After winning his match, Federer joked that he had given Nadal a nice present by keeping Djokovic from becoming No. 1.
Rain, Rain, Go Away
The official weather forecast for Sunday's final is "unsettled," particularly during the match's start time of 3 p.m.
"The morning will be under a slightly cloudy sky, with a shower again possible," reads the forecast. "In the afternoon, the clouds cover the stadium again. They could bring showers, with gusty moments." Predictions of a downpour have eased, but some rain is still expected.
Heavy rain would delay play, but matches can continue on clay in light drizzle. The court also plays very differently in sunny and rainy conditions.
Said Nadal, "For me, I prefer the sunshine always, and higher bounces. So for my game is better if the ball is fast and if the bounces are higher.
"If rains, if the rain is there and the day is cloudy, sometimes the ball stays lower. So that's a little bit an advantage for him. But seriously, I don't have the power to control the weather."
On the other hand, Federer does not like playing in damp conditions. "I think you have to be able to play your best in all conditions, he said last week. "I figure that the slow clay would be the worst [for me]. But, then again, the slice kind of stays lower and it gives you a bit more time, a bit more grip when you slide. And then when it's fast, obviously the serve takes off more, and it's more slippery and harder to control. So I'm not sure, you know. I think both are tricky. And it depends also who you play against in those conditions.
"Yeah, so honestly I don't have a preference as long as it's not raining," he added, perhaps recalling last year's loss in the rain to Robin Soderling. "I think that's just uncomfortable for everybody."
But Nadal's ranking is not yet secure. Djokovic would have been guaranteed to take over if he had made the final, but will still become No. 1 if Nadal does not win the title. So the Spaniard must defeat Federer to maintain his spot at the top, which would also put him equal with Bjorn Borg's record of six French Open titles and give him an even stronger claim of being the greatest clay-court player ever.
Shortly after losing the semifinal, Murray described the experience of playing Nadal on Rafa's "home turf" on Court Philippe Chatrier. "It's a very big court," he said. "So when he does get you running, you feel like you're moving a lot. There's a lot of space either side, and he can sort of work you all over the court -- backward as well. He can push you a long way back, because of how heavy his shot is.
"He has his sort of patterns of play, and I think on this surface, as well, it's the way he plays on the great points. It's a lot harder to just, you know, as the person that's returning, hit one big shot and you win the rally. You need to really work it well. He normally puts in a high percentage of first serves. He varies where he's serving on the break points well.
"Then he looks to dictate the points with his forehand."
It is that forehand, which leaps up high on Federer's one-handed backhand, which has been so problematic for the Swiss in the past. To make an impact against Nadal, he must play at a similar level as against Djokovic and hope that Nadal's confidence dips as it has during this event and in previous weeks.
But after an unconvincing start, the defending champion is looking better after two solid wins against Soderling and Murray in the previous two rounds.
"He's so much better. He play the two last matches at a good level," said his uncle and coach Toni Nadal in an interview with ESPN.com. "When we start the tournament, he has played very bad. And now our game is normal, is a good game.
"Is not [at the top], but is enough good now."
Asked if Rafa had ever lost to a player four straight times, Toni said, "No, never," and acknowledged it had affected Nadal. "When you lose against a very good player like Djokovic, it's a problem. And then it's difficult to have the same confidence. But at the moment, he's playing again, and trying."
Rafa's struggles were psychological, so the work had been off the court.
"Talking, talking all the time," Toni said. "I know the problem was the mental, because he was good on the practice. So now it's different."
Contemplating the possibility of facing Federer in the final, Toni told reporters in French, "He comes in with no pressure. And he's the best player in history."
For comprehensive coverage of the French Open, check out Slam Central and stay informed of everything going on in Paris. More »
Nadal repeated the sentiment when speaking to reporters Saturday. "So for me, I am happy to play against him because always is an honor to play against the best player of the history," he said. "I know I have to play at my highest level to have chances to win, because he is playing fantastic. The match of yesterday probably give to him a little bit more confidence.
"Nothing new against Roger. I know what's gonna happen. I know he gonna play aggressive, for sure. I have to try to play long, to play consistent all the time, and try to be aggressive when I have the chance."
Both are looking like their old selves, and the event that was supposed to mark a new, dominant rivalry in the sport now gets a new, bonus chapter in an old one.
Kamakshi Tandon is a freelance tennis writer for ESPN.com.
SPONSORED HEADLINES
MORE TENNIS HEADLINES
MOST SENT STORIES ON ESPN.COM
French Open 2011

2010 champions
Women's singles:
Francesca Schiavone
Men's singles:
Rafael Nadal
Women's doubles:
Serena and Venus Williams
Men's doubles:
Daniel Nestor and Nenad Zimonjic
Mixed doubles:
Katarina Srebotnik and Nenad Zimonjic
Courtcast: Scores & chat
Slam Central »
Follow us on Twitter »
Watch: ESPN3.com
Day 15
Day 14
Day 13
Day 12
Day 11
Day 10
Day 9
Day 8