Williams outfits, play have everyone talking
Updated:
March 29, 2004, 10:06 PM ET
By
Cynthia Faulkner
| ESPN.com
KEY BISCAYNE, Fla. -- At the 2003 U.S. Open, Maria Sharapova's pink baby doll pajamas outfit had everyone talking. But as if it wasn't bad enough being defeated by Serena Williams 6-4, 6-3, no one talked about Sharapova after Williams took the court looking ready for a day at the beach on Monday at the Nasdaq-100 Open.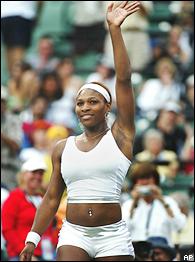 Serena says she loves to tug on her belly jewelry to gross out her mother.
Serena sported what looked like a silver-trimmed sports bra paired with white Daisy Dukes shorts trimmed with a silver waistband. Two multiple-carat diamonds set in platinum dangled from her navel, while silver chandelier earrings swung about her face.
Although he didn't see the outfit, just hearing a description was enough to draw a smile from Andre Agassi.
"Oooh," he said, sitting back in contemplation. "Good girl."
"This is my Wonder Woman outfit," Serena said. "I feel real powerful in this suit, like a superhero."
But Serena: Warrior Princess wanted to wear her corset dress instead of today's Empress' New Clothes outfit, also provided by Nike.
"I was supposed to wear that the first day, but I kept putting it off," Serena said. "Then the [Nike] guys told me I should wear it."
Always good at promoting the product, Serena diplomatically said she loves the outfit now because it's so comfortable.
That doesn't explain why she constantly had to pull the shorts back down as they rode up her legs during her match.
Even if she loves the outfit, she's not at all satisfied with her performance so far. Ever the perfectionist, when asked what needs more attention in her game, she replied, "Everything."
Serena's serving well pulled her through, but she said she could have served better.
The second serve was the real problem. Her first serve percentage was 71 percent, and she won the point 79 percent of the time. Her second serve, always a strength in the past, dipped to 35 percent for points won.
She said she also felt like she didn't return well -- winning only 44 percent on returns. However, her unforced errors went from 34 on Sunday to 15 versus Sharapova.
The knee feels a little stiff, a WTA spokesperson said, and she's doing around 45 minutes of therapy after each match. But it's nothing more serious than trying to overcome an eight-month layoff following surgery.
"She still has many qualities of a champion out there, you know, no matter how long she's been out," Sharapova, 16, said.
"I think confidence-wise, it's getting better every day, and physically I'm better every day," Serena said. "I feel that I can play two, you know, three or four days and be feeling pretty good."
And she's having fun here despite the work. Even teasing her mother, Oracene Price, a bit with her naval ring.
"I like to pull on it when my mom's looking because it grosses her out," she said. "And I scream when I pull it, 'Arggghhh.' "
Cynthia Faulkner is the tennis editor for ESPN.com.
SPONSORED HEADLINES
MORE TENNIS HEADLINES
MOST SENT STORIES ON ESPN.COM