Ivanovic beats Hingis in delayed Rogers Cup final
Updated:
August 21, 2006, 6:50 PM ET
Associated Press
MONTREAL -- Ana Ivanovic overpowered Martina Hingis for a 6-2, 6-3 victory in the rain-delayed final of the $1.34 million Rogers Cup on Monday.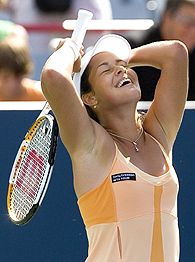 AP PHOTO/CP, Paul ChiassonThis was Ana Ivanovic's first appearance in a final since January 2005 when she won the Canberra Classic.
Ivanovic posted her second career tournament victory and her first in a Tier-1 event, one level below the grand slams.
"This is a big step for me," Ivanovic said. "She's a great player. In juniors, I watched her winning grand slam titles and now I played against her and played good tennis. Basically, now I can consider myself one of the top players and that gives me motivation to work even harder to stay at this level."
The 18-year-old Serb's power shots proved to be too much for the 25-year-old Hingis, as Ivanovic rocketed forehands down the lines that left the Swiss veteran helpless.
Ivanovic won $196,900, while Hingis earned $99,850.
The match was postponed on Sunday due to rain, but a mostly pro-Hingis crowd of about 8,000 lured by discounted tickets turned out in sunny weather on Monday afternoon.
In the semifinals, Hingis was able to counter Svetlana Kuznetsova's big shots with clever drops and slices, but that didn't work against Ivanovic, who did not appear intimidated by playing one of the sport's biggest names.
"There were times I felt there wasn't much I could do," Hingis said. "Kuznetsova would make a return error or an error in a rally, but I wasn't able to push Ivanovic to get nervous or anything to start making errors."
Cup runneth over
Ana Ivanovic dropped just one set at the Rogers Cup on the way to her first Tier-1 event title. A look at her path to victory:

1st -- def. T. Golovin 6-4, 6-2.
2nd -- def. J. Zheng 6-4, 6-7 (5-7), 6-2.
3rd -- def. J. Jankovic in walkover.
QF -- def. K. Srebotnik 6-4, 6-4.
S -- def. D. Safina 6-1, 6-4.
F -- def. M. Hingis 6-2, 6-3.
The seventh-seeded Hingis, a dominant player in the late 1990s, is on a comeback from a three-year absence with foot and ankle injuries. Her performance this week will put her back in the top 10 in the world rankings for the first time in almost three years.
Hingis won the Rogers Cup in 1999 and 2000.
The 13th-seeded Ivanovic will move up to the No. 17 ranking this week.
In the doubles final, Martina Navratilova of the United States and Nadia Petrova of Russia romped 6-1, 6-2 over Cara Black of Zimbabwe and Anna-Lena Groenefeld of Germany. Tennis legend Navratilova, 49, is to retire after the Aug. 28-Sept. 10 U.S. Open.

Copyright 2006 by The Associated Press
SPONSORED HEADLINES
MORE TENNIS HEADLINES
MOST SENT STORIES ON ESPN.COM
EDITORS' PICKS
Ten questions we want Serena Williams to answer
espnW »

Nick Bollettieri at home in the Tennis Hall of Fame.
Wilansky »

Who needed a title more, McIlroy or Wozniacki?
Debate »