Comeback kid proves she still has it
Injuries and competition forced Martina Hingis into retirement. Now, four years later with a healthy body and fresh mind, she still has much to prove.
The year-end WTA Tour championships -- where the top eight players will gather in Madrid, Spain, to determine the season-ending No. 1 ranking -- are just over a month away.
Justine Henin-Hardenne and Amelie Mauresmo are first and second, respectively, in the points race. Henin-Hardenne has reached the final of all four majors, including a win at the French Open, while Mauresmo won the first two Grand Slam titles of her career at the Australian Open and Wimbledon.
Although they battle for the top spot, one or both of them will have to go through this year's comeback player of the year, Martina Hingis. The former No. 1 player in the world -- who didn't touch a racket on the professional circuit for three years following the 2001 season -- Hingis is on the verge of securing a spot in the year-end championships.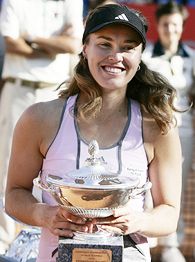 AP PhotoMartina Hingis hasn't recaptured her dominance but has proved she can still be a top-10 player.
The Swiss entered the 2006 season unranked. In her first tournament, she had an impressive run in an Australian Open tune-up, reaching the Gold Coast semifinals. Two weeks later at the Australian Open, Hingis was cruising, winning her first four matches without dropping a set. However, in the quarterfinals, No. 2 seed Kim Clijsters got the best of Hingis in a well-played, three-set match.
Despite the loss, it was clear she would once again be a factor on the WTA Tour, it was just a matter of whether or not she could get by the game's elite. After that match vs. Clijsters, ESPN analyst Luke Jensen said Hingis "needed that extra gear" if she was going to compete with the best again.
In her first seven events of the year, she reached at least the quarterfinals six times. In May, Hingis won her first tournament in four years with a straight-sets win over Dinara Safina in Rome. As it stands right now, the former No. 1 player in the world has reached four finals and won two titles.
In January, she was ranked No. 349; in May she was all the way up to No. 25. Currently, Hingis is ranked No. 8 on the WTA Tour and sixth in the standings for the year-end championships.
"I'm very happy with my comeback year," Hingis told reporters following her win last week in Kolkata, India. "Getting to the top 10 was a dream and the next dream is making it to the Sony Ericsson Championships in Madrid."
It's common for a retired player who once dominated his or her sport to have a change of heart and want to compete again at the highest level. And from 1997 through '99, Hingis owned the women's game, winning 24 titles.
In 1997, Hingis became the undisputed No. 1 player in the world, winning 12 titles -- including three of the four Grand Slam events. With her win in the Australian Open, she became the youngest player in the 20th century to capture a major championship at just 16 years old.
For 209 consecutive weeks -- the fourth longest streak since the inception of the rankings system in 1975 -- Hingis reigned over the tennis world with her No. 1 ranking. And aside from a French Open championship, she captured just about every honor there was.
In 1999, she won 71 singles matches; however, at that point she began to notice a difference in the competition. In February 1999, the more powerful Lindsay Davenport claimed the No. 1 ranking from Hingis. The Swiss would recapture the top spot four more times before permanently losing it in 2000.
Players such as Venus and Serena Williams were bigger and stronger than Hingis, and her creativity and movement on the court became less effective. Furthermore, a chronic foot problem was derailing any hope she had of recapturing her once dominant presence. After the 2002 season, she called it quits, despite still being ranked in the top 10.
From 2002-05, Hingis was home in Switzerland skiing and riding horses, but admittedly missed the sport. Her feet felt better and she wanted to give tennis a try again. She was only 25 and believed she could compete with the best. The challenge was going to be her ability to adapt to the current game, which was more powerful than it was in 2002.
"If I want to play the tennis I played three years ago, I would not survive … You have to grow with the game and you have to get better physically and tennis-wise," Hingis said upon her return.
"What Hingis lacks in size and strength she makes up for in vision and anticipation," Brad Gilbert, a former ESPN analyst, said before the Australian Open. "She has great eyes and sees the play earlier than her opponent and reads where the ball is going to go."
With all the uncertainty surrounding Hingis this season, no one knew for sure whether she would succeed. Although it's unlikely she'll repeat the five Grand Slam titles she won between 1997-99, her 2006 season has been above and beyond what anyone could have imagined.
She finds herself being an underdog, something she is not accustomed to, but that's OK. Hingis has proved to all the critics that she has been able to adjust to a new age of tennis and can still compete with the best in the world.
Matt Wilansky is a general editor for ESPN.com.
Tennis editor
ESPN Tennis Editor
Joined ESPN in 1998
SPONSORED HEADLINES
MORE TENNIS HEADLINES
MOST SENT STORIES ON ESPN.COM
EDITORS' PICKS
John Isner wins Atlanta Open for the second straight season.
Story »

Serena Williams set to make return in Stanford.
Bodo »

Nick Bollettieri at home in the Tennis Hall of Fame.
Wilansky »