Americans trying to end drought on clay
The U.S. travels to the Czech Republic in Davis Cup play, looking for its first win on clay in a World Group tie in 10 years.
Updated:
February 8, 2007, 4:14 PM ET
By
Keith Hawkins
| ESPN.com
Davis Cup play starts in 2007 for the United States the same way it ended in 2006.
On the road and on clay.
To no one's surpise, captain Patrick McEnroe last week named Andy Roddick, James Blake and Bob and Mike Bryan to the team that will play the Czech Republic in the first round of Davis Cup, which begins Friday in Ostrava. They'll face Tomas Berdych, Lukas Dlouhy, Ivo Minar and Pavel Vizner.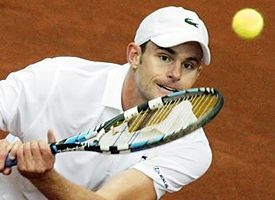 AP PhotoAndy Roddick is 20-9 in Davis Cup play, but seven of those losses have come on clay.
The tie will be played on clay, a surface that hasn't been kind to the Americans in recent years. The United States lost to Russia in the 2006 semifinals on clay, although Roddick forced Dmitry Tursunov to a fifth set that the Russian eventually won, 17-15.
It's been 10 years since the United States won a tie on clay in World Group play, beating Brazil 4-1 in the first round in Ribeirao Preto.
"We all know that playing away on clay has been tough for us, and we are playing away on clay against a good team with one very good player in Tomas Berdych," McEnroe said. "So I think that's why I don't think you can say that any team is a heavy favorite. Look at Spain the last couple years -- they have lost in the first round."
The winner will face either Switzerland or Spain in April's quarterfinals. World No. 1 Roger Federer will not play for Switzerland this weekend, while No. 2 Rafael Nadal will compete for Spain.
Berdych, ranked No. 12 on the ATP Tour, beat Roddick last year in straight sets in Spain on hard court in their only head-to-head meeting. Against Blake, Berdych is 0-2, including a straight-sets loss in the fourth round of last year's U.S. Open.
McEnroe has a foursome that is playing about as well as it has entering a Davis Cup tie. Blake won an Australian Open tune-up in January and on Monday lost in the final at Delray Beach to Xavier Malisse. Roddick reached the semifinals at the Australian Open and the Bryan brothers won their fifth Grand Slam title in Melbourne.
"I am really happy with where all the guys are, particularly James and Andy," said McEnore, who is in his seventh year as captain. "I would say they finished with a disappointing matches in Australia. To me that doesn't take away the great progress I saw in Andy's game and two of the best matches I have seen him play in a long time, beating [Marat] Safin and beating [Mario] Ancic and then winning quite easily against Mardy Fish in the quarters. I really saw Andy playing the best tennis I have seen him play.
ORDER OF PLAY, ALL TIMES ET
Friday, 9 a.m.
Andy Roddick vs. Ivo Minar
James Blake vs. Tomas Berdych
Saturday, 8:30 a.m.
Bryan/Bryan vs. Dlouhy/Vizner
Sunday, 8 a.m.
Andy Roddick vs. Tomas Berdych
James Blake vs. Ivo Minar
"James, I think it is the same kind of thing. He had a great start, winning in Sydney and looked very good in the Australian and had a disappointing match against [Fernando] Gonzalez. … I think all the guys are playing about as well as they've played. And, obviously, with the Bryans winning the Australian again, they are certainly proving they are the best doubles team in the world consistently.
"I think we feel very good about where we are. I know as captain I feel the guys will be coming in really feeling good about a lot of the things they've done in the last couple months."
Roddick is 20-9 in his career in Davis Cup play, but 3-7 on clay. Blake is 4-3 on clay; the Bryan brothers are 4-0 on dirt in Davis Cup play.
The last time the United States traveled to the Czech Republic was 1996, when McEnroe was a member of the American team that lost 3-2 in the quarterfinals.
"I am hoping that we have a little more success than I did on the court," McEnroe said. "This is a great opportunity for us, and I think it was one of the guys said to me last year right after we lost to the Russians in the semifinals, 'Hey, it would be nice to get a match away on clay maybe earlier on in the competition instead of playing in the semis and finals.' The two years we reached the semis and the year we reached a finals, we were all playing away on clay against very, very strong countries.
"It is a great opportunity and if we can get through this one, we know that our next match would be at home. So we would certainly relish that opportunity. But we've got to go over there and play well and go in with the right mind-set to be successful on clay."
Keith Hawkins is the tennis editor for ESPN.com.
EDITORS' PICKS
Li Na leaves tennis with her legacy fully intact.
Tandon »

It's still Serena Williams against the field.
Tandon »

Here's why fall tennis still matters -- a lot.
Tandon »