Two coaches, two styles, one goal
As different as Andy Murray and Andy Roddick are in playing style, there's a bigger contrast between their coaches, Brad Gilbert and Jimmy Connors.
Updated:
February 16, 2007, 3:29 PM ET
By
Joel Drucker
| Special to ESPN.com
SAN JOSE, Calif. -- Grasping how coaching works in tennis requires understanding an overlooked reality: Tennis is an individual sport. Team sport coaches subordinate others to the organizational mission, often applying the coercion to motivate and educate their charges. That Tony Dungy's refusal to yell is such a distinctive asset speaks to the omnipresent leverage and emotional terror that pervades team sports.
Not so in tennis.
"One major reason you play tennis is to not have someone tell you what to do," said Jim Courier.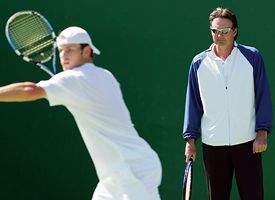 Clive Rose/Getty ImagesJimmy Connors, right, was instrumental in Andy Roddick's turnaround in 2006.
So besides being a franchise player, a tennis player is also a team owner.
No one loves waxing on coach-player nuances more than Brad Gilbert, the current coach of British hopeful Andy Murray. Before Murray, Gilbert's notable charges -- make that clients -- have been Andy Roddick and Andre Agassi.
Gilbert this week is here for the SAP Open. Having grown up in the Bay Area, Gilbert's history with this event stretches back to a childhood stint as a ball boy. But after two years of exile following his jettison from the Roddick camp at the end of 2004, he's now buzzing around San Jose's HP Pavilion like a 50,000-watt radio tower.
A lifelong Oakland Raiders fan, Gilbert is adorned in all-black garb, his bouncy stride alerting the world to his status as he greets old friends, chats up the posses of touring pros and tends to Murray's needs.
Typically after a match, the tennis coach is grabbed in a hallway by a handful of reporters -- and usually in the later stages of a tournament. Demand for Gilbert was so great after Murray's first-round win Tuesday night that he instead was trotted in for a full-blown press conference, an activity Gilbert conducted as smoothly as a White House press secretary.
"There's always a learning curve, where you've got to learn what your subject is all about," said Gilbert.
The other coach generating curiosity this week occupies Andy Roddick's corner. But Jimmy Connors isn't here this week. Nor was he with Roddick last week at the U.S. Davis Cup in the Czech Republic. Ironically, it was Gilbert's reluctance to travel with Roddick to Spain for Davis Cup in 2004 that proved the final blow to their relationship.
But the Roddick-Connors dynamic is different. While Gilbert adores such benevolent dictators as legendary UCLA basketball coach John Wooden, Connors confessed that as a tennis player obeying authority was meaningless when you had the chance to hold your destiny in your hands. Although Gilbert is a sound-bite machine, Connors rarely has granted an interview over the course of his six months with Roddick. And although Gilbert immerses himself in virtually every aspect of his player's life, you won't see Connors fetching Roddick's coffee.
This is where another sporting axiom must be examined in its tennis context. Convention holds that superstars such as Jerry West, Wayne Gretzky -- or, allegedly, Connors -- are less effective at coaching than journeymen such as Pat Riley or Bill Cowher. Gilbert's status as a lunch-pail grubber who used his brain to crack the top five reinforces that notion.
But the dichotomy between superstar and craftsman doesn't hold up in tennis. In a sport where every player is a quarterback, there's a premium on kinesthetically grasping singular excellence. Roddick reached into tennis mythology to fetch an icon and give himself a demanding audience. Watch the two when they are on the same court and see the urgency across Roddick's face: "Holy smokes, the great Jimmy Connors is watching. I better give it my all if I want to earn his approval." Gilbert's belief is that coaching means, "I've got to see the world through the other guy's eyes." Connors wants Roddick to see the world through Jimmy Connors' eyes. And Roddick likes what he sees, too.
"I'm learning new parts of the game," he said Wednesday night.
Connors' trademark shot was the return of serve, a shot Roddick confesses he has changed significantly.
"I play kind of the opposite from how I played when I was No. 1," said Roddick. "It was a necessary change."
Even Gilbert's success as a player -- as opposed to working up the ranks as an assistant coach -- is the golden nugget that earned him a coaching career. As Agassi noted when he and Gilbert began together in 1994, "Brad's won matches he should have lost. I've lost matches I should have won."
Murray echoes Agassi's words: "He scouts opponents and helps me figure out how to play to their weaknesses."
Connors liked people to believe he never scouted. During last year's U.S. Open, Connors said, "I want Andy to have a game he doesn't have to change for anyone." Yet even Connors noted years earlier, "Do you think I'm stupid? Of course I know if a guy's weaker on one side or if it's better to serve to one side or the other. But you just have to sense these things right out there, in the arena."
Although Connors has attempted to reach Roddick through the cognitive avenues -- technique and tactics -- his bigger quest has been to transmit a visceral jolt rather than a pulsating radio signal.
"The stuff he's teaching me is an extension of what she taught him."
-- Andy Roddick on Jimmy Connors' late mother, Gloria
The Connors philosophy comes from the person who loved him unconditionally and taught him the game that made his life, his recently deceased mother and lifelong coach, Gloria.
Gloria Connors most of all was a master teacher, a woman who built her son's game -- and those of many others -- from the ground up. Among her key principles: Don't back down. Smother them with footwork. Move like a panther and let those tiger juices suffocate the opponent. Wed technique to intensity and you can't lose.
According to Roddick, "The stuff he's teaching me is an extension of what she taught him."
What Connors and Gilbert share is an awareness that at heart, tennis is all about counterpunching, that there's another guy across the net who must be taken down and that interactive dynamic makes this seemingly pristine sport quite personal. Connors wants Roddick to find emotional self-direction. Put your own house in order and you will dictate play. Gilbert is more cognitive, beginning with the opponent's weaknesses as a means of maximizing a player's strengths.
Determining which coach's approach is more effective is fruitless. Gilbert shakes his head when he speaks of British media members who demand he declare the exact date of Murray's Grand Slam victory. Connors is a sphinx. But, however Murray and Roddick advance through 2007, here's another premise: No coach ever produced a tennis player. Leave the manufacturing of champions to those team sports coaches. Tennis is a supreme test of autonomy.
Joel Drucker is based in Oakland, Calif., and writes about tennis for Tennis Magazine and The Tennis Channel.
SPONSORED HEADLINES
MORE TENNIS HEADLINES
MOST SENT STORIES ON ESPN.COM