Commentary
U.S. hoping to reverse recent history in Sweden
An ideal surface. Two top-10 players. The world's No. 1 doubles team. Is there any reason to think host Sweden stands a chance against the United States in the Davis Cup semifinals? One look at history and the answer is a resounding yes.
Updated:
September 18, 2007, 5:29 PM ET
By
Bonnie D. Ford
| Special to ESPN.com
It's a familiar script. The United States Davis Cup team is favored to beat Sweden on fast indoor carpet in this weekend's best-of-five semifinals on the road.
The visitors boast two top 10 players and the world's best doubles team. The injury-riddled home team is minus its top singles player and may have to tap a guy who hasn't played since January, not to mention throwing a 35-year-old veteran into both singles and doubles. The result would seem like a foregone conclusion, except that anyone who's up on history knows what previous U.S. teams have discovered, to their sorrow, in Gothenburg. Three times in the past 23 years, a U.S. team that outranked its opponents -- and was expected to outplay them -- has marched into the lyrically-named Scandinavium Arena in this picturesque port city on the west coast of Sweden, only to emerge dazed, battered and beaten. Todd Martin, who played on two of those teams, said Sweden always poses a formidable challenge even when fielding a less than stellar squad. "They've always had great unity, and the crowd supports them mightily," he said. "I think that's infectious."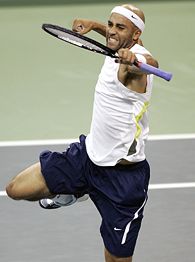 AP Photo/Chuck BurtonJames Blake is just 4-5 in Davis Cup matches played outside the United States.
U.S. captain Patrick McEnroe and his tight-knit gang of four aim to exorcise the ghosts of Gothenburg and take another step toward breaking what threatens to be a record 12-year drought in Davis Cup titles. "We have a lot of respect for Sweden, for their players," McEnroe told reporters Tuesday. "We know they play well in Davis Cup, especially. But, you know, what happened 10 years ago or 20 years ago, I think, is pretty irrelevant to this team and these guys."
Andy Roddick
,
James Blake
and
Bob
and
Mike Bryan
do have one important distinction from past U.S. teams that came to grief here -- chemistry. They are close off the court, and all four have given McEnroe a blank check in terms of their availability. That's a marked contrast from sometimes reluctant and occasionally fractious groups of 1984, 1994 and 1997. Roddick has missed only one Davis Cup weekend in McEnroe's seven-year tenure, that was due to injury; Blake has been a stalwart in the past three years; and the Bryan brothers lobbied heavily to be named to the team, a tactical move that has paid off in their 11-1 record despite the fact that their presence deprives McEnroe of keeping a third pure singles player in reserve. "Togetherness" is the team's greatest asset, McEnroe said earlier this month when he named the roster. "I think it's their commitment and their energy," he said. "They just love being there. They love being with each other. They bring that kind of passion every time." That kind of blanket statement hasn't always been true. In 1984, captain Arthur Ashe finally persuaded Jimmy Connors to play for an entire year on the same squad as Davis Cup devotee John McEnroe -- an apparently winning, if not entirely amiable, combination. But the weekend turned nightmarish when the American singles players went down in the Davis Cup final in Gothenburg on indoor clay without winning a set and behaved so boorishly that Ashe felt compelled to write an apologetic open letter to The Washington Post afterwards. McEnroe and Peter Fleming, the most successful doubles tandem in U.S. Davis Cup history, lost the decisive match. Jimmy Arias, a 20-year-old practice partner on that ill-fated team, said this week that his memories of the event are of darkness and fatigue.
"It was December, and there was basically about one hour of light," Arias said. "McEnroe and Connors wouldn't practice together, and no one wanted to practice with Fleming, and the other practice partner was Aaron Krickstein. He had a stress fracture in his foot and couldn't practice, but Arthur wanted to bring him because he was the next one coming up. So I was practicing six hours a day, and I spent the whole time comatose." Martin played on the team that lost in Gothenburg in the 1994 semifinals -- when the U.S. team unbelievably blew a 2-0 lead -- and the 1997 team that went down with shocking ease there in the final despite bringing the No. 1 and No. 3 players in the world, Pete Sampras and Michael Chang. "I can take credit for all duds in Sweden," Martin said jokingly on Tuesday. With all due respect to Martin, the losses probably hinged more on a bizarre coincidence involving Sampras, who frequently had to be cajoled to play by then-captain Tom Gullikson during his peak years in the 1990s. Sampras was forced to default in midmatch twice, three years apart -- once with a hamstring injury (1994) and once with a pulled calf muscle (1997). Injuries have limited Swedish captain Mats Wilander's options this time around. The fiercely competitive No. 33
Robin Soderling
is out with wrist problems, leaving the ageless
Jonas Bjorkman
as the top-ranked player (No. 55) from his country.
Thomas Johansson
is just behind him in the ATP charts but is 0-7 against Roddick and Blake lifetime, leaving open the possibility that Wilander will play the big-serving
Joachim "Pim-Pim" Johansson
(no relation to Thomas) instead. The only problem with that scheme is that Joachim, who had shoulder and elbow operations in 2005, has played just 13 matches over the last two seasons. He's coming off an eight-month injury rehab and hasn't played since the Australian Open.
Simon Aspelin
just won the U.S. Open doubles title -- with Austrian partner
Julian Knowle
-- and his team beat the Bryans on the way to that title. Still, he is relatively untested in Davis Cup play and has not partnered much with Bjorkman because they favor the same side of the court. Can the U.S. team's obvious camaraderie be a factor in solving the Scandinavium hex? Martin said he thinks it will, and speculated that all four players will be even more driven because they didn't go as deep into the recently-concluded U.S. Open as they might have liked. "We had a few guys who didn't embrace Davis Cup, even though they played it," Martin said of his previous experiences. "This team handles all comers together. That can affect the team and the individual. These guys love to play and they've got scores to settle for themselves and the team."
Bonnie D. Ford is a frequent contributor to ESPN.com.
Enterprise and Olympic Sports
Bonnie D. Ford is a senior writer for ESPN.com.
EDITORS' PICKS
John Isner loses 15-13 in the fifth set in Davis Cup.
Story »

Does Victoria Azarenka now have the upper hand on Serena Williams?
espnW »

New nationality rules creating tough decisions.
Tandon »
MOST SENT STORIES ON ESPN.COM