Commentary
U.S. team ready for whatever, and whomever, Russians throw at it
The Davis Cup final begins Friday and the United States is ready for the defending champions from Russia … regardless of whom they send out on the court.
Originally Published:
November 27, 2007
By
Bonnie D. Ford
| Special to ESPN.com
PORTLAND, Ore. -- The days when Cold War imagery colored every athletic competition between the United States and Russia may be long over, but it's still a spy-versus-spy game this week.
Tuesday, Russian Davis Cup captain Shamil Tarpischev grinned roguishly when a reporter asked him point-blank which of the four players flanking him at the curtain-raising news conference might be playing singles on Friday, the first day of the championships.
"I'm asking the same question of myself," Tarpischev said. "It's too early.''
When will he decide?
"Thursday," he elaborated.
[+] Enlarge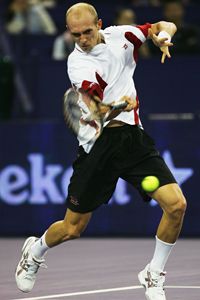 Andrew Wong/Getty ImagesNikolay Davydenko is a combined 0-11 against Andy Roddick and James Blake in his career.
Tarpischev's first term as captain (1974-91) began during the Nixon administration, well before the dissolution of the Soviet Union and not long after Bobby Fischer and Boris Spassky matched wits in the World Chess Championship. The captain's second stint, which started 10 years ago, includes two titles in 2002 and 2006.
The Davis Cup draw is at 3 p.m. ET on Thursday, and this old grand master has until an hour before that to change his official roster and slot his versatile players where he thinks they'll do maximum damage. He'll give nothing up before then.
Not that Tarpischev doesn't have lots of options with this string quartet. He arrived in Oregon with two top-20 players in No. 4 Nikolay Davydenko and No. 19 Mikhail Youzhny, and two more players who have excelled in Davis Cup play, 35th-ranked Dmitry Tursunov, who overcame Andy Roddick in a backbreaking five-setter last year to send the Russians to the finals, and 34t-ranked Igor Andreev, who has carried most of the load for his team this year.
Should Tarpischev throw the beleaguered Davydenko, who's still fielding the same questions four months into a match-fixing investigation, into the breach against two players he's never beaten, Roddick and James Blake? Would Andreev, who has upset Roddick the last two times they've played, be able to make full use of his magic bag of forehand tricks on this U.S.-friendly, low-bouncing, fast hard court?
And most intriguingly, why did Marat Safin's name appear on the Russian team's rooming list if, as Tarpischev insisted, he's not coming, much less playing? It's enough to make you start looking over your shoulder for Boris Badinoff.
The U.S. players, whose roles are as fixed as the Russians' are fluid, are under no illusions about what kind of tactical gamesmanship might be going on here. They know the mystery is designed to make them wonder, so they're firmly in "whatever happens" mode.
From Tuesday's press session:
Bob Bryan: "It's not going to surprise us, you know, if [Safin] shows up on Thursday and plays doubles or whatever. We're not going to be surprised. "
Andy Roddick: "You're not?"
Bryan: "I'm not." (smiling)
Roddick: "I would be shocked." (laughter)
Bryan: "It might be just some trick they have up their sleeve. Who knows. As far as the doubles, you know, we're going to be ready for everyone. There's four guys that can play really good doubles. Safin is a great doubles player, too. That's why we're kind of surprised he's not here. But Tursunov/Youzhny is probably their best team they can put together out of those four guys. We'll be ready for them."
In a bigger-picture sense, U.S. captain Patrick McEnroe said he didn't think either Davydenko's woes or Safin's presumed absence constituted much of an advantage for his team.
"Obviously, Safin is a tremendous player,'' McEnroe said. "But he hasn't had a great year. So, you know, they've got other players, at least this year, who have played a lot better than he has, and they're all here.
"Whatever's going on within their team, I think these guys are pros and they've played well, very well, in Davis Cup, obviously winning it last year.''
The Russians sauntered into their news conference Tuesday looking loose. They giggled and bantered in their native language between English-language questions as if they were putting one over on the room.
Davydenko, relieved of his usual linguistic struggles by the presence of a translator, pursed his lips as he listened to the obligatory query about his status as a person of interest in the ATP's match-fixing probe. His face reflected more boredom than irritation, but then again, he didn't exactly perk up when he got a tennis question, either.
"Yeah, of course I lost to Roddick and to Blake,'' Davydenko said through the interpreter. "What always happens is the next time one plays against the same player, one tries his best to win. And that's what I'm going to do on Friday if I'm going to play against Blake.''
Pressed for more analysis, Davydenko allowed as to how he found Roddick's baseline game "worse'' than Blake's and called the U.S. No. 1 and No. 2 "inconvenient players as far as I'm concerned.'' A Russian reporter in the audience leaned forward and whispered that Davydenko had actually joked that he didn't want any more of his answer translated because it would get him in trouble.
You'd think that kind of trouble would be welcome after the past four months. Then again, perhaps Davydenko knows more than we know -- which wouldn't be much -- about Tarpischev's intentions for the weekend. Davydenko has lost his first match in each of the past two Davis Cup rounds, and the captain benched him for reverse singles both times.
Guile will go only so far this week. Whether Tarpischev moves his pawns out first or jumps a knight over them in a surprise attack may not matter if the U.S. team plays to its full ability. Until Thursday, then, when all will be revealed.
Bonnie D. Ford is a frequent contributor who is covering the Davis Cup for ESPN.com.
Enterprise and Olympic Sports
Bonnie D. Ford is a senior writer for ESPN.com.
DAVIS CUP FINAL

The United States hosts Russia in the Davis Cup final, which begins Friday in Portland, Ore. Russia is the defending champ, while the U.S. is trying to win its first Davis Cup title since beating Russia in 1995.
Schedule
Site:
Memorial Coliseum, Portland, Oregon
Friday:
Singles, 4 p.m. ET
Saturday:
Doubles, 3:30 p.m. ET
Sunday:
Reverse Singles, 4 p.m. ET
News
•
Blake, U.S. wrap up title run with win
•
Bryans clinch title with straight-sets win
•
Roddick, Blake give U.S. 2-0 lead
•
Davydenko left out of singles for final
•
Barr: Davydenko to turn over phone records
•
Safin out of Davis Cup final
•
Rosters announced for finals
Analysis
•
Ford: Total team effort in clinching Cup
•
Ford: A luxury few can afford
•
Ford: Biggest win of Blake's career
•
Ford: Fireworks have already begun in Portland
•
Drucker: Q&A with Gorman, Gullikson
•
Numbers favor United States in Davis Cup final
•
Ford: Russian roster set … or is it?
•
Drucker: Five great Davis Cup moments
•
Ford: Captain America
•
Ford: Team USA's camaraderie
•
Davydenko's stormy season
Video
•
Weekend recap
•
Cup back in the U.S.
•
Roddick, Blake have U.S.on the verge
•
Bud's breakdown
•
McEnroe excited to face Russia
Photo Gallery
•
2007 Davis Cup
Chats
•
Bonnie D. Ford chat wrap, Saturday

•
Bonnie D. Ford chat wrap, Friday

•
Bonnie D. Ford, Thursday

•
Bonnie D. Ford, Wednesday

•
Dmitry Tursunov

•
Bonnie D. Ford, Tuesday

Blogs
•
Top Davis Cup dogs
•
Draw could be the key
•
Unlimited replay a good thing
•
Roddick's real focus
MOST SENT STORIES ON ESPN.COM