U.S. tops Russia for first Davis Cup title since 1995
Updated:
December 1, 2007, 11:31 PM ET
Associated Press
PORTLAND, Ore. -- The United States won its first Davis Cup title since 1995 behind a convincing doubles victory Saturday by brothers Bob and Mike Bryan.
The Bryans cruised to a 7-6 (4), 6-4, 6-2 victory over Russia's Nikolay Davydenko and Igor Andreev on the indoor hard court at Portland's Memorial Coliseum as the U.S. won the first three matches in the best-of-five final.
The once-dominant United States had not won the Davis Cup in 12 years, the longest span without an American victory. Pete Sampras last led the team to victory over Russia on clay in Moscow.
The United States now has 32 titles in the international team competition, dating to 1900.
Andy Roddick and James Blake got the U.S. off to a fast start Friday, winning the first two singles matches. The U.S. had not taken the first three matches of a Davis Cup final since 1990 against Australia.
[+] Enlarge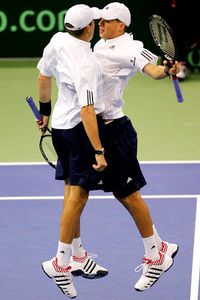 Jonathan Ferrey/Getty ImagesBob and Mike Bryan dominated Russia's Igor Andreev and Nikolay Davydenko to help clinch the Americans' first Davis Cup title in more than a decade.
With Roddick and Blake looking on, both doubles teams held serve through the first set, forcing the tiebreaker. When the United States took a 5-3 lead, Andreev slammed his racket to the court.
Andreev double-faulted on the twins' second set point, and the top-ranked duo celebrated with their familiar chest bump.
Andreev and Davydenko had only been partnered once before as a doubles team in Davis Cup play, and often conferred over strategy. Davydenko, who came to the Davis Cup mired in an investigation into unusual betting patterns during a match in August, had played a doubles match only twice before this year.
When Bob Bryan's winning forehand at the net bounced over the heads of the Russians, Roddick and Blake poured onto the court and piled into a group embrace. The crowd chanted "U-S-A! U-S-A!'
The four players then ran a victory lap around the court with an American flag.
"No words can explain how we feel right now, except Woooooooo!" Mike Bryan exclaimed.
On Friday, sixth-ranked Roddick beat Dmitry Tursunov 6-4, 6-4, 6-2 in the opening match and 13th-ranked Blake outlasted Mikhail Youzhny 6-3, 7-6 (4), 6-7 (3), 7-6 (3).
No. 34 Tursunov is the lowest-ranked member of the Russian team, following fourth-ranked Davydenko, No. 19 Youzhny and No. 33 Andreev.
The best-of-five final was a culmination of a year's worth of international competition. Sunday's reverse singles will be shortened to best-of-three sets because the U.S. has already clinched the title.
Both Davis Cup teams include the same players from the semifinals, when the United States beat Sweden 4-1 and Russia defeated Germany 3-2.
The United States last hosted the Davis Cup final in 1992, in Fort Worth, Texas. Andre Agassi, Jim Courier, Pete Sampras and John McEnroe defeated Switzerland.
Hours before Saturday's match, members of the Russian team played an impromptu soccer game on the court, using folding chairs as goals, and appeared loose.
Some were surprised when Russia's captain Shamil Tarpischev left fourth-ranked Davydenko out of the singles matches -- setting up the first match between Roddick and Tursunov.
Tarpischev had until an hour before Saturday's match to change his doubles team, but he left it alone.
"They're just much better doubles players," Andreev said afterward about the Bryans.
Davydenko is at the center of an investigation into betting patterns during a loss to Martin Vassallo Arguello of Argentina in August.
Betfair, an online gambling company, voided all bets on the match after unusually large amounts were wagered on the lowly ranked Argentine throughout the contest in Poland, even after he lost the first set 6-1. Davydenko retired with an injury in the third set.
Davydenko denies the allegations.
Memorial Coliseum, which seats about 12,800, had hosted two previous Davis Cup events, in 1981 and 1984, both U.S. semifinal victories over Australia.

Copyright 2007 by The Associated Press
SPONSORED HEADLINES
MORE TENNIS HEADLINES
MOST SENT STORIES ON ESPN.COM
DAVIS CUP FINAL

The United States hosts Russia in the Davis Cup final, which begins Friday in Portland, Ore. Russia is the defending champ, while the U.S. is trying to win its first Davis Cup title since beating Russia in 1995.
Schedule
Site:
Memorial Coliseum, Portland, Oregon
Friday:
Singles, 4 p.m. ET
Saturday:
Doubles, 3:30 p.m. ET
Sunday:
Reverse Singles, 4 p.m. ET
News
•
Blake, U.S. wrap up title run with win
•
Bryans clinch title with straight-sets win
•
Roddick, Blake give U.S. 2-0 lead
•
Davydenko left out of singles for final
•
Barr: Davydenko to turn over phone records
•
Safin out of Davis Cup final
•
Rosters announced for finals
Analysis
•
Ford: Total team effort in clinching Cup
•
Ford: A luxury few can afford
•
Ford: Biggest win of Blake's career
•
Ford: Fireworks have already begun in Portland
•
Drucker: Q&A with Gorman, Gullikson
•
Numbers favor United States in Davis Cup final
•
Ford: Russian roster set … or is it?
•
Drucker: Five great Davis Cup moments
•
Ford: Captain America
•
Ford: Team USA's camaraderie
•
Davydenko's stormy season
Video
•
Weekend recap
•
Cup back in the U.S.
•
Roddick, Blake have U.S.on the verge
•
Bud's breakdown
•
McEnroe excited to face Russia
Photo Gallery
•
2007 Davis Cup
Chats
•
Bonnie D. Ford chat wrap, Saturday

•
Bonnie D. Ford chat wrap, Friday

•
Bonnie D. Ford, Thursday

•
Bonnie D. Ford, Wednesday

•
Dmitry Tursunov

•
Bonnie D. Ford, Tuesday

Blogs
•
Top Davis Cup dogs
•
Draw could be the key
•
Unlimited replay a good thing
•
Roddick's real focus