Commentary
The "Near Slam" is a can't-miss event
Step outside in perfect temperatures and apply just a dab of sunscreen. Enjoy the serenity, exceptional food and ubiquitous belief of relaxation. It all adds up to Indian Wells -- perhaps the most pristine event of them all.
Updated:
March 13, 2008, 11:07 AM ET
By
Greg Garber
| ESPN.com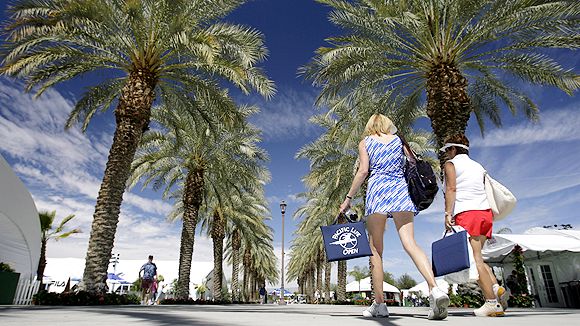 AP Photo/Mark AveryPlayers and fans can't get enough of the lush surroundings at the Pacific Life Open.
INDIAN WELLS, Calif. -- Lose the sweater at the airport in Palm Springs, then drive southeast on Highway 111, through Rancho Mirage and Palm Desert, past the boulevards bearing the names Dinah Shore, Frank Sinatra and Bob Hope and the ludicrously lush golf courses, under the swaying, stately palm trees. When you see the pale 16,100 seat stadium rising out of the desert floor, surrounded by breathtaking mountains, some of them capped by snow, when you hear the gentle thwacks of balls on rackets reverberating across the elegant grounds, you have arrived at the Pacific Life Open.
The sun is glorious and omnipotent. The temperature on Tuesday was 87 degrees. But, of course, it's a dry heat.
A record 303,000 tennis aficionados attended last year's tournament -- the biggest non-Grand Slam gate in the world -- and most of the best players in the world, including each and every one of the top 45 men, are gathered here (Justine Henin and the Williams sisters are the most notable absentees). But somehow, some way, there is a vague, almost sleepy under-the-radar feeling here among the lemon trees.
Quick, tennis fans -- who won the tournament here last year? If you knew it was Daniela Hantuchova and Rafael Nadal, you are hard-core indeed.
Tournament director Steve Simon, who has been working this event for more than a quarter century, understands this miracle in the desert as well as anyone.
"It's a beautiful destination resort," he said on Tuesday, sitting in his office under the Indian Wells Tennis Garden. "And a beautiful time of year, when everyone else is in six feet of snow and we're putting on sunscreen right now.
"We've grown dramatically, but we've also kept the -- I don't want to call it laid-back -- but casual Southern California atmosphere. What we've heard from the people is about the relaxed atmosphere, the tranquility they feel here."
Along with Miami, which plays out later this month, Indian Wells is the Near-Slam, the Semi-Slam, the Virtual-Slam.
The players -- with the ubiquitous exception of the Williams sisters, who had brushes with alleged racism here in 2001 -- uniformly seem to adore this tournament.
"It's really relaxing," said top seed Ana Ivanovic on Wednesday. "Actually, I'm here already for a week, so I'm pretty relaxed already."
Said Svetlana Kuznetsova, the No. 2 seed, "I love the court, the bounce of the balls. It suits my game so much. I would like to play golf, but I'm not very good."
What does she really love?
"The restaurants," Kuznetsova said, laughing. "Japanese."
[+] Enlarge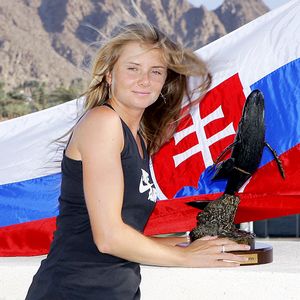 AP Photo/Mark J. TerrillThe mountains and palm trees of Indian Wells bode well for Daniela Hantuchova -- a two-time winner at this event in 2002 and 2007.
Like many tennis tournaments, Indian Wells has a well-traveled history. It began as an ATP fund-raising event in Tucson, Ariz., and in 1976 moved to the Mission Hills Country Club in the Coachella Valley. Charlie Pasarell, who was Arthur Ashe's roommate at UCLA and at one time the No. 1 ranked U.S. player, was the face of the event. There was a five-year stop at the La Quinta Hotel then, after nearly departing for Las Vegas, a move to the present site, where Pasarell and his longtime friend Raymond Moore built a 10,000-seat stadium. Women and men played together for the first time in 1996. Soon, though, the tournament found itself at the crossroads. Pasarell and Moore owned half the tournament and International Management Group owned the other half. Sponsorship money began to evaporate, attendance declined and there was pressure to move the event -- or sell it.
"We had two unbelievable first years here, then all of a sudden the next four were a financial disaster," Pasarell remembered Wednesday. "The show went on, but we lost a lot of money. IMG wasn't sure they wanted to be in Indian Wells. There were offers coming down from China and the Middle East.
"If we were just looking for the best deal, we would have just gone. But for me and Raymond, we would have had to move out of town. We thought it would be very, very bad for American tennis. IMG was great; they gave us the time to put a deal together."
It was appropriate that a consortium of players helped save the tournament. Along with two new partners, George Mackin and Bob Miller of Tennis Magazine, Pete Sampras, who owns a home at Bighorn in nearby Palm Desert, Billie Jean King and Chris Evert also became part owners.
In the Sony Ericsson WTA's Roadmap for 2009, Indian Wells will join Miami, Madrid and Beijing as the constellation of "crown jewels" that will function as second-tier Grand Slams. Invariably, Indian Wells is compared to Miami unfavorably -- despite the fact they offer the same number of rankings points.
"We're the new one," Simon said. "Miami was the first one [in 1982], outside of the Slams. We built this in 2000 to become part of that party. That doesn't happen overnight. We are now getting to the point where you can feel the energy, feel the excitement."
"Butch Buchholz was the pioneer," Pasarell said of Miami's founder. "We are strong allies. Nobody gives me more and better advice than Butch Buchholz."
They're expecting 320,000 here over the next 10 days, many of them coming from the Los Angeles area, via Route 10. There is much to see:
On Tuesday, you could find 18-year-old Kei Nishikori -- Japan's first ATP title winner in nearly 16 years when he shocked James Blake in the Delray Beach final last month -- beating Alex Bogdanovic 7-5 in the third set of their first round qualifying match with two stout aces.
On Wednesday, there was No. 8 seed Dinara Safina sitting alone outside one of the suites on the mezzanine level, yawning in the shade, almost dozing while Jill Craybas played Barbora Zahlavova Strycova on the stadium court.
Where else will you find a tournament cafeteria where players, their entourages and media sit side-by-side?
"When they leave Indian Wells," said Pasarell, "whether they are players or sponsors or fans or media -- I want them to say, `Wow, the nicest tournament in the world.' That's our objective.
"The only thing they can ever accuse us of is trying to build the biggest, best tennis event in the world."
Greg Garber is a senior writer for ESPN.com.
Writer, Reporter
Greg Garber joined ESPN in 1991 and provides reports for NFL Countdown and SportsCenter. He is also a regular contributor to Outside the Lines and a senior writer for ESPN.com.
EDITORS' PICKS
Serena Williams takes care of CiCi Bellis in straight sets.
Story »

Andy Murray beats Donald Young in straight sets.
Scores »

Eugenie Bouchard suffered a straight-sets loss at the Miami Open.
Story »
MOST SENT STORIES ON ESPN.COM