Commentary
Despite slipups, don't discount French favorites at Roland Garros
Arguably, the top four favorites to win the French Open left resounding images of defeat last week. Roger Federer, Rafael Nadal, Justine Henin and Serena Williams all faltered, but is this a sign of things to come as Roland Garros approaches?
A few thoughts on the weird week that was and the wacky one that will be:
Yes, four big players took it on the chin last week at the Rome Masters and Italian Open, respectively, but each of those defeats meant something entirely different. Let's look at them one by one.
Justine Henin:
The No. 1 raised a few eyebrows after her loss to
Dinara Safina
in Berlin when she said, "I thought you had to suffer to succeed. I don't want that anymore. I want to find serenity.'' Maybe she meant she wanted to find Serena? But seriously, let's not read too much into her language. Henin used a lot of peaceful-easy-feeling terminology to describe her state of mind last year, when she was rolling. She says it's not her aching knee that's the problem, and she's proven before that she's great at regrouping emotionally. Underestimate her in Paris at your peril.
Serena Williams:
She was serene after Safina beat her in a tough three-setter, saying she'd committed too many errors to win but wouldn't dwell on the loss. Williams notched two quality wins over
Francesca Schiavone
and Agnieszka Radwanska before that, adding on to her green-court title in Charleston. This is a far more important week for the 2002 French Open champion, who is a legitimate contender for that title again.
[+] Enlarge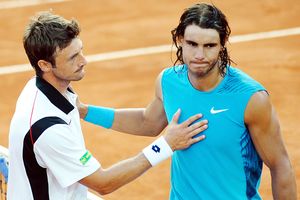 Vincenzo Pinto/Getty ImagesRafael Nadal, right, had never lost at the Rome Masters until last week.
Rafael Nadal:
Wanted a break in the grind. Got a break. The guy plays his heart out every time he laces up, but painful blisters on one foot led to an early ouster in Rome. Better for him to lose on account of an obvious injury than to lose in a later round to a higher-ranked rival who might gain confidence from the win. Now the No. 2 ranking that Nadal has held for nearly three uninterrupted years is endangered by the hard-charging
Novak Djokovic
. This raises the specter of Nadal and
Roger Federer
on the same side of the draw in majors. Wow.
Roger Federer:
Needed a sunny pill after going down to an inspired
Radek Stepanek
. "I think I would be a bit more worried if I were to lose against a guy who would just be playing real clay-court tennis,'' Federer said afterward, referring to Stepanek's aggressive, arrhythmic game. We've got news for you, Rog. It was on clay. It was real. The draw in Paris will have some non-grinders. Players like
Ivo Karlovic
and the suddenly hot-on-clay
Andy Roddick
could be in your quarter. Federer should be more worried about his backhand errors at key moments than about the guy across the net.
Out of the shadows:
Safina's first Tier I title could help her come into her own a little bit after years of being pigeonholed as Marat's similarly enigmatic little sister. … Talk about being overlooked -- how would it have felt the past few years to be the No. 2 player from Switzerland? A little like being Picasso's brush-cleaner, we suspect, for
Stanislas Wawrinka
, who jumped into the top 10 courtesy of his unexpected march to the Rome championship match. …
Vera Zvonareva
has a WTA-leading 32 match wins this season as of Tuesday.
Seeing red:
The Spanish Tennis Federation went against the expressed wishes of its top players and Davis Cup captain in choosing Madrid as the site for September's semifinals against the United States. Led by Nadal, the players complained that the city's altitude (just over 2,000 feet) will neutralize their advantage on clay because the balls will fly somewhat faster and particularly help a big server like Andy Roddick. Spain hasn't had a home tie since September 2006 and usually tries to play at sea level. However, it should be noted that the issue of altitude has never seemed paramount at the late-season Madrid Masters Series event, which is played indoors. "We all know we're still going to be underdogs,'' U.S. captain Patrick McEnroe said Monday. "This isn't like playing in Mexico City or Denver. Besides, the altitude favors heavy topspin and the ball bounces higher. Nadal is still going to be extremely dangerous.'' Somewhat lost in the tiff between the Spanish team and administrators was the choice of the venue itself: the Plaza de Toros de Las Ventas, which happens to be one of the world's most famous bullrings. Inaugurated in 1931, the building with the ornate brick fašade of Moorish design has hosted this blood sport continuously since then, except for a pause during the Spanish Civil War. The facilities include a skinning room. "Let's hope we don't come out of there bloody,'' McEnroe said. International Tennis Federation communications director Barbara Travers, who will make a preliminary site visit in mid-June, said there's at least one precedent. In 2004, eventual champion Spain hosted France in the semifinals in the Plaza de Toros in Alicante. Travers said the press facilities were a little tight, but otherwise described the seating and atmosphere in the bullring as top-notch. Las Ventas seats roughly 23,000, and if the event sells out as expected, the crowd would be among the largest in Davis Cup history. Turismo Madrid, the city's tourist bureau, just signed on as a major sponsor of the Davis Cup, a fact the players argued unfairly influenced site selection. Right or wrong, their grumbling is not a good sign for the Spanish team -- it's easy for anxiety about conditions to become a self-fulfilling prophecy. Given that Nadal's totem is a bull, perhaps he thinks it's not the luckiest place for him.
Roddick's run:
McEnroe said he worked out with Roddick in New York the day before Roddick left for Rome, and advised him to work on hitting more angled shots on clay, since the surface grants him an extra second to get to the ball and think about placement. "He kind of laughed and said, 'I don't do that,''' McEnroe said. "I said, 'You can do that.' I'm not taking any credit for his [reaching the semifinals] in Rome, but so much of playing on clay is a mind-set. I'm really happy with the way Andy and James [Blake] played there. The American men have a chance to make some noise at the French Open.''
Welcome back:
Hard-luck Aussie
Samantha Stosur
won her first WTA-level singles match of the season in Rome against
Michaella Krajicek
. Stosur, out since last year's U.S. Open with a viral infection, Lyme disease and an inopportune shoulder injury, also will play doubles with
Lisa Raymond
, as the former No. 1 team tries to get back on track.
Bonnie D. Ford covers tennis and Olympic sports for ESPN.com. She can be reached at bonniedford@aol.com.
Enterprise and Olympic Sports
Bonnie D. Ford is a senior writer for ESPN.com.
SPONSORED HEADLINES
MORE TENNIS HEADLINES
MOST SENT STORIES ON ESPN.COM
EDITORS' PICKS
Tomas Berdych takes out Rafael Nadal at the Aussie Open.
Story »

Maria Sharapova-Ekaterina Makarova isn't exactly an all-Russian semifinal
Caple »

Venus Williams set to take on teenager Madison Keys.
Tandon »