Commentary
Henin's greatest strength came at a price
Justine Henin was a small girl in a big girls' game. Her relentless fighting spirit and resolve led her to the pinnacle of tennis & but ultimately to her demise as well.
Updated:
May 14, 2008, 10:37 PM ET
By
Greg Garber
| ESPN.com
Five years ago, in the leafy western corner of Paris, a 21-year-old achieved her lifelong dream.
Justine Henin-Hardenne sat in the main interview room at Roland Garros and gazed at the elegant sterling trophy.
"I can't believe it's mine," she said, turning it around with her small hands to study the front.
Henin-Hardenne had slammed fellow Belgian Kim Clijsters 6-0, 6-4 in the 2003 French Open final for the first of her seven Grand Slam singles titles.
"I'm not so tall," she said. "I'm not so strong. But I can win."
On Wednesday, as Henin's abrupt retirement reverberated through the tennis world, those words make an appropriate epitaph. Just like a tragic Greek hero(ine), her greatest strength was her greatest weakness.
We haven't seen the last of Justine
Pam Shriver, owner of 22 Grand Slam doubles titles, has seen it all. That's why she said she wasn't all that surprised by Justine Henin's retirement announcement on Wednesday.
"It's not that big a shock, not really," Shriver said. "Think about her other patterns. Illness and injury, coupled with her intensity. And she's been through just about everything you can go through personally. I think you have something like Kim [Clijsters retiring at the age of 23], and you think about the possibilities. "At the end of day, she needs the break." That said, Shriver is not convinced that we have seen the last of a competitive Henin, who turns 26 on June 1. "In the end, I never discount anyone coming back," Shriver said. "At this moment, she needs to take all the pressure off. When someone announces this and they're in their mid-20s, I always say it's 50-50. With Justine, it might be better than that." Shriver ran through the long list of would-be retirements, from Martina Hingis to Lindsay Davenport to Tracy Austin to former doubles partner Martina Navratilova. "Martina announced her retirement in her late 30s and she kept going," Shriver noted. "Even [Bjorn] Borg fiddled around with the idea of coming back. "I say there's a good chance we'll see her again."
-- Greg Garber
Henin, who stands one-quarter inch less than 5-foot-6 and weighs 126 pounds, has always been a small girl in a big girls' game. The five players currently ranked immediately behind her average nearly five more inches in height and nearly 20 pounds more in weight. (That's according strictly to published weights; it could actually be 30.)
Henin often noted this disparity in her interviews and, one suspects, used it as a mighty motivation. Invariably, the tributes to her career referenced her fighting spirit, resolve, grit, tenacity and determination. The cover of the 2008 WTA media guide captures this nicely: Henin -- right hand balled into a fist, eyes narrowed and teeth bared -- exults as she looks into the stands, probably in the direction of Carlos Rodriguez, her coach since the age of 14.
It was this unbending will that separated her from her peers. Some quick context: She has been the dominant player in women's tennis since winning that first title at Roland Garros in 2003, finishing as the year-end No. 1 three times. Her seven Grand Slams in that span compare to a total of five for the Williams sisters. At the same time, the pressure on her narrow shoulders exposed a vulnerability, a certain fragility, in Henin. There is an all-or-nothing quality to her résumé.
She missed the first Grand Slam of the 2007 season because she was tending to her dissolving marriage of five years to Pierre-Yves Hardenne.
Henin rallied to win her third straight title at Roland Garros and then, after an inexplicable loss to Marion Bartoli in the semifinals at Wimbledon, ran away from the field. She won her last five tournaments in 2007, including the U.S. Open and the season-ending tour championships in Madrid, finishing with a sizzling streak of 25-0 and the No. 1 ranking.
By the modern standards of global tennis, it was nearly a perfect season. Henin won 10 of the 14 tournaments she entered -- a career best -- and produced a singles record of 63-4 as she became the first woman to win $5 million in a single year. It was the best winning percentage (.940) since Steffi Graf's 86-2 season (.977) in 1989, better than Serena Williams' 56-5 (.918) in 2002, when she was in the midst of her Serena Slam.
That terrific effort, as always, came with a price. Henin's entire 2008 clay-court résumé heading into Roland Garros consisted of just two matches, and the second, an ugly loss to Dinara Safina in Berlin, foretold the impending future.
"I don't have any real explanations," Henin said in a postmatch press conference that lacked her usual spirit. "I'm missing something, but it's not physical. I'm less fired up. I dug too deep into my reserves last year."
After winning the Australian Open in 2004, Henin was visited by a rare virus that debilitated her for four months. She came back to win the Olympics in Athens, but she had a poor showing in the U.S. Open and withdrew from her final three tournaments of the year. A knee injury caused a slow start in 2005, and after crowning her year with another win at Roland Garros, she was dogged by an ailing hamstring over the second half of the season. In the 2006 Australian Open, Henin became only the second player to retire in an Open-era final, when the effects of a gastrointestinal illness left Amelie Mauresmo the winner. Henin came back to win Roland Garros and finished the year at No. 1. Even in 2007, her finest year ever, she missed tournaments with asthmatic bronchitis, a wrist injury, a respiratory infection and a shoulder injury.
Which brings us to 2008. Despite winning her first tournament in Sydney, Henin hit the wall in Melbourne. After winning 33 consecutive matches, she lost badly, 6-4, 6-0, to Maria Sharapova in the Australian Open quarterfinals, then struggled to win four matches at home in Antwerp, Belgium, against players ranked between No. 47 and No. 106. In March, she was beaten in straight-set tiebreakers by Francesca Schiavone in the Dubai quarterfinals, and then embarrassed by Serena Williams, 6-2, 6-0, in the quarterfinals at Miami. It was the worst outing by a No. 1-ranked player in nine years.
[+] Enlarge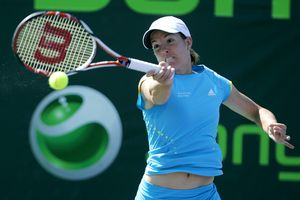 (AP Photo/Lynne Sladky)One of the most tenacious players ever, Henin will not be defending her three-time French Open crown.
Fatigue and a "slight twinge of light pain" in her right knee prompted her to withdraw from Charleston, S.C., and also may explain her disappointing start. Underlining the severity of the injury, Henin acknowledged that she considered surgery before opting for a cortisone shot in Miami. After a month off, she went 1-1 in Berlin and skipped Rome, drawing a $20,000 fine from the WTA.
"It's been tough for me since the beginning of the season, but I understand why," Henin said after losing to Williams in Miami, refusing to use her aching knee as an excuse. "Against this kind of player you don't have a chance if you play that [defensive] game, and I didn't have really any courage to do something else."
Courage -- even more than her sweet backhand -- has always been Henin's calling card. She was the three-time defending champion at Roland Garros, and had she won again, a four-peat would have been a spectacular slice of history, equaling only the great Bjorn Borg (1978-81), and perhaps Rafael Nadal in '08.
But consider this:
More From ESPN.com
One can't keep the fire burning. The other saw a new chapter. Justine Henin and Annika Sorenstam both ended up at the same place: retirement. Mark Kreidler


---
Henin was a small girl in a big girls' game. Her relentless fighting spirit and resolve led her to the pinnacle of tennis … but ultimately to her demise as well.
Greg Garber
---

It's safe to say nothing came easy for Justine Henin. As unassuming as she was on the court, her life was replete with drama and emotion off of it. And now, life after tennis begins.
Bonnie D. Ford
---
More:
•
Drucker: Henin among the greatest
•
Tennis.com: Irreplaceable
•
SportsNation: You rank the greats
•
Photo Gallery: Henin timeline
•
Edgerton: Ten athletes who retired young
•
What fellow competitors had to say
In 2004, with her body weakened by a virus, Henin lost to No. 86-ranked
Tathiana Garbin
in the second round at Roland Garros. It was the earliest French Open exit for a defending Grand Slam champion in 15 years.
If Henin had been healthy, physically and mentally, we might well have been talking about a six-peat.
When she was 11 years old, Henin visited the French Open with her mother, Francoise. It was the 1992 final between Steffi Graf and Monica Seles, and it made a profound impression on her. One day, she told herself, she would come to Roland Garros. And perhaps, she thought, she might win.
"I was a little girl who was coming to see her idols," Henin said after winning that 2003 title. "I can tell you this morning when I practiced, I just watched the place I was 11 years ago and it was very special."
In her mind, even in the process of winning seven Grand Slam titles, she was always that little girl. That mind-set carried her to the very pinnacle of tennis -- and sent her to the sideline two weeks before her 26th birthday.
Greg Garber is a senior writer for ESPN.com.
Writer, Reporter
Greg Garber joined ESPN in 1991 and provides reports for NFL Countdown and SportsCenter. He is also a regular contributor to Outside the Lines and a senior writer for ESPN.com.
EDITORS' PICKS
Victoria Azarenka is slowly starting to show old form.
Garber »

Don't forget about little David Ferrer.
Racket Response »

Just like the old days for Roger Federer, Rafael Nadal .
Bodo »
MOST SENT STORIES ON ESPN.COM