Henin's sudden retirement confounding to tennis luminaries
There's been no shortage of opinions from luminaries worldwide on Justine Henin's retirement.
Updated:
May 15, 2008, 1:15 PM ET
ESPN.com
A great competitor, an exceptional athlete, one who defied tennis because of her diminutive size. That's merely a snippet of the adulation Justine Henin has received throughout her dominant career.
As the women's No. 1 tennis player in the world and days away from beginning her defense of the French Open crown -- a title she has owned since 2005 -- Henin abruptly ended one of the most accomplished careers in history.
The decision to hang up her racket at the pinnacle of her career left fellow players, pundits, announcers and various other luminaries confounded.
Here's what some had to say to various media outlets:
"She was one of the most complete players of the last 10 years, winning seven Grand Slams. She was small compared to the other girls, but she had a very complete game. She made up for her size with her tennis. She was very creative and it made her the champion that she was. It's always a shame when you lose someone, but everyone has to retire some time. I just wish her happiness because life is starting for her now, and it's a chance for other women to emerge and take her place." -- Michael Stich, 1991 Wimbledon champion
[+] Enlarge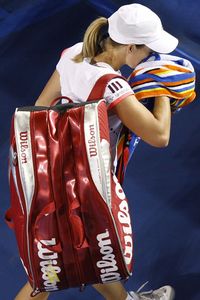 AP Photo/Mark BakerFellow players were left bewildered knowing they won't be seeing Justine Henin walk off the tennis court anymore.
"It's a lot of pressure to keep playing at that level -- certain players like Bjorn Borg retired early, and you can't blame them. The top 10 in the women's game is full of big, powerful women and for her to outpower them in spite of her size was really fantastic. Her backhand was a thing of real beauty. It's a loss for the game as a whole, but tennis is quite stressful for players, there isn't much of an offseason, and it's not surprising that she's worn out and perhaps had enough. When you lose your motivation and the losses start to come, it's no fun. I'm guessing she just thought that she couldn't push herself any more and needed to stop." --
Pat Cash, 1987 Wimbledon champion
"I don't understand it. She was No.1 and she retires. She was such an unbelievable player and could have won more Grand Slams. I don't know why she did it. Maybe it's a woman thing. I don't understand women. It's very sad for tennis -- a big loss." -- Goran Ivanisevic, 2001 Wimbledon champion
"I'm always surprised when somebody young, who seemingly loves to do what they do, chooses to stop. The injuries and such have taken a toll on her emotionally and psychologically. I've seen her work. I know what kind of [conditioning] work she's done. It could very well be the Jim Courier [overexertion] departure. But for the fact this is happening when she's still at the top of the game -- you can never call into question the message of the great. And she obviously is just an exceptional competitor and exceptional tennis player. Her methods were pretty hardcore, which is admirable. It takes an unbelievable amount of courage to push herself as hard as she did. Unfortunately, it comes with the toll that most likely was paid." -- Todd Martin, eight-time ATP winner
"This is the most devastating retirement since Borg. She's No. 1 in the world but obviously doesn't feel like No. 1, and she has the kind of temperament where she's going to listen to her gut and not look at the rankings. She's made that dreaded decision to be happy. I think this is a very human response to her own circumstances." -- Mary Carillo, tennis commentator
"She gave every ounce of energy every time she stepped foot on the court. Henin obviously felt she couldn't do it any longer. Her style of play required tunnel vision and 100 percent focus. That took a lot out of her -- more than anyone could have noticed -- and [she] abruptly retired. It reminds me of the way Sampras talked at end of his career: The pressure and intensity of being and maintaining the No. 1 ranking just became too much." -- Patrick McEnroe, American Davis Cup captain
"I'd say she's the most complete player that we ever saw on a tennis court for the women. She knew how to hit all the shots. With her size she was still able to pull off an aggressive game of tennis. She can slice the backhand and hit topspin, she could hit winners, she could defend. I can't believe she quit. That's really disappointing. Being small and fast is a good weapon in tennis, especially in women's tennis, but she was the only one able to do it, for sure. It's sad because suddenly we don't have her around, and I would say suddenly everyone will now go towards playing exactly the same way as everyone else plays. She was the one that was different. I'm happy for her, but for the world of women's tennis, it's a big blow -- it's like Michael Jordan quitting basketball. It takes a lot of imagination out of the game." --
Mats Wilander, seven-time Grand Slam singles winner
More From ESPN.com
One can't keep the fire burning. The other saw a new chapter. Justine Henin and Annika Sorenstam both ended up at the same place: retirement. Mark Kreidler


---
Henin was a small girl in a big girls' game. Her relentless fighting spirit and resolve led her to the pinnacle of tennis … but ultimately to her demise as well.
Greg Garber
---

It's safe to say nothing came easy for Justine Henin. As unassuming as she was on the court, her life was replete with drama and emotion off of it. And now, life after tennis begins.
Bonnie D. Ford
---
More:
•
Drucker: Henin among the greatest
•
Tennis.com: Irreplaceable
•
SportsNation: You rank the greats
•
Photo Gallery: Henin timeline
•
Edgerton: Ten athletes who retired young
•
What fellow competitors had to say
"It's sad for tennis, and the whole tour is in disbelief. Justine is a true champion and a great ambassador for the game. She'll be greatly missed. Champions like this don't come around very often. I wish her all the success in the future, in whatever she decides to do." --
Svetlana Kuznetsova, current world No. 5
"I suppose her legacy -- because of longevity -- is that you can't put her among the all-time greats. Obviously [she will be in] the Hall of Fame, but not like Martina Navratilova, Chris Evert or Margaret Court, because of the shortness of her career. She was an incredible athlete. She dominated on clay for some unknown reason to me. I guess it's just her speed. She was a good competitor, and maybe by the end of her career, a great competitor. I used to think she'd get tight and nervous at big times, but as her career went on, she was actually the best big-match player. She did have incredible power and a one-handed backhand that defied her size, really. Her serve to me was a little bit inconsistent but she popped it pretty good for her height. She was a great athlete. I wish she'd go ahead and try to play a little longer." -- Jimmy Arias, five-time ATP winner
"She had to work twice as hard as everyone else. She had to take two steps where everyone else took one step. She was a great defensive player as well as an offensive player and she had touch, drop shots and topspin lobs. I don't see anyone else out there with that variety. It's sad -- she brought a lot of heart and soul to the game. She obviously felt a lot inside even though she wasn't demonstrative. I hope she'll change her mind, but she did come on the scene pretty young. It'll be interesting to see where else she can find that passion in life." -- Chris Evert, 18-time Grand Slam winner
SPONSORED HEADLINES
MORE TENNIS HEADLINES
MOST SENT STORIES ON ESPN.COM
EDITORS' PICKS
Weirdly, injury-plagues Tommy Haas is an ironman.
Bodo »

Here's why the IPTL season got it right.
Peter Bodo »

Here are your top quotes from the 2014 season.
Tandon »