Tennis Channel cancels Dubai coverage
Updated:
February 17, 2009, 4:20 PM ET
ESPN.com news services
DUBAI, United Arab Emirates -- Organizers of a women's tennis tournament said Tuesday that security fears were behind the decision to bar an Israeli player -- a move that could force another showdown when the men's play begins next week.
The snub brought swift denunciations from the Women's Tennis Association and warnings that it could consider scratching the Barclays Dubai tournament from its calendar.
[+] Enlarge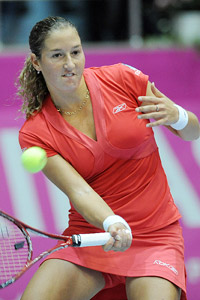 Sergei Supinsky/AFP/Getty ImagesThe Dubai tournament organizing group's statement said the presence of Shahar Peer "would have antagonized our fans."
The Tennis Channel announced it would not televise the tournament this week in protest of the United Arab Emirates' last-minute visa denial for Israeli player Shahar Peer.
"This is an easy decision to come by, based on what is right and wrong," Tennis Channel chairman and CEO Ken Solomon told The New York Times. "Sports are about merit, absent of background, class, race, creed, color or religion. They are simply about talent. This is a classic case, not about what country did what to another country. If the state of Israel were barring a citizen of an Arab nation, we would have made the same decision."
Tuesday's statement by the Barclays Dubai organizers -- citing fan anger at Israel's recent incursions into the Gaza Strip -- was the first detailed explanation of the visa denial for Peer, who qualified as the 48th-ranked player in the world. Monday's WTA rankings listed her 45th.
But the United Arab Emirates, which is trying to become a showcase for world-class sports, faces increasing pressure with the men's field, as Israeli doubles specialist Andy Ram hopes to be in the draw on Sunday.
Ram's lawyer, Amit Naor, told The Associated Press that the player is currently in Marseilles, France, and awaiting word if he will be allowed into Dubai. Ram is ranked No. 7 in the world in doubles.
"Andy wants to play, he's not interested in all the other stuff," Naor said. "He's not looking for trouble, he's looking to play ... we thought politics was already out of sports."
Ben Nichols, a marketing official for the men's and women's tennis tournaments in Dubai, said organizers were not aware of Ram's visa status.
"

Sports are about merit, absent of background, class, race, creed, color or religion. They are simply about talent. This is a classic case, not about what country did what to another country.

"

-- Ken Solomon, chairman and CEO of the Tennis Channel
The Association of Tennis Professionals, which runs the men's tour, issued a statement saying it was awaiting "an official decision" on Ram's visa.
"Clearly this is an opportunity for the UAE to make the right decision," the ATP said. Ram seeks to play in Dubai with doubles partner Kevin Ullyett of Zimbabwe.
The Wall Street Journal Europe, meanwhile, announced it had withdrawn as one of the sponsors of the Dubai Tennis Championships. It said the rejection of Peer ran counter to the newspaper's editorial philosophy of "free markets and free people."
The UAE -- which does not have diplomatic relations with Israel -- could face setbacks in hosting other major sports events if the WTA and other federations grow skittish over the prospect of Israeli athletes being blocked.
The $2 million Dubai Tennis Championships includes all of the top 10 women's players.
Dubai and Abu Dhabi, the Emirates' main centers of population, have used sports to enhance their image as more than just places of skyscraper forests and headline-catching projects such as artificial islands and indoor skiing. The world's top athletes -- from Tiger Woods to marathoner Haile Gebrselassie -- are now regulars.
Yet the UAE also portrays itself as a champion of the Palestinians. It even canceled lavish New Year's celebrations in Dubai in solidarity with the Gazans during the recent combat.
A statement from the tournament organizer, Dubai Duty Free, said Peer's "presence would have antagonized our fans" because of the attacks in Gaza, which left about 1,300 Palestinians dead, at least half of them civilians, according to Gaza health officials.
Thirteen Israelis were killed, including three civilians, before a tentative cease-fire halted fighting on Jan. 18.
The tournament statement said there was concern about protests, boycotts and threats to Peer's "well-being."
Peer was scheduled to play Monday, but was told her visa was denied late Saturday as she prepared to travel from Thailand to the United Arab Emirates.
"We do not wish to politicize sports, but we have to be sensitive to recent events in the region and not alienate or put at risk the players and the many tennis fans of different nationalities that we have here in the UAE," said the statement, read to reporters by tournament director Salah Tahlak.
Solomon told The Times he began considering canceling the tournament coverage on Sunday, and after consulting with his staff, notified WTA Tour chairman Larry Scott of his decision.
"It's easier for us to pull the plug," Solomon said, according to The Times. "It's different for Larry and the WTA, who were more or less strung along and led to believe she would get the visa. His players were on the ground, and everything was in motion. The rug was pulled out from under their feet.
"Tennis in many ways has been at the forefront of sport, with people breaking down barriers like Althea Gibson, Arthur Ashe and Billie Jean King," Solomon added, The Times reported. "It's harder for the Tennis Channel to turn the other cheek and not do the right thing."
The world's No. 1 female player, Serena Williams of the United States, a member of the WTA's players committee, said there had been no talk of a boycott in Dubai, but the group was taking Peer's absence "very seriously."
The WTA tour has one of its last events of the season this fall in Qatar, which has been open to Israeli competitors in the past and has led Persian Gulf outreach to Israeli political and business leaders.
But anger over the Gaza conflict brought an abrupt change in January, when Qatari officials hosted a leader of Hamas and expelled an Israeli trade office.
On Monday, the president of the International Tennis Federation, the sport's governing body, said he planned to remind UAE authorities that the organization "does not permit discrimination on any grounds."
"The ITF believes that sport should not be used as a political tool but rather as a unifying element between athletes and nations," Francesco Ricci Bitti said.
Information from The Associated Press was used in this report.
SPONSORED HEADLINES
MORE TENNIS HEADLINES
MOST SENT STORIES ON ESPN.COM
EDITORS' PICKS
Never in her wildest dreams did Serena Williams think she could win this much.
Bodo »

Novak Djokovic looks to get his mogo back for Aussie Open final.
Buzz »

What tennis players would excel at footbal
l? Jim Caple »