Justine Henin retires for second time
Updated:
January 26, 2011, 4:42 PM ET
Associated Press
BRUSSELS -- Former No. 1 Justine Henin retired from tennis for a second time Wednesday, citing a lingering right elbow injury that cut short her comeback from a glittering career that included seven Grand Slam titles.
Harwitt: Goodbye, Again

The disparity between Justine Henin's two departures from tennis is stark and intriguing, Sandra Harwitt writes. Blog
"I have undergone several tests the past few days, confirming that my elbow has sustained a lot more damage during my adventure in Australia," the 28-year-old Belgian said on her website.
She made the announcement five days after losing to Svetlana Kuznetsova 6-4, 7-6 (8) in the third round of the Australian Open.
"The past few weeks, there was a little bit more pain every day, but I thought my willpower would prevail. Today, the tests and my doctors are adamant," Henin said.
She was ranked No. 1 when she abruptly announced her retirement in 2008, only to return 20 months later and reach last year's Australian Open final. She partially tore a ligament in the elbow in a tumble at Wimbledon last year and hasn't been the same since.
Justine Henin's Career

Justine Henin, who returned from a 20-month retirement in 2009, retired a second time on Wednesday. She reached 12 Grand Slam finals, winning 7 titles, including four at the French Open.
Turned Pro
Jan. 1, 1999
W-L record
527-116
Prize Money
* $20,863,335
Singles Titles
43
Weeks at No. 1
117
* Does not include 2011 Australian Open.
-- Source: The Associated Press
"It is clear now that I have to accept that my career ends for good," said Henin, currently ranked No. 13. "Even if it is hard, very hard, at a time when I came back with enormous fighting spirit."
She had been slated to face the United States in a Fed Cup match along with Kim Clijsters next week.
Henin won her first Grand Slam at the French Open in 2003 and fell in love with the tournament, taking the clay title three straight years from 2005 to 2007. She also won the U.S. Open in 2003 and 2007 and the Australian Open in 2004.
Her comeback last year centered on winning a first Wimbledon title, but instead it became her downfall, crashing on her elbow in a fourth-round loss to Clijsters.
"We have all been fortunate to once again have had the opportunity to witness the beauty of her game during these many past months, and no doubt we will miss seeing her on court competing like only Justine can," WTA CEO Stacey Allaster said in a statement. "Justine Henin will go down as one of the greatest female athletes of her era."
[+] Enlarge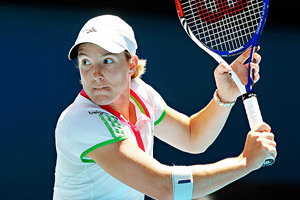 Matthias Hauer/US PresswireJustine Henin, seen in her third-round Australian Open loss, says her injured elbow will not allow her to play at a high level.
With Henin, tennis loses a finesse player with perhaps the most lethal backhand in the game, and one-handed at that. Petite at just under 5-foot-5 and 126 pounds, she would often struggle in the power game that women's tennis has become but was an underdog people could root for.
Willpower made up for her lack of physical brawn and mediocre serve. Her stubborn determination and clenched-teeth demeanor often made it difficult for fans to love her, especially in a nation enthralled with the carefree and ever-cheerful Clijsters.
Henin acknowledged as much to the fans in her farewell letter.
"If there is one thing I could regret, it is that I protected myself too much and could not be closer to you. I hope you will forgive me," she said.

Copyright 2011 by The Associated Press
EDITORS' PICKS
Li Na leaves tennis with her legacy fully intact.
Tandon »

It's still Serena Williams against the field.
Tandon »

Here's why fall tennis still matters -- a lot.
Tandon »