'It's been a great summer'
Updated:
August 26, 2004, 12:21 PM ET
By
Greg Garber
| ESPN.com
When the 2004 tennis year began there were a handful of candidates for a defining winning streak in women's tennis. One of them was not Lindsay Davenport.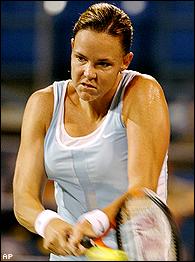 Lindsay Davenport is dominating the U.S. Open series.
Davenport, fast approaching 28, was coming off surgery on her left foot and this followed a serious knee surgery the year before. She had gotten married in 2003 and was already talking about the pleasing prospect of becoming a mother. After she lost in the semifinals at Wimbledon, Davenport talked openly of retiring.
Which is why the past few months have been so absolutely, positively crazy. Since that loss to Maria Sharapova, Davenport has won the last four tournaments she's entered and a total of 17 consecutive matches. The most recent was Sunday's Western and Southern Women's Open, a nifty 6-3, 6-2 piece of work against Vera Zvonereva.
"Unfortunately, I know it has to end at some time," Davenport said in Mason, Ohio. "Hopefully, it won't be until October."
Davenport's six titles -- in order, Tokyo, Amelia Island, Stanford, Los Angeles, San Diego and Cincinnati -- represent the best total on the WTA Tour. Justine Henin-Hardenne, coming off her triumph in Athens, is next with five.
Clearly, Davenport has the big game that can win on the speedy courts in Flushing, N.Y. It happened in 1998, and she has been close -- with a finals appearance, three semifinals and a quarterfinal -- in the intervening five years. Based on empirical evidence, as well as nostalgic sentiment, she is the favorite coming in.
"It's been a great summer," Davenport said. "It's beyond expectations that this could happen at this point in my career. I'm really excited and energized."
Other contenders
Justine Henin-Hardenne
Just when the tennis world wondered if Henin-Hardenne was finished for the year, there she was on the stand in Athens, a gold medal around her neck and her narrowed eyes glowing with a familiar intensity.

That's right. After lying low for 12 weeks after crashing out early in the French Open, the diminutive Belgian with the gorgeous backhand, is back on top. Now, can she finish the 2004 season (which opened with victory in the Australian Open) with a bookend victory at the U.S. Open? Based on her Olympic final -- a sobering, surgical performance on Amelie Mauresmo -- the answer is yes.

Conditioning, not desire, will be the key for Henin-Hardenne. An energy-sapping virus forced her out of Wimbledon, but six match wins in Athens suggest she's back. Seven matches at the National Tennis Center, though, will be a stern test for the defending champion.

There is much at stake for Henin-Hardenne. She finished No. 1 for the first time last year and a victory would put her in position to hold that spot. A win by Davenport would give the American -- who leads the WTA Tour's Porsche Race to the Championships by a comfortable margin over Mauresmo -- a foothold in that battle.
Serena Williams
In recent weeks, she's left a mounting paper trail of press releases announcing her withdrawal from three events.
Serena Williams looked fairly crisp in Los Angeles, coming off her loss to Maria Sharapova in the Wimbledon final. Williams fell to Davenport 6-1, 6-3 in the finals and played the next week in the Acura Classic. But after reaching the quarterfinals and a match with Zvonareva, Williams issued her first release, citing an inflammation of her left knee, the one that underwent surgery and forced her to miss eight months of tennis.
Two days later, Williams withdrew from the Rogers Cup tournament in Montreal after an MRI of the knee prompted doctors to prescribe rest. Ten days later, the USTA issued another release.
"I am sad and disappointed," Williams was quoted as saying, "not only because I am unable to travel to Greece and participate in the Olympics, but also because I gave my word that I would play."
The United States team came home without a medal. Now, will Serena issue another late release concerning her ailing knee, or will she step out at the National Tennis Center next week? If she does show, consider her a serious contender.
Venus Williams
Like her sister, Venus Williams is a two-time winner at the U.S. Open, but those triumphs came, respectively, three and four years ago.
At 24, she would seem to be at a crossroads of sorts. Venus has not won a Grand Slam in three years, an 0-for-11 streak that would have been difficult to fathom after she won four of six. Nevertheless, she has the season's best winning streak, 19 matches, that encompassed tournament wins in Charleston and Warsaw. It ended in Berlin, when a sore wrist sent her to the sidelines.
That was early May, and the results haven't been very encouraging since. Williams lost in the second round at Wimbledon, fell to Davenport in the finals at Stanford and semis in Los Angeles. With her sister home in Florida, she lost a third-round match to Mary Pierce in Athens. Based on the recent returns, it will take an Olympian effort to summon the strength to win this one.
Anastasia Myskina
The frail-looking Russian reached the U.S. Open quarterfinals a year ago and seems poised to go further this time around.
Myskina won the first Grand Slam of her career at this year's French Open and is currently ranked No. 3 in the year-long rankings, behind Henin-Hardenne and Mauresmo. In a fragile field, she could do some damage.
Greg Garber is a senior writer for ESPN.com.
Writer, Reporter
Greg Garber joined ESPN in 1991 and provides reports for NFL Countdown and SportsCenter. He is also a regular contributor to Outside the Lines and a senior writer for ESPN.com.
EDITORS' PICKS
Serena Williams' numbers at the Miami Open are simply insane.
Bodo »

Juan Martin del Potro fell in his comeback to tennis.
Wilansky »

Maria Sharapova is shocked in the opener of the Miami Open.
Story »
MOST SENT STORIES ON ESPN.COM