Blake again finding success on, off court
When James Blake shaved his head, many thought it was unthinkable.
Blake had the tennis world's most famous dreadlocks since those of Yannick Noah.
Not getting a haircut for more than three years gave Blake yet another dimension to his already marketable story: A kid with an African-American father and a British mother, who honed his game on the courts of Harlem, solidified the No. 1 ranking as a junior, played two years at Harvard and went on to become one of the world's best tennis players.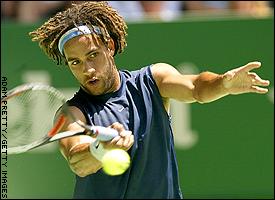 Remember him? James Blake says shaving his hair gave him a fresh start.
"There aren't a lot of athletes who came up like I did," Blake said. "And marketing executives found out that I could be comfortable in front of the microphone, I would never be derogatory and I could be a good role model to a lot of people."
What also made Blake endearing in the hearts and minds of sports marketers was his authenticity. The dreads weren't dreamed up by those that signed him -- Nike, American Express, Dunlop and Citizen Watch. He started growing out his hair because of a wager with a friend.
His hair seemed to coincide with his success. It undoubtedly contributed to him netting a spread in GQ and being named People magazine's "sexiest athlete" in 2002.
"It soon became my identity," Blake said.
Too much so for Blake, who quickly grew tired of the dreadlocks. He told his agent, Carlos Fleming, that he was concerned about how his hair, not his game, had come to define him. So on Dec. 28, 2003, his 24th birthday, Blake shaved it all away.
It meant having to reshoot photos for his advertising campaigns, and in no time, many of his deals, including his racket, credit card and wristwatch endorsements, would go away.
His bad fortune had a lot to do with it.
Last May, he slipped and broke his neck on a practice court in Rome. After that injury, he contracted Zoster, a virus that affected his sight and temporarily paralyzed one side of his face and led to temporary hearing loss. That summer, his father died of cancer.
He played three matches the rest of the year and with a less-than-impressive start to 2005, Blake's ranking took a nosedive. By April 18, he found himself at No. 210, 171 spots below his ranking just a year before. He was also in his last year of his most lucrative endorsement contract with Nike.
But Blake didn't quit.
Taking advantage of being forced to play challenger tournaments, he took home titles in Tunica, Miss., and Forest Hills, N.Y., in consecutive weeks in May.
His August has been nothing less than stellar. Blake reached the Legg Mason Classic final in Washington D.C., losing to Andy Roddick. He gave world No. 1 Roger Federer a run for his money in a 7-6, 7-5 loss in a first-round match at the Cincinnati Masters. And with Blake taking home the Pilot Pen Classic, his second ATP singles title, he could move within the top 50 for the first time in 56 weeks.
"When I left Harvard, I had no expectations about how much I'd make off the court," Blake said. "The agents were talking potential deals, but they weren't allowed to talk dollars, so I didn't know if I could expect $10,000 or millions."
Shaving his head has made it cooler to play through the hot summer, though every time he plays, he says he hears someone in the crowd whispering, "Is that really James Blake?"
With Blake receiving a wild-card entry into the U.S. Open, expect many fans who forgot about him to ask the same question when he steps out on the court to play his first-round match against Greg Rusedski.
Off the court, he says he's enjoying the relative anonymity.
He and his brother Thomas recently walked into a bookstore in Fairfield, Conn., when a couple of young fans came up to Thomas to get James' autograph.
"Are you James Blake?" said a young fan.
"Nope," Thomas replied. "I think you're looking for him," pointing to his brother in a nearby aisle.
"It's kind of fun not to get recognized," James said.
But that won't last long if Blake continues his incredible comeback.
In a year when Nike has passed on re-signing a nearly retired Andre Agassi and Australian powder keg Lleyton Hewitt, the shoe and apparel company recently inked a four-year deal with Blake, who actually wore adidas throughout his junior career.
"James is someone who we feel has the most upside in the long run," Nike spokesman Dean Stoyer said. "He had a tough year last year, but he kept trying and we see a great amount of potential in him. There are not many people whose off-the-court persona is equal or greater than what they do on the court, but James is a class act that fits into that category."
Gone is his racket deal with Dunlop, his watch deal and any association with American Express. But Fleming says he's starting to get calls from companies who want to be part of Blake's resurgence, even though Fleming says his client "will always be relevant because he is who he is."
Said Blake: "I'm a bit more wise and I have renewed focus. And a little less hair."
Darren Rovell, who covers sports business for ESPN.com, can be reached at darren.rovell@espn3.com.
ESPN.com Sports Business reporter
ESPN.com's sports business reporter since 2012; previously at ESPN from 2000-06
Appears on SportsCenter, ESPN Radio, ESPN.com and with ABC News
Formerly worked as analyst at CNBC
EDITORS' PICKS
Roger Federer and Novak Djokovic set for Dubai showdown.
Wilansky »

Victoria Azarenka beats Venus Williams at the Qatar Open.
Story »

A look at tennis players and their delicious endorsement deals.
Tandon »
MOST SENT STORIES ON ESPN.COM