Former champs quietly moving through draw
Marat Safin, Lleyton Hewitt and Andy Roddick are all former U.S. Open winners. And, as Greg Garber writes, all three are quietly working their way through the draw.
Updated:
September 5, 2006, 7:17 PM ET
By
Greg Garber
| ESPN.com
NEW YORK -- It was an uncommonly busy first week at the U.S. Open on the men's side. Andre Agassi played his last match, Roger Federer is bearing down on a three-peat and ascendant Spaniard Rafael Nadal is cleaning up the few remaining crumbs of publicity.
Quietly, almost without making a sound -- or a 48-point headline -- in this city that never sleeps, three men are working their way through the draw in this second week with a growing intensity of purpose. Three men, all once ranked No. 1 in the world, and among the few who have raised the U.S. Open trophy.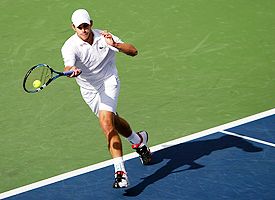 Matthew Stockman/Getty ImagesRoddick has lost six of the eight head-to-head matches against Lleyton Hewitt.
Russian Marat Safin took home the sterling silver in 2000 and Australian Lleyton Hewitt followed a year later. In 2003 Andy Roddick, the pride of Omaha, Neb., joined them as champions. The achievement marked each man's moment at the pinnacle of the sport.
All of them have fallen from that lofty and enviable position and all of them ache to return. Safin, ranked No. 104 in the world, is unseeded here. Hewitt has slipped to No. 17 and Roddick is at No. 10.
On Wednesday, Safin will attempt to complete his match with Tommy Haas, which he led 2-1 when the rain began. Also, Roddick and Hewitt will meet for the ninth time, with a trip to the semifinals at stake.
"That would work out," said Roddick on Monday, some hours before Hewitt locked down his berth in the quarterfinals with a five-set victory over Richard Gasquet. "Our careers have been kind of similar. We both have been at the top, and then we've had our struggles."
That Hewitt has managed to win four matches here at the Billie Jean King National Tennis Center is something of a medical upset. In the days leading up to the event, it wasn't clear whether he would play at all. In August, Hewitt tweaked his right knee in a second-round match in Toronto and missed subsequent tournaments in Cincinnati and New Haven.
"If this was any other tournament," Hewitt said after beating Albert Montanes in the first round, "I wouldn't have even tried to play."
But play he did, and the knee managed to survive a 3-hour, 30-minute match with Gasquet that ended at 12:52 a.m. on Tuesday. Hewitt won the first two sets, but the Frenchman rallied and Hewitt was forced to go the full distance.
"Would have preferred to finish it in three and been done a couple hours ago," Hewitt said in the wee hours. "You just never know what's around the corner."
That's not quite true. At the U.S. Open, Hewitt is always lurking around the corner. This is the seventh consecutive quarterfinal berth for Hewitt, a streak that is unrivaled among active players; Federer, working on his third in a row, is next in line followed by Blake (hoping for his second straight berth in the quarters).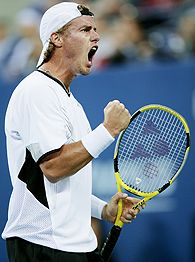 Matthew Stockman/Getty ImagesHewitt has now reached the quarters at the U.S. Open in each of the last seven years.
"It's up there, I guess," said Hewitt of his streak. "This year, not sort of having the runs on the board the couple of weeks leading in -- when I made a final a couple of years ago I had a great run coming into the tournament, so I sort of knew where I stood coming in -- whereas, this year it was huge question mark."
Roddick, too, inspired doubt because of his first-round loss here a year ago and an indifferent first half of the season. He has rallied, though, with a trip to the final in Indianapolis (where he lost to Blake) and his first victory in nearly 10 months in August at Cincinnati.
Hewitt has won six of their eight matches stretching back to 2001, but Roddick said, "I think that's changed a little bit."
Roddick won their last meeting a year ago in Cincinnati.
"I think both of us are in the same boat in a lot of ways," Hewitt said. "We both know what to expect from one another's games. We've played enough times. We've played enough big matches.
"I think at the end of the day it's going to be who can execute well on Wednesday. Who does that best is going to win."
A convincing case can be made for Roddick, who won 57 of his 70 service points (80 percent) against qualifier Benjamin Becker in the round of 16.
"The high 60s is normally really good," Roddick said. "I'll take that most days.
"I definitely feel like I'm playing well again. You know, it's a lot more fun that way, I promise you."
Three men with one goal: To get back to where they once were.
"Once you win it," Safin said, "you want to get closer to the final. You just want to get there somehow."
Greg Garber is senior writer for ESPN.com.
Writer, Reporter
Greg Garber joined ESPN in 1991 and provides reports for NFL Countdown and SportsCenter. He is also a regular contributor to Outside the Lines and a senior writer for ESPN.com.
SPONSORED HEADLINES
MORE TENNIS HEADLINES
MOST SENT STORIES ON ESPN.COM
Australian Open
Dates: Jan. 14-28
Melbourne, Australia
2007 Champions:
Serena Williams, Roger Federer
Time difference: Melbourne is 16 hours ahead of Eastern time in North America

Day 14
• Federer perfect winning 10th Grand Slam
• The facts about Federer
• Jensen on Federer's mental game
• Nestor, Likhovtseva win mixed doubles title
Day 13
• Serena dominates Sharapova in final
• Inside the numbers
• Shriver on Serena
• Bryans win men's doubles title
Day 12
• Results: Men | Women's doubles
Day 11
• Results: Men | Women
Day 10
• Results: Men | Women
Day 9
• Results: Men | Women
Day 8
• Results: Men | Women
Day 7
• Results: Men | Women
Day 6
• Results: Men | Women
Day 5
• Results: Men | Women
Day 4
• Results: Men | Women
Day 3
• Results: Men | Women
Day 2
• Results: Men | Women
Day 1
• Results: Men | Women

Preview coverage
• 2007 Australian Open review
• Can Sharapova succeed as No. 1 seed?
• Kreidler: No seeds for American women
• Federer, Sharapova No. 1 seeds