Commentary
Latin American talent pool decreasing for women
A few years ago, Latin American women were shining. Unlike their male counterparts, they now struggle to make their mark on tour.
Updated:
August 27, 2007, 11:19 AM ET
By
Gustavo Goitia
| ESPNdeportes.com
BUENOS AIRES -- They are women in trouble. A different story from their male colleagues, Latin American players in the WTA do not enjoy the best of times.
Once led by the extraordinary Gabriela Sabatini, later joined in the tour by other stars, now they are going through a present full of doubts. They are far away from the elite, as can be seen easily in every statistical department: Standings, titles, rankings, access to finals and big trophies. What is going on with women's tennis from this part of the world? A growing problem is that as time goes by there are fewer women in the WTA and the talent level is ages away from what it used to be. It's been almost 11 years since Sabatini retired, and the Argentine player left a footprint which is impossible to erase but also very difficult to follow. Just as it happens in the men's tour, Argentina is still the largest provider of raw material, but still, the number has decreased. That results in lack of talent and it starts a chain reaction: With fewer elite players, there is no one to look up to and so the sport attracts even less potential stars. Economic differences with developed countries also are playing their part, especially in the transition phase from amateurism to professionalism. South American youth players suffer because there are very few tournaments in their own countries that could act as springboards to send them straight into the main tour. And traveling to compete abroad is something not everyone can afford.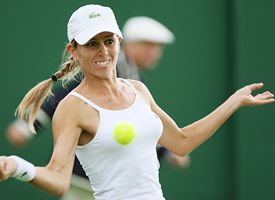 Adrian Dennis/Getty ImagesArgentina's Gisela Dulko has just one career title -- which came this year -- since turning pro in 2001.
There are very few sponsors willing to pour money into programs, so that makes it hard to organize certain competitions and/or help the girls with the economic costs of the trips to Europe and United States to play with the best. And as the talent pool decreases, there is less and less sponsor interest in opening their wallets. They'll be missed
The picture was different a few years ago, when South American players were shining. Sabatini was clearly the best: She was No. 3 in the world, was only a step away from the top, won a Grand Slam, the U.S. Open in 1990, made it to other two major finals, took two Masters and captured a total of 27 titles. It's been three years since a Latin American player reached the semifinals in a Grand Slam tournament. In 2004, Colombian Fabiola Zuluaga made it that far in the Australian Open and then Argentine Paola Suarez repeated the feat in Roland Garros. It seems like it was decades ago. With Zuluaga retired and Suarez ready to follow suit, there is no flag bearer for Latin American women's tennis. When Sabatini played, there were other Latin American players in the top 30, but she overshadowed them. Since she retired, the new players have the responsibility to reach success on their own. That is why, even though there was another drought until Zuluaga and Suarez took a step forward, it wasn't as bad as what it is nowadays. The Colombian was once 16th in the world, after that memorable performance in Melbourne. Suarez even made it to the top 10 (No. 9) in singles and was the best doubles player during three years. The Argentine player was able to reach at least the quarterfinals in the four Grand Slams. She beat players such as Serena Williams, Maria Sharapova and Amelie Mauresmo. In a way, those accomplishments reminded us of Gaby. Even though she didn't have Sabatini's talent, Suarez cemented the post-Sabatini era. The times, they are changing
Today there is just one Latin American player in the top 50 ranking. Argentine Gisela Dulko is in 42nd place, followed by Milagros Sequera (No. 55) from Venezuela. And then there's another big gap, with Colombian Catalina Castano (No. 115) and Argentine players Jorgelina Cravero (No. 116) and Maria Emilia Salerni (No. 117) coming next.
Looking at the ATP rankings, there is an abysmal difference in quality and quantity: There, Latin Americans have a top 10, five among the first 25 and there are 16 in the top 100. This season, Sequera really improved and challenged for first place amongst South American players. Between April and May, there were two titles: Dulko won her only official title in Budapest. Sequera replied with a win in Fez, Morocco. And this past week, Dulko won in Forest Hills, NY. Before those triumphs, the last tournament won by a female Latin American player was three years ago. It happened in Canberra, Australia in January 2004, when Suarez celebrated on a fast surface. And the last one to reach a final had been Castano, in the Hungary Open in July 2005. Dulko ended that streak last February. She lost the Pattaya final in Thailand. Meanwhile, men have won six titles and have played seven other finals this season, including Australia, Miami and Rome. The same differences appear in country competitions: Argentina was a finalist in the Davis Cup in 2006 and Chile is also part of the elite, but in the Fed Cup, the bestplaced team is Argentina, who barely returned to World Class Group II. Dulko, 22, remains the biggest bet. Even though she improved quite a lot this year, she still has her ups and downs. She is so far the only one able to get to the second week of a Grand Slam, when she made it to the quarterfinals at Roland Garros in 2006. Sequera, about to turn 27, and Castano, 28, could still climb several positions in the rankings, but because of their age, it is hard to imagine they can turn their careers around. Not a very encouraging scenario. Gustavo Goitia is the tennis writer for ESPNdeportes.com.
SPONSORED HEADLINES
MORE TENNIS HEADLINES
MOST SENT STORIES ON ESPN.COM
2007 U.S. OPEN

Aug. 27-Sept. 9
ChampionsWomen:
Justine Henin
Men:
Roger Federer
USTA
•
Live scores
•&nbsp
Interactive draws
•&nbsp
Schedule of play
•
U.S. Open radio
•&nbsp
Photo galleries
•&nbsp
Press conferences
Day 14
•
Federer wins Open-era record fourth straight title
•
Garber: History on horizon for Federer
•
Ford: Djokovic just what men's game needs
•
Hawkins: Federer inside the numbers
•
Dechy, Safina capture U.S. Open doubles title
•
Chat wrap

Day 13
•
Ford: Fabulous end to Slam season for Henin
•
Djokovic reaches first Grand Slam final
•
Garber: Recent history favors Novak
•
Men's final predictions
•
Ford, Garber chat wrap

Day 12
•
Henin, Kuznetsova to meet in women's final
•
Ford: Federer's greatest gift
•
Garber: Making the case for Henin, Kuznetsova
•
Chat wrap

•
Aspelin, Knowle win men's doubles title
Day 11
•
Men
•
Azarenka, Mirnyi win mixed doubles title
•
Garber: Late nights at the U.S. Open
•
Ford, Garber chat wrap

Day 10
•
Men
|
Women
•
Ford: Unclearable hurdle for Roddick?
•
Henin vs. Venus for all the marbles … in semis
•
Notebook: Russians to meet in semis
•
Ford, Garber chat wrap

Day 9
•
Men
|
Women
•
Garber: Sulking Serena
•
Garber: Hard courts hard on Nadal
•
Ford: A few good juniors
•
Gallery: Behind the scenes

•
Thacher has eyes on college
•
Chat wrap

Day 8
•
Men
|
Women
•
Garber: What we learned in Week 1
•
Page 2: Being Sharapova
•
Notebook: Venus-Jankovic moved to Wednesday
•
Deportes on Argentina's run
•
Week 1 gallery
•
Week 1 coverage
•
Preview coverage
Video

•
Jensen: Four for Federer
•
Lucky No. 7 for Henin
•
Youth vs. Experience in final
•
Collins final preview
•
Ford: Women's semis recap
•
Bud's breakdown
•
Men's Thursday preview
•
Federer defeats Roddick again
•
Jensen's semifinal preview
•
Venus discusses Serena's loss
•
Venus vs. Henin in semis
•
Serena short with media
•
Jensen: Federer-Roddick preview
•
A Few Good Juniors
•
Roddick rested
•
Blake had his chances
•
Bud Collins looks ahead to Week 2
•
Serena, Venus rolling
•
Sisters showing their strength
•
Bud Collins breakdown
•
Day of upsets
•
Day 6: Defending champ Sharapova ousted
•
Gentlemen Tim
•
Americans in action
•
Day 4
•
Day 4 preview
•
Venus wins with ease
•
Top 5 players to watch
•
Advantage Luke Jensen
•
Courier: How to play Federer
•
Bud Collins on Althea Gibson
•
McEnroe's preview
•
Roddick raring to go
•
Bud Collins preview
•
Pete Sampras interview:
Part I
|
Part II
Blogs
•
Bodo: Blood in the water
•
Bodo: Gentleman Tim
•
TENNIS.com: Rafa's biggest challenge
•
Bodo: The game's latest grinder
Podcasts

•
Isner-Federer preview
•
How far can Hingis go?
•
Go pro or go to school?
•
Nadal's knees