Commentary
Murray ready to shoulder the load by himself
With Tim Henman's pending retirement, Andy Murray will be shouldering the tennis load for Great Britain in the coming years. And that's OK with Murray, writes Bonnie D. Ford.
Updated:
August 28, 2007, 9:27 AM ET
By
Bonnie D. Ford
| Special to ESPN.com
NEW YORK -- The baton pass begins in Flushing Meadows this week and will be completed, fittingly, at a Davis Cup clash on the grass of Wimbledon next month. After that, Andy Murray will run on alone in what could be a lengthy anchor leg for British tennis.
Murray's comeback from a wrist injury that sidelined him for the heart of the season and Tim Henman's recent retirement announcement brought their career paths back together here at the U.S. Open, which will be Henman's last Grand Slam event. Those trajectories will diverge again for good following what promises to be a highly emotional World Group playoff weekend against Croatia. Unlike young U.S. players, who are continually asked whether they can live up to the promise of previous generations, the 20-year-old Scottish star has only one man to give him the torch and no one to relieve him on the near horizon. Murray, seeded 19th at the Open, climbed as high as No. 8 on the ATP charts earlier this year. Excising Henman means that the next highest-ranked players representing Great Britain are Alex Bogdanovic at No. 125, Jamie Baker at No. 231 and Richard Bloomfield at No. 245. All are in their early 20s.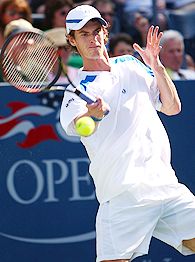 Clive Brunskill/Getty ImagesAndy Murray hopes to do what Tim Henman couldn't and that's bring a Grand Slam title to Great Britain.
When Henman hands off the prestige and pressure of being the country's only top-flight player to Murray, it will be a continuation of what Davis Cup captain John Lloyd referred to as a recent historic "syndrome." "We kept away from it for a while with Henman and [Greg] Rusedski, we had two guys that were world-class, but before that, the last 15 or 20 years, there was one player and a bit of a drop," Lloyd said after watching Murray handle Uruguay's Pablo Cuevas in straight sets in the first round. "Andy is going to be on his own for a while. We've got to get some of these younger guys up to back him up. There'll be a lot of pressure on him, but I think he has big enough shoulders to put up with that. That's just the way it is." At least Murray had a chance to serve a sort of apprenticeship for the previous two seasons, sharing the scrutiny with Henman. "Tim was brilliant at it -- he never seemed to waver from the pressure," said venerable British champion Virginia Wade. "He did a magnificent job. It's just a pity there aren't more [players]. "Andy will know what it's all about now. There's no one who's going to cover for him." We can assume she meant cover in the way Butch Cassidy covered for the Sundance Kid, firing off a few rounds so the younger outlaw could make his way across hostile territory. Wade said she thinks Murray can handle being the repository for Britain's collective tennis angst. She's more concerned about whether Murray recovers fully from his worrisome wrist problem -- an anatomical weak link that has been the undoing of more than one player. She hopes for the best. "Sometimes an injury gives you breathing space," Wade said. Murray seemed to confirm that theory after crushing Cuevas with his trademark creative shotmaking. He said he "learned to appreciate playing tennis again" during his involuntary three-month layoff. "I was getting angry on court about things that weren't really necessary," he explained. "I was playing great tennis this year and still wasn't really that happy when I was playing. "If you go and look at videos of my matches, you know, at Wimbledon 2005, my attitude and my body language was excellent. … Then the last sort of year it's not been as good. I've been showing more negative signs than I have positive. "I learned just to enjoy playing again because I missed such a big chunk of this year." Murray's former coach, Mark Petchey, said Murray can absorb whatever the public and press has in store for him as the lone standardbearer next season and beyond. "I think it's pretty intense now -- I don't think it can get any more intense," said Petchey, a commentator for the British Sky Sports network. "It's great from a media perspective when you do have more players to talk about and obviously the focus isn't quite so heavy. But at the same time, Andy's an exceptional talent and this is something he's going to have to deal with throughout the course of his career. "I was always of the opinion when I was working with him that it would be great for Tim to stay around as long as he could to shoulder some of the burden for Andy until he was ready to stand on his own two feet. To be fair, Andy has probably been ready to stand on his own two feet earlier than most people. I think it's been a benefit, there's no question, but he's ready to deal with it. I don't think he's got too much more to learn." If that's the case, it's because Murray long ago realized he would inherit the single-handed ability to send an entire nation to the shrink's couch every July, and accepted that superpower as part of the package deal. Yet he also refuses to buy into the nationalistic hype as part of his daily experience. "I'm not walking on the court thinking, you know, Tim Henman's not playing, there's much more pressure on me," he said. "I'm just wanting to go out and play for myself. It's not really about anyone else -- it's about your own career and your own matches. You try not to worry about that sort of stuff." When Murray was forced to withdraw from this year's Wimbledon, Henman carried on in his mission to delight, thrill and provide sporting catharsis for the masses craving an end to the 70-year winless drought. Next year it will be Murray's turn. Even he admitted that he's likely to feel a different rush from the crowd "around Wimbledon time." For better or worse, as Lloyd noted, Murray's career will always be measured by how he does there. But here's why Murray has a great chance to survive and prosper in the Murray Era: The standards he sets for himself are so high that they trump anyone else's flag-waving entreaties. "I was just trying to play too well, expecting too much of myself," Murray said of his form early this season. "Even when I was playing great, I still wasn't happy. I didn't play my best match today, but I enjoyed myself on court. "You know, it's not that much fun playing a sport if you're not really enjoying winning too much, because that's the reason why you train and why you go out there. I think it's pretty important for me to have got that back."
Bonnie D. Ford is a freelancer who is covering the U.S. Open for ESPN.com.
Enterprise and Olympic Sports
Bonnie D. Ford is a senior writer for ESPN.com.
2007 U.S. OPEN

Aug. 27-Sept. 9
ChampionsWomen:
Justine Henin
Men:
Roger Federer
USTA
•
Live scores
•&nbsp
Interactive draws
•&nbsp
Schedule of play
•
U.S. Open radio
•&nbsp
Photo galleries
•&nbsp
Press conferences
Day 14
•
Federer wins Open-era record fourth straight title
•
Garber: History on horizon for Federer
•
Ford: Djokovic just what men's game needs
•
Hawkins: Federer inside the numbers
•
Dechy, Safina capture U.S. Open doubles title
•
Chat wrap

Day 13
•
Ford: Fabulous end to Slam season for Henin
•
Djokovic reaches first Grand Slam final
•
Garber: Recent history favors Novak
•
Men's final predictions
•
Ford, Garber chat wrap

Day 12
•
Henin, Kuznetsova to meet in women's final
•
Ford: Federer's greatest gift
•
Garber: Making the case for Henin, Kuznetsova
•
Chat wrap

•
Aspelin, Knowle win men's doubles title
Day 11
•
Men
•
Azarenka, Mirnyi win mixed doubles title
•
Garber: Late nights at the U.S. Open
•
Ford, Garber chat wrap

Day 10
•
Men
|
Women
•
Ford: Unclearable hurdle for Roddick?
•
Henin vs. Venus for all the marbles … in semis
•
Notebook: Russians to meet in semis
•
Ford, Garber chat wrap

Day 9
•
Men
|
Women
•
Garber: Sulking Serena
•
Garber: Hard courts hard on Nadal
•
Ford: A few good juniors
•
Gallery: Behind the scenes

•
Thacher has eyes on college
•
Chat wrap

Day 8
•
Men
|
Women
•
Garber: What we learned in Week 1
•
Page 2: Being Sharapova
•
Notebook: Venus-Jankovic moved to Wednesday
•
Deportes on Argentina's run
•
Week 1 gallery
•
Week 1 coverage
•
Preview coverage
Video

•
Jensen: Four for Federer
•
Lucky No. 7 for Henin
•
Youth vs. Experience in final
•
Collins final preview
•
Ford: Women's semis recap
•
Bud's breakdown
•
Men's Thursday preview
•
Federer defeats Roddick again
•
Jensen's semifinal preview
•
Venus discusses Serena's loss
•
Venus vs. Henin in semis
•
Serena short with media
•
Jensen: Federer-Roddick preview
•
A Few Good Juniors
•
Roddick rested
•
Blake had his chances
•
Bud Collins looks ahead to Week 2
•
Serena, Venus rolling
•
Sisters showing their strength
•
Bud Collins breakdown
•
Day of upsets
•
Day 6: Defending champ Sharapova ousted
•
Gentlemen Tim
•
Americans in action
•
Day 4
•
Day 4 preview
•
Venus wins with ease
•
Top 5 players to watch
•
Advantage Luke Jensen
•
Courier: How to play Federer
•
Bud Collins on Althea Gibson
•
McEnroe's preview
•
Roddick raring to go
•
Bud Collins preview
•
Pete Sampras interview:
Part I
|
Part II
Blogs
•
Bodo: Blood in the water
•
Bodo: Gentleman Tim
•
TENNIS.com: Rafa's biggest challenge
•
Bodo: The game's latest grinder
Podcasts

•
Isner-Federer preview
•
How far can Hingis go?
•
Go pro or go to school?
•
Nadal's knees
MOST SENT STORIES ON ESPN.COM