Commentary
Who's top player on women's tour in 2007?
Venus, Serena and Justine Henin have combined to win the first three Grand Slams in 2007. Will one win the year's final major and take control of the wide open women's game?
Updated:
August 27, 2007, 11:03 PM ET
By
Greg Garber
| ESPN.com
NEW YORK -- Forty-three years after Althea Gibson became the first African-American to win the U.S. Open, Venus Williams followed in her formidable footsteps in 2000.
On Monday night, with the United States Tennis Association celebrating Gibson's legacy, Williams found herself engulfed in history. As she walked under Arthur Ashe Stadium on the way to her first-round match, she passed by some of the extraordinary African-American women on hand for the tribute, including astronaut Dr. Mae Jemison, former U.S. senator Carol Moseley Braun and billionaire Sheila Crump Johnson. They hugged her, kissed her and wished her luck. "They're very influential people," said Aretha Franklin, who sang "Respect," her signature song. "They have excelled to the highest degree in their craft, and they're loved by many." The same is true of Venus and her younger sister, Serena, who were feature performers in the 2007 U.S. Open's first prime-time session. Predictably, Venus was an easy winner -- 6-2, 6-1 over Kira Nagy. Serena -- suppress that yawn -- is now 32-0 in career Grand Slam first-round matches after defeating Angelique Kerber 6-3, 7-5 in the late match. "I got to be part of story, too," Venus said. "It was really moving. It's like, 'OK, the Williams' sisters can't lose tonight. That's not part of the plan.'" On the men's side, going forward, little drama is anticipated. No. 1-ranked Roger Federer is looking for his fourth consecutive U.S. Open title -- Bill Tilden, circa 1923, was the last man to do that -- and his 12th Grand Slam of the last 18 contested. No one would be completely surprised if No. 2-ranked Rafael Nadal met him in the final; it would be the third consecutive Grand Slam final in which they have met (something that has only happened twice before). The women's side? Pick 'em.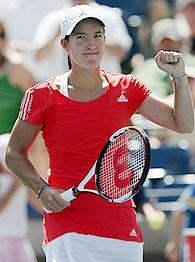 Elsa/Getty ImagesJustine Henin has won three Grand Slams in the last three years, one more than the Williams sisters and Amelie Mauresmo.
"[The] women's game now, there is a lot of concurrence," Justine Henin said. "It's pretty hard when you look at the men's tour -- even if you can get surprises -- but it's probably less open than it is on the women's draw. "I don't know. Women are more emotional, too. We're more difficult to predict." Henin, who does not typically venture into mirth, was smiling when she said it. Picking the winner is, almost literally, anyone's guess. Five different women have won the last five Grand Slam singles titles, and only one of them -- Amelie Mauresmo -- is not in play here. After returning too quickly from an appendectomy, Mauresmo struggled and decided to take a break after the Fed Cup semifinals in mid-July. While Jelena Jankovic (No. 3 seed), Ana Ivanovic (No. 5) and Anna Chakvetadze (No. 6) have all traveled a great distance over the course of the year, none of them have won a Grand Slam singles final. Thus, we are left with the Final Four, the three reigning Grand Slam champions and Maria Sharapova -- who have combined to win eight of the last 11 major titles. If Henin or one of the Williams sisters win the season's final Grand Slam, they would likely be the women's player of the year. If Sharapova wins, take your pick for the year's top honors. Herewith, a brief accounting of the contenders: Justine Henin (44-4 in 2007): She may be ranked No. 1 and seeded No. 1, but she faces the most difficult path to the U.S. Open crown. Both Williams sisters, Jankovic and Ivanovic all are in her half of the draw. Henin was asked about the possibility of playing Serena in the quarterfinals. "I don't care now because what do I expect from myself?" Henin said. "That's the most important thing." Henin has been the busiest and most consistent of the four contenders. In order, she won in Dubai, Doha, Warsaw, Roland Garros, Eastbourne and, most recently, in Toronto. That's six titles in 10 events. Her only post-Wimbledon event was a great success; Henin beat Jankovic in straight sets and is the only major player coming to Flushing on a winning streak. She's six-for-six including Monday's first-round win over Germany's Julia Goerges, 6-0, 6-3. A sore shoulder forced Henin to take a few days off after Toronto, and she reports that it is "getting better, but still a little bit scary." Henin has won three Grand Slam titles in the last three years, a narrow margin over two-time winners Venus, Serena and Mauresmo. Serena Williams (27-5): It's been a cathartic summer for the younger Williams sister. You may remember her dramatic fourth-round match at Wimbledon, when severe cramps took her to the ground against Daniela Hantuchova. Serena survived, but damaged her thumb in the process. Serena committed to the Pilot Pen in New Haven, Conn., but abruptly withdrew when the thumb didn't respond to treatment. That means she hasn't played a formal match since Wimbledon. In fact, the No. 8 seed only played 31 matches coming into the Open, the lowest total among the Fab Four. This isn't to say she hasn't been hitting balls by the bunches. "I'm pretty much over practicing," Serena said on Saturday. "It's dreadful." Williams, who has had a remarkable successful history of being under-prepared, believes that the term "match-ready" is overrated. "It's definitely important to have matches," Serena said. "But I also think it's important to have faith in your game. I've been playing for I don't know how long. I should be match-ready." Venus Williams (34-7): It's been six years since she won back-to-back titles here and this might represent the best opportunity since losing to Serena in the 2002 final. Venus is only the No. 12 seed here, but a Grand Slam record-setting 129 mph serve against Nagy suggests she's ready to make it two in a row. "I didn't realize it [when it happened]," Venus said. "I was so excited because I wasn't even trying. It just comes." Venus finished last year as the No. 48-ranked player after a series of wrist, elbow and arm injuries limited her to only 19 matches. She missed most of the first two months of the season, then, suddenly and startlingly, regained her championship form at Wimbledon. Venus defeated Marion Bartoli in the final to become the lowest seeded (No. 23) and ranked (No. 31) winner of all time. After winning two Fed Cup matches, she won three of four matches in San Diego, before losing to Chakvetadze. "When I was playing in San Diego, I was really, really tired, but I was playing well," Venus said. "I wanted to pick up from where I left off there." Maria Sharapova (34-8): As much as Henin was hurt by the draw, Sharapova was helped enormously. The toughest players in the No. 2 seed's half of the draw are fellow Russians Svetlana Kuznetsova (No. 4) and Chakvetadze. Reaching the final seems to be a good possibility. Sharapova was actually the world's No. 1-ranked player for seven weeks after the Australian Open, but that 6-1, 6-2 final beat-down at the hands of Serena telegraphed a difficult year. In March, she lost badly to Williams again, this time 6-1, 6-1 in the fourth round at Key Biscayne. A sore shoulder sent her to the sideline for six weeks and, serving at less than full strength, she advanced to the semifinals at Roland Garros, a career best, following a cortisone shot. At Wimbledon, she was leveled by Venus 6-1, 6-3 in the fourth round. When asked for her U.S. Open favorites, Sharapova immediately invoked Henin's name. "Justine, she's always very consistent," Sharapova said. "You always expect to see her in the last rounds of each tournament. She's always very tough and a great competitor. That's clearly why she's been No. 1 for awhile now. "The Williams sisters have been playing great tennis this year. Jelena and Ana have also been coming up. There's a wide range of girls that can play great tennis. It's just a matter of who dos it best." The first important women's match appears to be the quarterfinal that will likely feature Henin and Serena Williams. Consider yourself warned. "I hope I can finish the year as the No. 1 player," Henin said. "I know what's going to bring me that is just to keep winning matches." "I think there's a lot of players who can win," Serena said. "Obviously, I want it to be me. So I'm thinking positive, sending positive vibes my way."
Greg Garber is a senior writer for ESPN.com.
Writer, Reporter
Greg Garber joined ESPN in 1991 and provides reports for NFL Countdown and SportsCenter. He is also a regular contributor to Outside the Lines and a senior writer for ESPN.com.
2007 U.S. OPEN

Aug. 27-Sept. 9
ChampionsWomen:
Justine Henin
Men:
Roger Federer
USTA
•
Live scores
•&nbsp
Interactive draws
•&nbsp
Schedule of play
•
U.S. Open radio
•&nbsp
Photo galleries
•&nbsp
Press conferences
Day 14
•
Federer wins Open-era record fourth straight title
•
Garber: History on horizon for Federer
•
Ford: Djokovic just what men's game needs
•
Hawkins: Federer inside the numbers
•
Dechy, Safina capture U.S. Open doubles title
•
Chat wrap

Day 13
•
Ford: Fabulous end to Slam season for Henin
•
Djokovic reaches first Grand Slam final
•
Garber: Recent history favors Novak
•
Men's final predictions
•
Ford, Garber chat wrap

Day 12
•
Henin, Kuznetsova to meet in women's final
•
Ford: Federer's greatest gift
•
Garber: Making the case for Henin, Kuznetsova
•
Chat wrap

•
Aspelin, Knowle win men's doubles title
Day 11
•
Men
•
Azarenka, Mirnyi win mixed doubles title
•
Garber: Late nights at the U.S. Open
•
Ford, Garber chat wrap

Day 10
•
Men
|
Women
•
Ford: Unclearable hurdle for Roddick?
•
Henin vs. Venus for all the marbles … in semis
•
Notebook: Russians to meet in semis
•
Ford, Garber chat wrap

Day 9
•
Men
|
Women
•
Garber: Sulking Serena
•
Garber: Hard courts hard on Nadal
•
Ford: A few good juniors
•
Gallery: Behind the scenes

•
Thacher has eyes on college
•
Chat wrap

Day 8
•
Men
|
Women
•
Garber: What we learned in Week 1
•
Page 2: Being Sharapova
•
Notebook: Venus-Jankovic moved to Wednesday
•
Deportes on Argentina's run
•
Week 1 gallery
•
Week 1 coverage
•
Preview coverage
Video

•
Jensen: Four for Federer
•
Lucky No. 7 for Henin
•
Youth vs. Experience in final
•
Collins final preview
•
Ford: Women's semis recap
•
Bud's breakdown
•
Men's Thursday preview
•
Federer defeats Roddick again
•
Jensen's semifinal preview
•
Venus discusses Serena's loss
•
Venus vs. Henin in semis
•
Serena short with media
•
Jensen: Federer-Roddick preview
•
A Few Good Juniors
•
Roddick rested
•
Blake had his chances
•
Bud Collins looks ahead to Week 2
•
Serena, Venus rolling
•
Sisters showing their strength
•
Bud Collins breakdown
•
Day of upsets
•
Day 6: Defending champ Sharapova ousted
•
Gentlemen Tim
•
Americans in action
•
Day 4
•
Day 4 preview
•
Venus wins with ease
•
Top 5 players to watch
•
Advantage Luke Jensen
•
Courier: How to play Federer
•
Bud Collins on Althea Gibson
•
McEnroe's preview
•
Roddick raring to go
•
Bud Collins preview
•
Pete Sampras interview:
Part I
|
Part II
Blogs
•
Bodo: Blood in the water
•
Bodo: Gentleman Tim
•
TENNIS.com: Rafa's biggest challenge
•
Bodo: The game's latest grinder
Podcasts

•
Isner-Federer preview
•
How far can Hingis go?
•
Go pro or go to school?
•
Nadal's knees