Pioneering black women join together to honor Gibson
Updated:
August 27, 2007, 11:53 PM ET
Associated Press
NEW YORK -- A stadium full of tennis fans swayed and sang along as Aretha Franklin belted out the familiar refrain of her anthem:
R-E-S-P-E-C-T.
Respect was what black tennis players were denied before the late Althea Gibson broke the color barrier. Respect is what Gibson demanded with her historic championships a half century ago.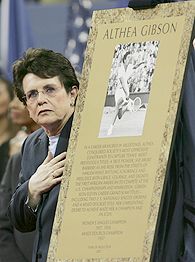 AP Photo/Amy SancettaTennis great Billie Jean King holds a plaque honoring Althea Gibson during opening night ceremonies of the U.S. Open.
Franklin and nearly two dozen other pioneering black women were a formidable presence Monday at opening night of the U.S. Open. They came together to commemorate the 50th anniversary of Gibson's 1957 title at the U.S. National Championships, the forerunner to the Open, when she became the first black player, male or female, to win the tournament.
"It's a wonderful, magnificent group of women," Franklin said later of her fellow honorees, who wore broad grins as they clapped along behind her during the performance.
After the ceremony, two more women embodied the doors Gibson opened. The ensuing matches on the main court featured Venus and Serena Williams. The sisters narrated the video that opened the tribute, describing the glamorous lives they've been able to enjoy and contrasting that with Gibson, who "toiled in isolation."
"It was amazing, just the energy of all the smiles, the well wishes," Venus Williams said of coming onto the court and seeing all the honorees. She beat Kira Nagy in straight sets.
"Just the power of the spirit in Althea, the things she went through," she said, "and knowing it's people like her that gave us an opportunity to be here today."
"The Cosby Show" star Phylicia Rashad hosted the ceremony, which included Gibson's induction into the U.S. Open Court of Champions. Rashad noted how appropriate it was that the event took place on Arthur Ashe Stadium at the Billie Jean King National Tennis Center -- facilities named after two other tennis pioneers.
King and Ashe's wife and daughter attended the event, as did Rachel Robinson, Jackie Robinson's widow. New York mayors past and present David Dinkins and Michael Bloomberg spoke. Dinkins, a good friend of Gibson's, described the social context of her accomplishments. Bloomberg called the Harlem native "one of the city's legendary athletes."
A video recapping Gibson's life included commentary from Dinkins, King, tennis analyst Bud Collins, Rashad's former co-star Bill Cosby, Serena Williams and fellow player James Blake.
One by one, the trailblazing women were introduced. The list included former U.S. Senator Carol Moseley Braun; ex-WNBA star Cynthia Cooper; singer and songwriter Roberta Flack; Winter Olympians Vonetta Flowers and Debi Thomas; tennis player Zina Garrison; astronaut Dr. Mae Jemison; BET co-founder Sheila Johnson; and Olympic track and field champion Jackie Joyner-Kersee.
At the end, the crowd gave them a standing ovation.
Each woman received a Tiffany charm bracelet and a commemorative coin.
"It's a room full of greatness," Thomas said before the ceremony. "You walk in, you're just amazed that you're included in such an elite group. These are all people that they put their mind to do something special. They didn't let people discourage them."
The figure skater turned doctor, the first black woman to win a medal at the Winter Olympics, starts a new job Tuesday replacing knees and hips in Champaign, Ill. She always gets excited to see Jemison, the first black woman in space, whom she first met at Thomas' graduation from Stanford. Thomas has always dreamt of being an astronaut.
Franklin, a huge tennis fan who makes herself tea to drink while watching Wimbledon each year, was thrilled to meet Braun and Joyner-Kersee. She never had the chance to meet Gibson, but Flack did.
"She did it with passion, which is what I'd like to think I do with music," said Flack, the first person to win back-to-back Grammys for Record of the Year. "I think that's the reason I'm still performing and writing and recording, because there's a passion. Her game, she played it with all her heart."
Friends and admirers hoped Monday's ceremony would ensure Gibson's triumphs wouldn't be lost to history. Her lack of renown was starkly illustrated when three-time defending men's champ Roger Federer was caught off-guard when asked what he knew about Gibson after his first-round match Monday.
"Nothing, to be honest," he said. "It's before my time. Isn't much I can really say about it. I don't know, I'm sorry."
But others of his time know what she did and what she meant. Serena Williams grew up reading books about Gibson.
"A lot of people don't know who she is," she said after beating Angelique Kerber in straight sets. "They always say, 'Arthur Ashe, Arthur Ashe.' People forget that Althea Gibson was actually years ... before Arthur Ashe. It's important to have nights like this so you can teach young people so they know who they are."

Copyright 2007 by The Associated Press
2007 U.S. OPEN

Aug. 27-Sept. 9
ChampionsWomen:
Justine Henin
Men:
Roger Federer
USTA
•
Live scores
•&nbsp
Interactive draws
•&nbsp
Schedule of play
•
U.S. Open radio
•&nbsp
Photo galleries
•&nbsp
Press conferences
Day 14
•
Federer wins Open-era record fourth straight title
•
Garber: History on horizon for Federer
•
Ford: Djokovic just what men's game needs
•
Hawkins: Federer inside the numbers
•
Dechy, Safina capture U.S. Open doubles title
•
Chat wrap

Day 13
•
Ford: Fabulous end to Slam season for Henin
•
Djokovic reaches first Grand Slam final
•
Garber: Recent history favors Novak
•
Men's final predictions
•
Ford, Garber chat wrap

Day 12
•
Henin, Kuznetsova to meet in women's final
•
Ford: Federer's greatest gift
•
Garber: Making the case for Henin, Kuznetsova
•
Chat wrap

•
Aspelin, Knowle win men's doubles title
Day 11
•
Men
•
Azarenka, Mirnyi win mixed doubles title
•
Garber: Late nights at the U.S. Open
•
Ford, Garber chat wrap

Day 10
•
Men
|
Women
•
Ford: Unclearable hurdle for Roddick?
•
Henin vs. Venus for all the marbles … in semis
•
Notebook: Russians to meet in semis
•
Ford, Garber chat wrap

Day 9
•
Men
|
Women
•
Garber: Sulking Serena
•
Garber: Hard courts hard on Nadal
•
Ford: A few good juniors
•
Gallery: Behind the scenes

•
Thacher has eyes on college
•
Chat wrap

Day 8
•
Men
|
Women
•
Garber: What we learned in Week 1
•
Page 2: Being Sharapova
•
Notebook: Venus-Jankovic moved to Wednesday
•
Deportes on Argentina's run
•
Week 1 gallery
•
Week 1 coverage
•
Preview coverage
Video

•
Jensen: Four for Federer
•
Lucky No. 7 for Henin
•
Youth vs. Experience in final
•
Collins final preview
•
Ford: Women's semis recap
•
Bud's breakdown
•
Men's Thursday preview
•
Federer defeats Roddick again
•
Jensen's semifinal preview
•
Venus discusses Serena's loss
•
Venus vs. Henin in semis
•
Serena short with media
•
Jensen: Federer-Roddick preview
•
A Few Good Juniors
•
Roddick rested
•
Blake had his chances
•
Bud Collins looks ahead to Week 2
•
Serena, Venus rolling
•
Sisters showing their strength
•
Bud Collins breakdown
•
Day of upsets
•
Day 6: Defending champ Sharapova ousted
•
Gentlemen Tim
•
Americans in action
•
Day 4
•
Day 4 preview
•
Venus wins with ease
•
Top 5 players to watch
•
Advantage Luke Jensen
•
Courier: How to play Federer
•
Bud Collins on Althea Gibson
•
McEnroe's preview
•
Roddick raring to go
•
Bud Collins preview
•
Pete Sampras interview:
Part I
|
Part II
Blogs
•
Bodo: Blood in the water
•
Bodo: Gentleman Tim
•
TENNIS.com: Rafa's biggest challenge
•
Bodo: The game's latest grinder
Podcasts

•
Isner-Federer preview
•
How far can Hingis go?
•
Go pro or go to school?
•
Nadal's knees
MOST SENT STORIES ON ESPN.COM