Roddick, Blake, Djokovic, Hewitt advance with straight-set victories
Updated:
August 29, 2007, 12:30 AM ET
ESPN.com news services
NEW YORK -- Andy Roddick won his U.S. Open first-round match Tuesday night, beating Justin Gimelstob 7-6 (6), 6-3, 6-3.
The 30-year-old Gimelstob is retiring, and Roddick hugged him at the net afterward. Gimelstob knelt down to kiss the blue court after his last U.S. Open match and then held court for a while, conducting a postmatch interview with Roddick for the fans.
"We're going to miss one of the funniest guys on tour," Roddick said.
They're pals and engaged in a bit of levity in the second set, with Gimelstob arguing good-naturedly with the chair umpire about whether he should have a first serve or a second serve after fans interrupted play by applauding a group of military members in the stands.
After a lengthy delay, Gimelstob wound up double-faulting.
"You go on for an hour," Roddick shouted, "then you do that?"
Third seed Novak Djokovic demolished Dutchman Robin Haase 6-2, 6-1, 6-3 to reach the second round.
Sixth-seeded James Blake, who hopes to hoist the silver trophy someday, rallied in both tiebreaks and beat Michael Russell 7-6 (6), 6-3, 7-6 (4).
U.S. Open scores
Need results from the U.S. Open? Updates from every court and every match from USOpen.org: Scores
• Complete results
"If it's three sets or five sets, Mike's going to make me work hard," Blake said.
Former world No. 1 Lleyton Hewitt also made an impressive start to his U.S. Open campaign, outclassing Amer Delic 6-2, 6-4, 6-2 to reach the second round.
Blake made a smart instant-replay challenge in the first-set tiebreak, prompting his vocal rooting section -- the J-Block -- to start chanting "Har-vard! Har-vard!" He went there for two years before turning pro.
Blake, along with former champion Roddick considered to be America's best hope for a men's champion, battled through in 2 hours, 41 minutes to set up a clash with Frenchman Fabrice Santoro.
"I had to tip my cap to how many balls [Russell] got to today," Blake, a quarterfinalist in each of the past two years, said in a courtside interview.
"I feel great about how I played today. I think everyone saw how much he made me work so it's a fun match for me to win," he said.
World No. 65 Russell, who had lost in the first round in 12 of his previous 14 Grand Slam matches, forced Blake to work harder than expected.
But Blake, who has now won 18 of his 21 matches on hard courts this summer, said he felt happy with his game.
"I feel very confident and I've had some good results recently," Blake said.
Djokobiv, a semifinalist at the French Open and Wimbledon this year, gave lucky loser Haase a harsh introduction to Grand Slam tennis as he stormed through in 1 hour, 36 minutes.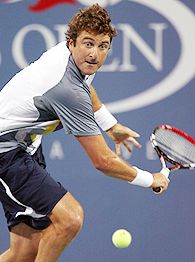 Mitsu Yasukawa / The Star Ledger via US PresswireJustin Gimelstob lost his last match as a pro in straight sets.
Djokovic, who has surged up the rankings from 16th at the end of 2006, was surprised at how big a crowd turned out at Louis Armstrong Stadium for his opening match.
"It feels fantastic," he said. "I honestly didn't expect so many people to watch my match.
"I'm No. 3 in the world so people come to see. I'm still young, you know. I made a breakthrough this year, so everybody's really interested the way I play," he said.
The tall, slender Djokovic, who beat Andy Roddick, Rafael Nadal and Roger Federer in consecutive rounds to win the Montreal Masters earlier this month, hit 35 winners.
He will next face Czech Radek Stepanek, who beat Carlos Berlocq of Argentina 7-6 (3), 6-7 (4), 6-4, 6-2.
Djokovic, who also won this year at Adelaide, Estoril and in Miami, where he beat Spaniard Nadal in the quarters, said he preferred the U.S. Open's hard-court surface.
"My best results were on this surface, so it's a positive thing for the continuation of the tournament," he said.
He said he was motivated by the success of fellow Serbs Jelena Jankovic and Ana Ivanovic, ranked third and fifth in the women's draw.
"I really want to do well when I see them playing well," he said. "Of course, we are good friends. We grew up together, especially with Ana. We basically started playing tennis together."
Djokovic said his game improved with added maturity.
"I'm more consistent from the baseline. I am stronger physically," he said. "It's one year, and in the ages of 19, 20, one year is a lot."
He said he hoped to join Nadal as a serious challenger to Federer as best player in the game.
"That's what I'm trying to do on the court ... to push me into this group of three players," he said. "They are the two best players in the world."
The 16th-seeded Hewitt, the 2001 champion, outplayed Delic, ranked 71, in every department as he wrapped up victory in 1 hour, 37 minutes.
"I felt like I was moving incredibly well," Hewitt said.
Hewitt, who reached the quarterfinals and semifinals in back-to-back Masters Series events earlier this month, broke in the opening game of the match and never looked back.
"I tried to mix myself up to use it smartly, work the angles, not let him get into a rhythm out there where he feels like he can just go for it, lash out on a few," Hewitt said. "I felt like I was playing on my terms."
Hewitt broke five times in all and now plays Argentine Agustin Calleri, who beat Andreas Seppi of Italy 6-4, 6-4, 3-6, 7-5.
Hewitt has not won a Grand Slam title since he lifted the trophy at Wimbledon in 2002 but has enjoyed a good summer, pushing current world No. 1 Federer to a third-set tiebreak in the semifinals in Cincinnati a fortnight ago.
That near miss, Hewitt said, had further boosted his confidence.
"In Cincinnati, I had chances throughout the match," he said. "Every set I had opportunities to break, put pressure on. Even though I lost in straight sets in Montreal, I felt the same way. He just played extremely confidently on the big points when he needed to. It's sort of second nature for him."
After winning his 26th career title in Las Vegas in March, Hewitt suffered a series of injuries but said he had been feeling confident ever since he reached the semifinals in Hamburg in May.
"I've been hitting the ball pretty well week in and week out [since then]," Hewitt, who recently began working with Federer's former coach Tony Roche, said.
"It makes it a lot easier when the body is going to hold up out there as well, not having niggling injuries every second week. I feel like I've been able to do the practice I've wanted to do. At the moment it's paying off," he said.
Only one seeded player lost in early session. In a match that lasted more than four hours, No. 32 Ivo Karlovic of Croatia lost to Arnaud Clement of France 7-6 (5), 6-4, 4-6, 6-7 (6), 6-4.
Among the early winners were No. 12 Ivan Ljubicic of Croatia, No. 20 Juan Ignacio Chela of Argentina and No. 23 Juan Monaco of Argentina.
While many young Americans won their first-rounders, 6-foot-6 Sam Querrey missed his chance. He dropped six set points in the first set and lost to Stefan Koubek of Austria 7-6 (1), 6-1, 6-1.
"Just kind of collapsed. Kind of got frustrated, didn't know what to do. I was out of it a little bit," Querrey said.
Laughing on his way out the door, Gimelstob said goodbye to the U.S. Open and hello to a future TV career all at once Tuesday night.
Gimelstob is retiring after a 12-year run in professional tennis that included two Grand Slam mixed doubles titles with Venus Williams -- and nowhere near that sort of success in singles.
Still, he's quite a character, which was on full display both during and after his loss to 2003 U.S. Open champion Roddick.
"Obviously, I would have liked to have done better," said Gimelstob, who never got past the third round in singles at a major, "but I'm fine with leaving the game."
The high point?
"Just a lot of averageness," he responded.
After a bit of thought, Gimelstob added: "One record I have is that I'm 5-0 in five-set matches at the U.S. Open. I'm proud of that, considering that I usually cramp in the second."
When this three-set match ended, he and Roddick held court, grabbing a microphone to interview each other and joke around for the benefit of the sellout crowd in the stands and TV viewers.
"What do you think was the key to the match" -- Gimelstob asked Roddick, pausing for effect -- "besides you being way better than me?"
Roddick then asked what Gimelstob will miss the most when he leaves tennis for good.
"That feeling walking onto center court. You don't get that in the real world," Gimelstob replied. "We kind of live in a fantasy world."
Then the pair held an unheard-of joint news conference, the winner and the loser, the former No. 1 and the guy who's never been higher than No. 63 and is currently No. 475.
"With the both of us sitting here," Gimelstob said, "what were the odds I would get the first two questions?"
Other than a tight first set -- Gimelstob actually led 5-3 in the tiebreak -- Roddick eventually took complete control. Roddick wound up with 17 aces and a 59-38 edge in winners.
Gimelstob, who will play three more tournaments before quitting, did lead in one category: Sweating profusely, he kept changing his shirt, using seven in all of various colors, while Roddick stuck to his black shirt.
Afterward, Roddick was asked to describe his opponent and buddy.
Gimelstob chimed in: "Sexy. Good kisser."
Turning serious for a moment, Roddick said: "At the heart of it all, one of the things that we can all respect -- even though he's about as self-deprecating as one can get -- is he went about things the right way."
In other action, Dudi Sela beat Nicolas Lapentti 5-7, 6-2, 6-1, 6-3; American Wayne Odesnik defeated Danai Udomchoke 6-7 (2), 6-3, 6-1, 3-6, 7-6 (2); Jurgen Melzer beat Diego Hartfield 6-4, 7-5, 7-5; former Australian Open champion Thomas Johansson defeated Nicolas Massu 2-6, 7-6 (3), 6-3, 6-3; and Juan Martin del Potro beat Nicolas Mahut 6-0, 6-4, 6-2.
Information from The Associated Press and Reuters was used in this report.
2007 U.S. OPEN

Aug. 27-Sept. 9
ChampionsWomen:
Justine Henin
Men:
Roger Federer
USTA
•
Live scores
•&nbsp
Interactive draws
•&nbsp
Schedule of play
•
U.S. Open radio
•&nbsp
Photo galleries
•&nbsp
Press conferences
Day 14
•
Federer wins Open-era record fourth straight title
•
Garber: History on horizon for Federer
•
Ford: Djokovic just what men's game needs
•
Hawkins: Federer inside the numbers
•
Dechy, Safina capture U.S. Open doubles title
•
Chat wrap

Day 13
•
Ford: Fabulous end to Slam season for Henin
•
Djokovic reaches first Grand Slam final
•
Garber: Recent history favors Novak
•
Men's final predictions
•
Ford, Garber chat wrap

Day 12
•
Henin, Kuznetsova to meet in women's final
•
Ford: Federer's greatest gift
•
Garber: Making the case for Henin, Kuznetsova
•
Chat wrap

•
Aspelin, Knowle win men's doubles title
Day 11
•
Men
•
Azarenka, Mirnyi win mixed doubles title
•
Garber: Late nights at the U.S. Open
•
Ford, Garber chat wrap

Day 10
•
Men
|
Women
•
Ford: Unclearable hurdle for Roddick?
•
Henin vs. Venus for all the marbles … in semis
•
Notebook: Russians to meet in semis
•
Ford, Garber chat wrap

Day 9
•
Men
|
Women
•
Garber: Sulking Serena
•
Garber: Hard courts hard on Nadal
•
Ford: A few good juniors
•
Gallery: Behind the scenes

•
Thacher has eyes on college
•
Chat wrap

Day 8
•
Men
|
Women
•
Garber: What we learned in Week 1
•
Page 2: Being Sharapova
•
Notebook: Venus-Jankovic moved to Wednesday
•
Deportes on Argentina's run
•
Week 1 gallery
•
Week 1 coverage
•
Preview coverage
Video

•
Jensen: Four for Federer
•
Lucky No. 7 for Henin
•
Youth vs. Experience in final
•
Collins final preview
•
Ford: Women's semis recap
•
Bud's breakdown
•
Men's Thursday preview
•
Federer defeats Roddick again
•
Jensen's semifinal preview
•
Venus discusses Serena's loss
•
Venus vs. Henin in semis
•
Serena short with media
•
Jensen: Federer-Roddick preview
•
A Few Good Juniors
•
Roddick rested
•
Blake had his chances
•
Bud Collins looks ahead to Week 2
•
Serena, Venus rolling
•
Sisters showing their strength
•
Bud Collins breakdown
•
Day of upsets
•
Day 6: Defending champ Sharapova ousted
•
Gentlemen Tim
•
Americans in action
•
Day 4
•
Day 4 preview
•
Venus wins with ease
•
Top 5 players to watch
•
Advantage Luke Jensen
•
Courier: How to play Federer
•
Bud Collins on Althea Gibson
•
McEnroe's preview
•
Roddick raring to go
•
Bud Collins preview
•
Pete Sampras interview:
Part I
|
Part II
Blogs
•
Bodo: Blood in the water
•
Bodo: Gentleman Tim
•
TENNIS.com: Rafa's biggest challenge
•
Bodo: The game's latest grinder
Podcasts

•
Isner-Federer preview
•
How far can Hingis go?
•
Go pro or go to school?
•
Nadal's knees
MOST SENT STORIES ON ESPN.COM