Federer, Nadal, Safin, Isner, Henman win; Gonzalez upset
Updated:
August 30, 2007, 11:22 AM ET
ESPN.com news services
NEW YORK -- Playing on a taped-up knee so painful he almost pulled out of the U.S. Open, Rafael Nadal was hardly at his imposing best Wednesday.
U.S. Open scores
Need results from the U.S. Open? Updates from every court and every match from USOpen.org: Scores
• Complete results
It was a struggle to sprint, and he scuffled against a foe who never has won a Grand Slam match, let alone a title. On a day when his rival, No. 1 Roger Federer, won easily, three-time French Open winner Nadal hardly looked ready to flourish at Flushing Meadows, where his career mark is worse than at any other major.
To improve on that, he'll need to recover quickly and perform better than he did before eventually earning a 7-5, 3-6, 6-4, 6-1 first-round victory over Australian wild-card entry Alun Jones, whose claim to fame is a bit part in the film "Wimbledon."
"I didn't run too much, no? I can't move too much," the No. 2-seeded Nadal said. "Difficult to play like this, especially here."
Federer had no difficulty at all Wednesday night, when he was dressed for a formal affair as he bids to become the first man since the 1920s to claim four consecutive U.S. championships. He strode out for his 6-1, 6-4, 6-4 victory over Paul Capdeville in head-to-toe black: bandanna, wrist band, shirt, shorts, socks and shoes. The shorts even had satin stripes down the sides.
"A little bit of the tuxedo look," Federer said. "It's something special."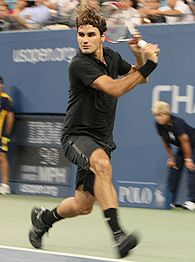 Don Emmert/AFP/Getty ImagesRoger Federer wore his all-back "tuxedo look," including shorts with satin stripes.
The only real fight Capdeville put up was directed at the chair umpire, who wouldn't let him challenge a call at the end of the second set because the replay request came too late.
Now Federer faces a much taller task: His third-round opponent is John Isner, the 6-foot-9 American who only a few months ago was playing college tennis for Georgia. With fans barking for their favorite Bulldog, Isner followed up his first-round upset of No. 26 Jarkko Nieminen by beating Rik de Voest of South Africa 6-3, 6-3, 7-6 (4).
Federer said he's only seen Isner play a few games and called him a "new kid on the block."
During an on-court interview, Isner was asked to look ahead to the matchup with Federer.
"Is he good?" Isner said with a knowing laugh.
"I'm going to believe," Isner said later. "I'm not saying I'm going to win, but I'm going to believe. That's what I have to do."
Nadal is 2-0 against Federer in title matches at Roland Garros. Federer is 2-0 against Nadal in title matches at the All England Club. So the tennis world has been looking forward to a tiebreaker on the USTA Billie Jean King National Tennis Center's blue hard court.
But Nadal felt a "sharp pain" in his left knee Sunday, toward the end of a practice session with Andy Murray in Arthur Ashe Stadium. The next day, Nadal didn't practice at all and figured he would have to withdraw from the year's last Grand Slam tournament -- ruining a chance to meet No. 1 Roger Federer in a third consecutive major final.
Nadal had an MRI exam, though, that showed no significant damage, so he spent Monday and Tuesday getting treatment on the knee from a doctor with the Italian tennis federation, Pier Francesco Parra, and a tour trainer. That helped, but he acknowledged that he might not have been on court Wednesday were this any other tournament.
Nadal has only been beyond the U.S. Open's third round once, reaching the quarterfinals last year. And there were moments when it appeared he might be in real trouble against Jones.
The 123rd-ranked Jones had a minute of screen time in his cinematic debut, portraying a tennis player who lost to the protagonist in the quarterfinals at the All England Club. His character's name was Tom, and to this day the 27-year-old gets called that in locker rooms.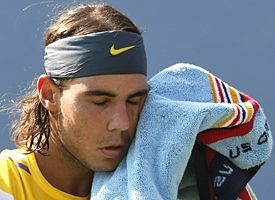 TIMOTHY A. CLARY/AFP/Getty ImagesAn MRI showed no significant damage to Rafael Nadal's knee, but he struggled in his first-round match.
He hasn't exactly made a name for himself in tennis, entering the day with a 2-5 career record in tour-level matches. About 2½ years ago, he dropped off the circuit entirely for 12 months, teaching at a local club in Canberra and digging holes with a shovel for his father's construction company.
Yet on Wednesday, for the better part of two hours, Jones gave Nadal all he could handle.
Quite a thrill, even if, as Jones put it, "I don't think he was at 100 percent. Only heard the grunt a few times."
Indeed, the indefatigable Nadal was hesitant and didn't drive balls as deep into the court as he usually does. He said later he took it a tad easy so as not to risk further damage to his left knee. As it happens, he's been dealing with a right knee problem since the Wimbledon final, so he wore tape below that joint, too.
Nadal lost the match's first six points and fell behind 1-4 before winning the opening set. Jones stayed right there, though, and claimed the second set.
Then, in the momentum-determining third set, Nadal grabbed a 2-0 edge. Once more, Jones dug in. He held serve and then broke to 2-all. And then Jones broke again to take a 4-3 lead when Nadal made consecutive unforced errors, first a forehand and then a backhand.
At the ensuing changeover, a trainer came out to apply more tape above Nadal's left knee. While the heavy favorite was getting patched up, perhaps the heavy underdog had just a little too much time to consider the situation.
Here he was, at the U.S. Open, in Arthur Ashe Stadium, leading Rafael Nadal.
"I thought, 'If I get this set, I've got a good chance of winning,'" Jones said.
And that's when everything came apart. Jones dumped an easy volley into the net and then made three other unforced errors to get broken at love.
Former champion Marat Safin said he still hoped to add to his two Grand Slam titles after beating Canadian qualifier Frank Dancevic 7-5, 7-6 (5), 7-6 (7) in the first round.
Tim Henman postponed his Grand Slam farewell for one more match at least as he beat 27th seed Dmitry Tursunov 6-4, 3-6, 6-3, 6-4 in the first round.
Safin, the 27-year-old Russian who won at Flushing Meadows in 2000 and at the Australian Open in 2005, battled back from 2-5 down in the second set and saved a set point in the third-set tiebreak to advance after 2 hours, 25 minutes.
Since his win in Melbourne in 2005, Safin has not made a quarterfinal at a Grand Slam event. He said recently he has only just recovered from a knee injury that has hindered his progress.
Although considered one of the most talented players on the tour, Safin has struggled this year and played down expectations of a big run at the U.S. Open.
But he said Wednesday a third Grand Slam was not beyond him.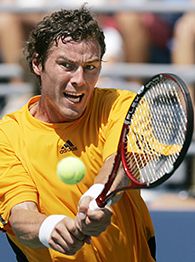 AP Photo/Julie JacobsonMarat Safin rallied to win the second set and saved a set point in the third-set tiebreak.
"I'm kind of not expecting anything from this tournament and nothing from this year, but at least I started to play better," Safin said. "For me to make the quarterfinals lately, it's a huge, huge deal.
"Basically, I hope that I will have a chance to win another Grand Slam. It's tougher and tougher, but why not? There is a chance. If Federer loses to somebody, somebody withdraws, Nadal will have something happen to him, the door is open," he said.
World No. 69 Dancevic, who reached the quarterfinals of the Montreal Masters this month, served for both the second and third sets but could not close out either.
Safin clinched victory with his 19th ace and now plays Stanislas Wawrinka, who beat Evgeny Korolev 4-6, 6-3, 4-6, 6-4, 7-5, in the second round.
Safin recently began working with Hernan Gumy as his new coach and said that the relationship was already producing results.
"I think Hernan is doing a great job," he said. "He explained to me everything that happened with my injury. I was kind of lost and couldn't really understand why it was happening to me. I felt like tennis had improved so much, that the players are much faster, but it's not [true].
"It's just the movement because of my knee injury, I was getting worse and worse because I was trying to protect my leg," he said. "But he understood and explained, so I think it's [moving] in the right direction."
Henman, 32, who is to retire after his country's Davis Cup world group playoff with Croatia next month, came through in 2 hours, 44 minutes to beat Tursunov for only the second time in seven meetings.
Serving and volleying superbly, Henman took the first set thanks to one break before the Russian hit back to level the match.
Henman then snatched the third set and after trading breaks early in the fourth, broke again in the fifth game and held on to set up a clash with Jo-Wilfried Tsonga, who beat Oscar Hernandez 7-5, 6-1, 6-3.
Seventh seed Fernando Gonzalez of Chile, who started the year with a bang, suffered another in a series of first-round setbacks, falling to Russian Teimuraz Gabashvili, who won 6-4, 6-1, 3-6, 5-7, 6-4.
Gonzalez, who made a rousing run to the Australian Open final before losing to Federer, has lost his first match in the four summer hardcourt events he has played since reaching the third round at Wimbledon.
"This year I have had many disappointments," Gonzalez said. "But this is tennis."
The 27-year-old battled back after losing the first two sets to Gabashvili, 22, to level the match.
The Russian, however, persevered and took the only service break of the fifth set in the 10th game, whipping in a forehand passing shot to end the 2-hour, 53-minute match.
Gonzalez, who reached the third round at last year's U.S. Open after getting to three semifinals and a quarterfinals in the run-up weeks, also advanced to the final this year in Rome, where he fell to clay-court maestro Nadal.
The Chilean said he felt like a marked man since his rise in prominence.
"You have many good opponents and they are always trying to win and the higher ranking you are, they have more motivation to try and beat you," he said. "I'm practicing really hard. When you're not winning matches you lose confidence and that's a very important thing in tennis.
"The players, they watch you every week to see how they can beat you," he added. "They have a lot of motivation when they go into the court. Every day I work to improve my tennis. I'm doing the right things, but I have to wait and don't give it up. I had a lot of expectation for this tournament, but there's nothing I can do now."
In other action, No. 8 Tommy Robredo beat Bobby Reynolds 6-3, 7-6 (5), 6-1; No. 11 Mikhail Youzhny beat Nicolas Devilder 6-0, 6-1, 6-2; No. 17 Carlos Moya defeated Bjorn Phau 6-1, 6-2, 6-4; Mardy Fish defeated Bruno Echagaray 6-4, 6-1, 6-2; Robby Ginepri beat Olivier Rochus 6-0, 6-3, 6-1; Philipp Kohlschreiber defeated Mariano Zabaleta 6-2, 6-2, 6-4; Ernests Gulbis upset 30th seed Potito Starace 7-5, 7-6 (4), 6-3; and Michael Berrer beat Michal Przysiezny 6-1, 4-6, 6-1, 7-6 (4).
Information from The Associated Press and Reuters was used in this report.
SPONSORED HEADLINES
MORE TENNIS HEADLINES
MOST SENT STORIES ON ESPN.COM
2007 U.S. OPEN

Aug. 27-Sept. 9
ChampionsWomen:
Justine Henin
Men:
Roger Federer
USTA
•
Live scores
•&nbsp
Interactive draws
•&nbsp
Schedule of play
•
U.S. Open radio
•&nbsp
Photo galleries
•&nbsp
Press conferences
Day 14
•
Federer wins Open-era record fourth straight title
•
Garber: History on horizon for Federer
•
Ford: Djokovic just what men's game needs
•
Hawkins: Federer inside the numbers
•
Dechy, Safina capture U.S. Open doubles title
•
Chat wrap

Day 13
•
Ford: Fabulous end to Slam season for Henin
•
Djokovic reaches first Grand Slam final
•
Garber: Recent history favors Novak
•
Men's final predictions
•
Ford, Garber chat wrap

Day 12
•
Henin, Kuznetsova to meet in women's final
•
Ford: Federer's greatest gift
•
Garber: Making the case for Henin, Kuznetsova
•
Chat wrap

•
Aspelin, Knowle win men's doubles title
Day 11
•
Men
•
Azarenka, Mirnyi win mixed doubles title
•
Garber: Late nights at the U.S. Open
•
Ford, Garber chat wrap

Day 10
•
Men
|
Women
•
Ford: Unclearable hurdle for Roddick?
•
Henin vs. Venus for all the marbles … in semis
•
Notebook: Russians to meet in semis
•
Ford, Garber chat wrap

Day 9
•
Men
|
Women
•
Garber: Sulking Serena
•
Garber: Hard courts hard on Nadal
•
Ford: A few good juniors
•
Gallery: Behind the scenes

•
Thacher has eyes on college
•
Chat wrap

Day 8
•
Men
|
Women
•
Garber: What we learned in Week 1
•
Page 2: Being Sharapova
•
Notebook: Venus-Jankovic moved to Wednesday
•
Deportes on Argentina's run
•
Week 1 gallery
•
Week 1 coverage
•
Preview coverage
Video

•
Jensen: Four for Federer
•
Lucky No. 7 for Henin
•
Youth vs. Experience in final
•
Collins final preview
•
Ford: Women's semis recap
•
Bud's breakdown
•
Men's Thursday preview
•
Federer defeats Roddick again
•
Jensen's semifinal preview
•
Venus discusses Serena's loss
•
Venus vs. Henin in semis
•
Serena short with media
•
Jensen: Federer-Roddick preview
•
A Few Good Juniors
•
Roddick rested
•
Blake had his chances
•
Bud Collins looks ahead to Week 2
•
Serena, Venus rolling
•
Sisters showing their strength
•
Bud Collins breakdown
•
Day of upsets
•
Day 6: Defending champ Sharapova ousted
•
Gentlemen Tim
•
Americans in action
•
Day 4
•
Day 4 preview
•
Venus wins with ease
•
Top 5 players to watch
•
Advantage Luke Jensen
•
Courier: How to play Federer
•
Bud Collins on Althea Gibson
•
McEnroe's preview
•
Roddick raring to go
•
Bud Collins preview
•
Pete Sampras interview:
Part I
|
Part II
Blogs
•
Bodo: Blood in the water
•
Bodo: Gentleman Tim
•
TENNIS.com: Rafa's biggest challenge
•
Bodo: The game's latest grinder
Podcasts

•
Isner-Federer preview
•
How far can Hingis go?
•
Go pro or go to school?
•
Nadal's knees