Commentary
Huge weight lifted off Blake's shoulders with five-set win
The fifth set alone between James Blake and Fabrice Santoro was worth the price of admission. Bonnie D. Ford writes how Blake -- finally -- broke into the win column in a five-set match.
Updated:
August 31, 2007, 4:14 PM ET
By
Bonnie D. Ford
| Special to ESPN.com
NEW YORK -- There's an inherent contradiction in winning a five-set match. It means you played poorly enough to put yourself in a hole and well enough to scramble out of it.
Still, the ability to gut out a five-setter -- and preferably win more than you lose -- is considered a necessary part of a great player's tool kit, a gauge of stamina and mental toughness. Roger Federer is 9-8 in that category so far; Rafael Nadal is 9-3. Pete Sampras won 32 of the 46 he played and Andre Agassi was 25-21. On the other end of the spectrum, Philipp Petzschner of Germany, the 290th-ranked player in the world, and Floridian Wayne Odesnik, No. 153, both won five-set matches earlier in the U.S. Open. No one would mention them in the same breath as James Blake even though, until 12:12 a.m. on Friday, they had accomplished something he hadn't.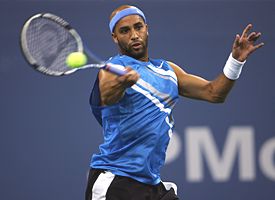 Chris McGrath/Getty ImagesBlake hit 83 winners (to Santoro's 39), but he also had 71 unforced errors.
Blake came into his second-round match with France's Fabrice Santoro with an 0-9 record in five-set matches. Nor had he ever advanced past the quarterfinals of a Grand Slam event. There's little doubt that the two are related, at least in the sense that a player has to believe he can slay that dragon if he needs to. This intelligent, sensitive philosopher-athlete is more aware than anyone of his wretched stats in this regard. He howled and pumped his fist in exultation at his win. He told the ecstatic crowd he'd finally gotten the monkey off his back. Although jocks have appropriated that figure of speech for themselves, it's also slang for drug addiction. Blake had made a habit of letting five-setters slip away, whether he started strong or came from behind. There was a cumulative effect, and he seemed to crash harder after each one, knowing the predictable questions he would face. Perhaps in private he asked himself some of them as well. It's not as if Blake was dosing himself with the same thing time after time. Each match is separate and distinct in his mind, and he ticked them off despite the late, wee hour on Friday: the bagel in the fifth set against Lleyton Hewitt in the second round of the 2001 U.S. Open when he was cramping and vomiting; the 2005 French Open marathon against Stanislas Wawrinka when he just ran out of steam; the 2005 U.S. Open quarterfinal against Andre Agassi during Agassi's inexorable march to the final that turned on a couple of points. For a while as Thursday wound down toward Friday, it looked as if an impossible scenario was developing. It looked as if Blake could actually win a five-set match in a horribly unsatisfying fashion when Santoro began to suffer serious leg cramps, called for massage during changeovers and finally got so stiff-legged that he didn't sit down at all. But Santoro, a gap-toothed, 34-year-old contortionist who makes every rally into a potential Cirque du Soleil act, kept doing what has kept him in the top echelons of the game for so long -- running, fetching, irritating and often prevailing in the point, wearing that distracting striped shirt. You expect dancing poodles to waltz onto the court at any moment when he's playing. When Santoro couldn't get his feet to spots fast enough during the fifth set, he lunged and lobbed to give himself time to hobble back into place. When he could run, he entertained, dashing to the net and then doubling over it after a Blake shot hit the cord and took a lucky bounce. When Blake waved at him sheepishly as tennis etiquette dictates, Santoro straightened up a little and saucily stuck out his tongue. Even Blake had to smile, although the bigger-picture situation was not particularly comic for him. Santoro similarly tortured Federer in the second round of this tournament in 2005. That encounter was a mere three-set spectacle in which he pushed a visibly annoyed Federer to 7-5 in the first two sets and a tiebreak in the third. Blake said he tried his best not to get hot about things. "He makes everyone he plays angry," Blake said. Blake served poorly during long stretches of the match, missed volleys, sprayed backhands. But the key, as in any five-setter, is that he didn't inhale the toxic smoke of those mistakes and let it overcome him. Although he can reel off details of his most attenuated losses, Blake said he didn't ever bring them on court until this one. "This time I just said to myself, I'm not going let it happen," he said. In Blake's recent autobiography, "Breaking Back," he dwells at length on the lessons he's learned from defeats -- perhaps more than victories. He expounds on his strong belief that his success turns not on obsessing over results but in improving, always improving. His longtime coach, Brian Barker, was the chief proponent of this credo, and their intertwined visions are the reason Blake has refused to ditch him after 15 years together. Barker has always said that Blake is a streaky player who advances in giant leaps, then levels out, then makes another huge gain. When you're in the top 10, those giant leaps become smaller and more incremental, but equally crucial. Blake struggled for most of the early season and now, on the heels of his tournament win in New Haven, Conn., he has kicked down a door and kicked a nasty habit.
Bonnie D. Ford is a frequent contributor who is covering the U.S. Open for ESPN.com.
Enterprise and Olympic Sports
Bonnie D. Ford is a senior writer for ESPN.com.
SPONSORED HEADLINES
MORE TENNIS HEADLINES
MOST SENT STORIES ON ESPN.COM
2007 U.S. OPEN

Aug. 27-Sept. 9
ChampionsWomen:
Justine Henin
Men:
Roger Federer
USTA
•
Live scores
•&nbsp
Interactive draws
•&nbsp
Schedule of play
•
U.S. Open radio
•&nbsp
Photo galleries
•&nbsp
Press conferences
Day 14
•
Federer wins Open-era record fourth straight title
•
Garber: History on horizon for Federer
•
Ford: Djokovic just what men's game needs
•
Hawkins: Federer inside the numbers
•
Dechy, Safina capture U.S. Open doubles title
•
Chat wrap

Day 13
•
Ford: Fabulous end to Slam season for Henin
•
Djokovic reaches first Grand Slam final
•
Garber: Recent history favors Novak
•
Men's final predictions
•
Ford, Garber chat wrap

Day 12
•
Henin, Kuznetsova to meet in women's final
•
Ford: Federer's greatest gift
•
Garber: Making the case for Henin, Kuznetsova
•
Chat wrap

•
Aspelin, Knowle win men's doubles title
Day 11
•
Men
•
Azarenka, Mirnyi win mixed doubles title
•
Garber: Late nights at the U.S. Open
•
Ford, Garber chat wrap

Day 10
•
Men
|
Women
•
Ford: Unclearable hurdle for Roddick?
•
Henin vs. Venus for all the marbles … in semis
•
Notebook: Russians to meet in semis
•
Ford, Garber chat wrap

Day 9
•
Men
|
Women
•
Garber: Sulking Serena
•
Garber: Hard courts hard on Nadal
•
Ford: A few good juniors
•
Gallery: Behind the scenes

•
Thacher has eyes on college
•
Chat wrap

Day 8
•
Men
|
Women
•
Garber: What we learned in Week 1
•
Page 2: Being Sharapova
•
Notebook: Venus-Jankovic moved to Wednesday
•
Deportes on Argentina's run
•
Week 1 gallery
•
Week 1 coverage
•
Preview coverage
Video

•
Jensen: Four for Federer
•
Lucky No. 7 for Henin
•
Youth vs. Experience in final
•
Collins final preview
•
Ford: Women's semis recap
•
Bud's breakdown
•
Men's Thursday preview
•
Federer defeats Roddick again
•
Jensen's semifinal preview
•
Venus discusses Serena's loss
•
Venus vs. Henin in semis
•
Serena short with media
•
Jensen: Federer-Roddick preview
•
A Few Good Juniors
•
Roddick rested
•
Blake had his chances
•
Bud Collins looks ahead to Week 2
•
Serena, Venus rolling
•
Sisters showing their strength
•
Bud Collins breakdown
•
Day of upsets
•
Day 6: Defending champ Sharapova ousted
•
Gentlemen Tim
•
Americans in action
•
Day 4
•
Day 4 preview
•
Venus wins with ease
•
Top 5 players to watch
•
Advantage Luke Jensen
•
Courier: How to play Federer
•
Bud Collins on Althea Gibson
•
McEnroe's preview
•
Roddick raring to go
•
Bud Collins preview
•
Pete Sampras interview:
Part I
|
Part II
Blogs
•
Bodo: Blood in the water
•
Bodo: Gentleman Tim
•
TENNIS.com: Rafa's biggest challenge
•
Bodo: The game's latest grinder
Podcasts

•
Isner-Federer preview
•
How far can Hingis go?
•
Go pro or go to school?
•
Nadal's knees