Commentary
Ginepri regaining some of his '05 form
Not much has gone right for Robby Ginepri since he reached the semifinals at the U.S. Open in 2005. He's not quite there yet but he advanced to the third round of the U.S. Open on Friday.
Updated:
August 31, 2007, 8:19 PM ET
By
Greg Garber
| ESPN.com
NEW YORK -- Towering John Isner, whose big serves leave 'em cowering, has whistled into the third round here at the U.S. Open. So have 18-year-old, suddenly proficient Donald Young and former champion Andy Roddick. James Blake joined his fellow Americans with some early Friday morning histrionics.
Lost in those red-white-and-blue story lines was a usual suspect by the name of
Robby Ginepri
. While there are four American men still alive in the top half of the draw, he is only one left in the bottom half. The 24-year-old from Kennesaw, Ga., raced into the third round on Friday with a technically sound 6-2, 6-3, 6-1 victory over Russia's
Teimuraz Gabashvili
. On a day featuring several marathon matches, Ginepri's clocked in at 75 minutes. "Trying to get out of here early today," Ginepri said. "Definitely makes it a lot easier to compete later in tournaments. I haven't served this well in a long time. Forgot how easy it is to win points when you're serving so well." By any measure, it's been a miserable season for Ginepri. His record coming into the U.S. Open was 8-16 -- on pace for his worst win total since 2002, when he was still outside the top 100. The same thing that has dogged him during his short career -- a short attention span when it comes to training -- was his undoing.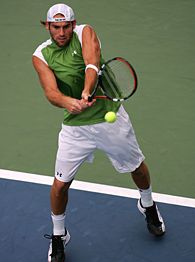 Matthew Stockman/Getty ImagesRobby Ginepri has not been past the third round of a Grand Slam since reaching the 2005 U.S. Open semifinals.
"I always use this term: I just wasn't motivated," Ginepri said. "I wasn't working hard on the court. I was a little sick at the beginning of the year, some issues." But something happens to Ginepri when he gets to the National Tennis Center. "I play extremely well here for some reason," he said. "I don't know, to be exact. "I guess it's just the atmosphere here that really gets me going. I love competing here. I always hit the ball extremely well." Ginepri is 10-15 in the three other Grand Slams, but at the U.S. Open he's a terrific 12-6. In 2005, he reached the semifinals here, his best Grand Slam effort to date. Ginepri strung together consecutive five-set wins over
Tommy Haas
,
Richard Gasquet
and Guillermo Coria before losing to Andre Agassi, in five, of course. That memory has sustained Ginepri through some of the lean times. "I can at least always go back to those memories, pick out the good shots, pick out the matches that I competed so hard in, fought through those five-setters and got through," Ginepri said. "When I'm still training hard, trying to get to the top again, I can pull off those matches." For a while, it looked as though
Mardy Fish
would join Ginepri. He fought hard and forced No. 8 seed
Tommy Robredo
to five sets. Fish actually led 4-1 and was two points from breaking Robredo for a 5-1 lead. It didn't happen, and Robredo was even at 4-all when Fish double-faulted on game point. Robredo won 6-4, 3-6, 6-4, 6-7 (7), 6-4. "Credit to him," Fish said. "He stepped up his game. I froze. Against top-10 players, top-eight players in the world, you just can't freeze like that. "Just coming off the court [at 4-1] and thinking about it a little bit. I mean, the best thing I can give you is that I got tight." In the lean half of the men's draw, things are lining up nicely for Ginepri. He next faces
Stanislas Wawrinka
, who surprised
Marat Safin
in straight sets. The winner of
Juan Ignacio Chela
-
Ivan Ljubicic
awaits in the round of 16. "I'm back in rare form," Ginepri said. "I'm looking forward to keep going here."
Greg Garber is a senior writer for ESPN.com.
Writer, Reporter
Greg Garber joined ESPN in 1991 and provides reports for NFL Countdown and SportsCenter. He is also a regular contributor to Outside the Lines and a senior writer for ESPN.com.
SPONSORED HEADLINES
MORE TENNIS HEADLINES
MOST SENT STORIES ON ESPN.COM
2007 U.S. OPEN

Aug. 27-Sept. 9
ChampionsWomen:
Justine Henin
Men:
Roger Federer
USTA
•
Live scores
•&nbsp
Interactive draws
•&nbsp
Schedule of play
•
U.S. Open radio
•&nbsp
Photo galleries
•&nbsp
Press conferences
Day 14
•
Federer wins Open-era record fourth straight title
•
Garber: History on horizon for Federer
•
Ford: Djokovic just what men's game needs
•
Hawkins: Federer inside the numbers
•
Dechy, Safina capture U.S. Open doubles title
•
Chat wrap

Day 13
•
Ford: Fabulous end to Slam season for Henin
•
Djokovic reaches first Grand Slam final
•
Garber: Recent history favors Novak
•
Men's final predictions
•
Ford, Garber chat wrap

Day 12
•
Henin, Kuznetsova to meet in women's final
•
Ford: Federer's greatest gift
•
Garber: Making the case for Henin, Kuznetsova
•
Chat wrap

•
Aspelin, Knowle win men's doubles title
Day 11
•
Men
•
Azarenka, Mirnyi win mixed doubles title
•
Garber: Late nights at the U.S. Open
•
Ford, Garber chat wrap

Day 10
•
Men
|
Women
•
Ford: Unclearable hurdle for Roddick?
•
Henin vs. Venus for all the marbles … in semis
•
Notebook: Russians to meet in semis
•
Ford, Garber chat wrap

Day 9
•
Men
|
Women
•
Garber: Sulking Serena
•
Garber: Hard courts hard on Nadal
•
Ford: A few good juniors
•
Gallery: Behind the scenes

•
Thacher has eyes on college
•
Chat wrap

Day 8
•
Men
|
Women
•
Garber: What we learned in Week 1
•
Page 2: Being Sharapova
•
Notebook: Venus-Jankovic moved to Wednesday
•
Deportes on Argentina's run
•
Week 1 gallery
•
Week 1 coverage
•
Preview coverage
Video

•
Jensen: Four for Federer
•
Lucky No. 7 for Henin
•
Youth vs. Experience in final
•
Collins final preview
•
Ford: Women's semis recap
•
Bud's breakdown
•
Men's Thursday preview
•
Federer defeats Roddick again
•
Jensen's semifinal preview
•
Venus discusses Serena's loss
•
Venus vs. Henin in semis
•
Serena short with media
•
Jensen: Federer-Roddick preview
•
A Few Good Juniors
•
Roddick rested
•
Blake had his chances
•
Bud Collins looks ahead to Week 2
•
Serena, Venus rolling
•
Sisters showing their strength
•
Bud Collins breakdown
•
Day of upsets
•
Day 6: Defending champ Sharapova ousted
•
Gentlemen Tim
•
Americans in action
•
Day 4
•
Day 4 preview
•
Venus wins with ease
•
Top 5 players to watch
•
Advantage Luke Jensen
•
Courier: How to play Federer
•
Bud Collins on Althea Gibson
•
McEnroe's preview
•
Roddick raring to go
•
Bud Collins preview
•
Pete Sampras interview:
Part I
|
Part II
Blogs
•
Bodo: Blood in the water
•
Bodo: Gentleman Tim
•
TENNIS.com: Rafa's biggest challenge
•
Bodo: The game's latest grinder
Podcasts

•
Isner-Federer preview
•
How far can Hingis go?
•
Go pro or go to school?
•
Nadal's knees