Commentary
Teenagers take out top players
Eighteen-year-old Agnes Szavay pulled off the first upset of the day at the U.S. Open on Saturday. When it was all said and done, a quartet of players all under 20 had taken over the bottom half of the women's draw.
Updated:
September 1, 2007, 11:42 PM ET
By
Bonnie D. Ford
| Special to ESPN.com
NEW YORK -- When the U.S. Open women's draw was announced, many experts proclaimed that the tournament was over -- at least in the bottom half of the bracket, where defending champion Maria Sharapova appeared to have a virtually unobstructed path to the final.
There was much talk of a lack of depth in the women's game, and it was even suggested to Venus Williams -- one of the favorites stuck in the other half with her sister Serena, Justine Henin, Ana Ivanovic and Jelena Jankovic -- that the event might be better with a smaller draw. Venus demurred. "I like the draw sizes now," she said. "I think it's perfect. I think we have to honor the history of the Grand Slams for the last however many years … I think there's a lot of opportunities for young up-and-coming players." Little did she know. A quartet of European teenagers with the faces of angels and the mind-set of assassins threw the draw into disarray Saturday by toppling Sharapova and three other high-seeded opponents in the third round, sending fans and journalists scrambling for record books and pronunciation guides. "A lot of them have talent and they're so young, we thought, hey, they have great futures, but I just don't think we thought it was all going to happen on the same day in the same half of the draw and so quickly for them," commentator Tracy Austin said. "I thought they were still getting educated and making that transition, and they seem to have transitioned today."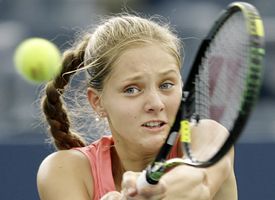 AP Photo/Kathy WillensWill sixth-seeded Anna Chakvetadze benefit the most in the bottom half of the draw from Maria Sharapova's early exit?
Meet the new giantess killers: • Agnieszka Radwanska of Poland, 18, tripped up defending champion Sharapova with a smart, fearless performance on center court. Radwanska, the only member of the quartet who is seeded (30th) reached the fourth round of Wimbledon last year and upset Martina Hingis at Miami in March. • Hungary's 18-year-old Agnes Szavay knocked off seventh-seeded Nadia Petrova of Russia -- the second straight week she has defeated a top-10 player. Szavay beat then-10th-ranked Daniela Hantuchova in the round of 16 at the Pilot Pen tournament last week on her way to the final against Svetlana Kuznetsova. A low back injury forced Szavay to retire from that match in the second set after winning the first. • Sixteen-year-old Tamira Paszek of Austria felled 11th-seeded Patty Schnyder in a close three-setter. Paszek, whose parents emigrated from Tanzania and Chile, respectively, announced her arrival on the scene by defeating two top-20 players -- Tatiana Golovin and Elena Dementieva -- in her march to the fourth round at Wimbledon this summer. • Victoria Azarenka of Belarus, 18, took out sentimental favorite Hingis 10 years after Hingis won her only U.S. Open title. The charming Radwanska, whose shy smile still sports braces, just completed her final high school exams and dotes on her two pet rats at home in Krakow, Poland. She looked exceedingly mature as she outplayed Sharapova in the first and third sets and mercilessly punished the world No. 2 for her disappearing serve. Sharapova has struggled with her serve all season and was frequently unable to nudge the speed gun past 80 mph on first serves late in the match. The swirling wind inside Arthur Ashe Stadium didn't help. Radwanska did not defer to her elder but instead danced well inside the baseline, then backpedaled a few steps as Sharapova lofted her tosses. "I knew that she doesn't like if somebody is moving if she serving," said Radwanska, whose younger sister, Ursula, also plays on the WTA Tour. "She was also nervous with this, so I was trying to do something like this." Szavay seemed to bear out Austin's assessment of the younger players' cool when she shrugged off the suggestion that she seemed to have made a rapid adjustment to the professional ranks. "If somebody plays good juniors, then that player has enough confidence to start the WTA Tour," she said. In fact, these four players are already well-acquainted from junior competition. "It's a great day for the ex-juniors," said Paszek, who allowed Schnyder only one point in the decisive third-set tiebreak. Despite all the upsets Saturday, three of the teens will have formidable competition in the round of 16. Azarenka will face 2004 U.S. Open champion and fourth-seeded Kuznetsova of Russia, who bucked the trend by breezing through her third-round match. Paszek will take on No. 6 seed Anna Chakvetadze, who won two U.S. hard-court events this summer. Radwanska will meet 18th-seeded Shahar Peer, an Australian Open quarterfinalist this year. On paper, Szavay would appear to have the best shot at a quarterfinal berth. Her opponent -- relatively ancient 24-year-old, 50th-ranked Julia Vakulenko of the Ukraine -- has played well in spots this season to crack the top 100 for the first time, but she had a horrendous hard-court campaign before the Open. Austin said the challenge for the bracket-busters, who don't have much experience at this altitude, will be recuperating from the physical and emotional effort it took to get this high. "Most of them haven't played in later rounds of Grand Slams, so it's how they recover after they've come up with a big win," Austin said. "Will they have a letdown the next day? How will they sustain that type of game? But the difference is, these young kids coming up are filled with confidence. There's no doubt in their minds."
Bonnie D. Ford is a frequent contributor who is covering the U.S. Open for ESPN.com.
Enterprise and Olympic Sports
Bonnie D. Ford is a senior writer for ESPN.com.
2007 U.S. OPEN

Aug. 27-Sept. 9
ChampionsWomen:
Justine Henin
Men:
Roger Federer
USTA
•
Live scores
•&nbsp
Interactive draws
•&nbsp
Schedule of play
•
U.S. Open radio
•&nbsp
Photo galleries
•&nbsp
Press conferences
Day 14
•
Federer wins Open-era record fourth straight title
•
Garber: History on horizon for Federer
•
Ford: Djokovic just what men's game needs
•
Hawkins: Federer inside the numbers
•
Dechy, Safina capture U.S. Open doubles title
•
Chat wrap

Day 13
•
Ford: Fabulous end to Slam season for Henin
•
Djokovic reaches first Grand Slam final
•
Garber: Recent history favors Novak
•
Men's final predictions
•
Ford, Garber chat wrap

Day 12
•
Henin, Kuznetsova to meet in women's final
•
Ford: Federer's greatest gift
•
Garber: Making the case for Henin, Kuznetsova
•
Chat wrap

•
Aspelin, Knowle win men's doubles title
Day 11
•
Men
•
Azarenka, Mirnyi win mixed doubles title
•
Garber: Late nights at the U.S. Open
•
Ford, Garber chat wrap

Day 10
•
Men
|
Women
•
Ford: Unclearable hurdle for Roddick?
•
Henin vs. Venus for all the marbles … in semis
•
Notebook: Russians to meet in semis
•
Ford, Garber chat wrap

Day 9
•
Men
|
Women
•
Garber: Sulking Serena
•
Garber: Hard courts hard on Nadal
•
Ford: A few good juniors
•
Gallery: Behind the scenes

•
Thacher has eyes on college
•
Chat wrap

Day 8
•
Men
|
Women
•
Garber: What we learned in Week 1
•
Page 2: Being Sharapova
•
Notebook: Venus-Jankovic moved to Wednesday
•
Deportes on Argentina's run
•
Week 1 gallery
•
Week 1 coverage
•
Preview coverage
Video

•
Jensen: Four for Federer
•
Lucky No. 7 for Henin
•
Youth vs. Experience in final
•
Collins final preview
•
Ford: Women's semis recap
•
Bud's breakdown
•
Men's Thursday preview
•
Federer defeats Roddick again
•
Jensen's semifinal preview
•
Venus discusses Serena's loss
•
Venus vs. Henin in semis
•
Serena short with media
•
Jensen: Federer-Roddick preview
•
A Few Good Juniors
•
Roddick rested
•
Blake had his chances
•
Bud Collins looks ahead to Week 2
•
Serena, Venus rolling
•
Sisters showing their strength
•
Bud Collins breakdown
•
Day of upsets
•
Day 6: Defending champ Sharapova ousted
•
Gentlemen Tim
•
Americans in action
•
Day 4
•
Day 4 preview
•
Venus wins with ease
•
Top 5 players to watch
•
Advantage Luke Jensen
•
Courier: How to play Federer
•
Bud Collins on Althea Gibson
•
McEnroe's preview
•
Roddick raring to go
•
Bud Collins preview
•
Pete Sampras interview:
Part I
|
Part II
Blogs
•
Bodo: Blood in the water
•
Bodo: Gentleman Tim
•
TENNIS.com: Rafa's biggest challenge
•
Bodo: The game's latest grinder
Podcasts

•
Isner-Federer preview
•
How far can Hingis go?
•
Go pro or go to school?
•
Nadal's knees
MOST SENT STORIES ON ESPN.COM