Commentary
Education to be continued on tour for Isner, Young
One week ago, John Isner and Donald Young were wild-card entries at the U.S. Open. Both served notice they can play at the highest level, and at the same time know they still have a lot to learn.
Updated:
September 1, 2007, 11:22 PM ET
By
Greg Garber
| ESPN.com
NEW YORK -- John Isner is still 12 credits shy of his speech communication degree at the University of Georgia. Donald Young earned his online high school diploma last year and might never go to college.
Still, on Saturday the two young and exceptionally able Americans got another firm lesson in their continuing education in professional tennis. They had worked their way into the third round of the draw here at the U.S. Open but -- after losing dramatic, well-played matches -- are left to contemplate their rising place in the game. Hard-serving, 6-foot-9 Isner delighted a raucous crowd at Arthur Ashe Stadium by taking the first set from No. 1-ranked
Roger Federer
, but reality quickly descended. Federer won 6-7 (4), 6-2, 6-4, 6-2. Likewise, Young won the opening set from veteran
Feliciano Lopez
, but he gradually lost his composure, and the match, 3-6, 6-3, 7-6 (5), 7-5. Their rankings are still outside the top 100, but Young, 18, and Isner, 22, seem destined to crack that barrier sometime next year. "Just to think that four months ago, I was unranked," Isner said. "Go from that to beating Roger Federer in a set, it's pretty cool. I know that I can play with the top guys in this game." Said Young: "I learned I can compete with the guys when I play well. When you're not playing well, you're not able to really compete with them."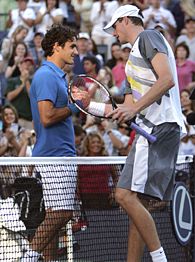 Julie Jacobson/AP PhotoAfter winning the first set, John Isner quickly found out why Roger Federer is the No. 1 player in the world.
In the nearly four years he has been a professional, Young had been winless at the ATP level (0-11), but he has won two of his past four matches, plus a walkover. His camp, obviously, thinks he has evolved into a big-time player. Although Young was scheduled to play his last junior tournament here starting Monday he withdrew from the event after his match. Warming up on Court 7 before the match, wearing a Georgia Bulldogs cap, Isner seemed focused and relaxed as he hit big serves across the net to his coach, Ricardo Acuna. A few hours later, he was still in a mellow groove, hitting 135-mph serves at a man with designs on his fourth consecutive U.S. Open title. But when Isner took a 5-4 lead in the first-set tiebreaker after Federer shanked a backhand, he responded with a fiery fist pump. Two unreturnable serves later, Isner owned the first set and the crowd rose to its feet and roared. "The feeling of beating Roger Federer in a set, sitting down, it was crazy," said Isner, who played an aggressive serve-and-volley game. "That, obviously, by far, was the most fun I've had playing a tennis match." "The more they screamed, the harder and more precise he served," Federer noted. "He definitely hit his lines. There was nothing you could do." Then Federer, who was facing his third straight opponent outside the top 100, shut down the party. He broke Isner's next two service games and made exactly zero unforced errors in the second and third sets. Zero. Isner never threatened Federer again, but he acquitted himself well in his first Grand Slam tournament. For context, consider that Federer had already won the first of his 11 Grand Slam singles titles by the time he turned 22. With 18 aces against Federer, Isner finished with a three-match total of 66. Federer declined several invitations to label Isner's serve the toughest he had ever faced -- he mentioned
Andy Roddick
-- but said it was similar. Federer was asked whether he thought players would solve Isner's big game over time. "No," Federer said. "I think he's always going to be tough to beat because of that serve. That serve is not going to go away anytime soon." Manuel Diaz, Isner's coach at Georgia, attended the match and later revealed that Isner was playing with a sore right hip and quad muscle. "John lost a little bit of his mobility," Diaz said. "After a while, he started going for too much because he couldn't move. "I was really proud of his level of tennis. Going forward, this exposure is going to help him a great deal." Practicing at Saddlebrook Resort in Tampa, Fla., with
James Blake
and
Mardy Fish
also should help Isner improve on his No. 184 ranking. He'll spend time with them later this month as a practice partner when the U.S. Davis Cup team visits Sweden for the semifinals. "Definitely, my game is going to improve," Isner said. "Even when I have lost this summer, I've been able to take away positive from it. My confidence is at an all-time high."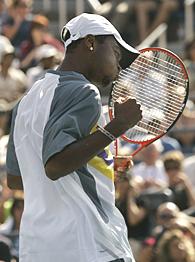 Kathy Willens/AP PhotoDonald Young has won two ATP-level matches in as many weeks after losing his first 11 on tour.
Young, too, felt good about his week at the National Tennis Center. "It was awesome to me," he said. "Third round of the U.S. Open, a tournament I've watched since I was little and always wanted to play in. "A couple of different points, the match could have changed the other way. I'm feeling confident right now. Best I've ever felt." Technically, Young was the longest shot left in the tournament; he was not only the youngest but the lowest-ranked (No. 223), as well. If he had won, he would have become the ninth-youngest male to win a main-draw match here, supplanting Andre Agassi and ranking right behind guys named Sampras and Wilander. Lopez, a 25-year-old Spaniard, is ranked No. 60 in the world and consistently has been one of the Tour's best left-handers. He's a far bigger hitter than Young, but the American is a shot-maker with terrific court presence. In the end, Lopez was more poised when it mattered most. At 18, Young is still a kid. When he's frustrated, you can see it in his body language. When he's angry, he throws his racket -- or worse. After losing the pivotal third-set tiebreaker, Young launched a ball in frustration that would have gone completely out of Louis Armstrong Stadium if someone in the top row hadn't reached up and caught it. "You shouldn't be doing that," said Young, eyes cast down like a scolded schoolboy. "It's something I shouldn't do. I was upset and frustrated. Just wanted to let it out." Wise opponents see these less-than-subtle signs and, when the opening presents itself, take advantage. As he gets older, Young will reveal less of himself, and his game will benefit.
Greg Garber is a senior writer for ESPN.com.
Writer, Reporter
Greg Garber joined ESPN in 1991 and provides reports for NFL Countdown and SportsCenter. He is also a regular contributor to Outside the Lines and a senior writer for ESPN.com.
SPONSORED HEADLINES
MORE TENNIS HEADLINES
MOST SENT STORIES ON ESPN.COM
2007 U.S. OPEN

Aug. 27-Sept. 9
ChampionsWomen:
Justine Henin
Men:
Roger Federer
USTA
•
Live scores
•&nbsp
Interactive draws
•&nbsp
Schedule of play
•
U.S. Open radio
•&nbsp
Photo galleries
•&nbsp
Press conferences
Day 14
•
Federer wins Open-era record fourth straight title
•
Garber: History on horizon for Federer
•
Ford: Djokovic just what men's game needs
•
Hawkins: Federer inside the numbers
•
Dechy, Safina capture U.S. Open doubles title
•
Chat wrap

Day 13
•
Ford: Fabulous end to Slam season for Henin
•
Djokovic reaches first Grand Slam final
•
Garber: Recent history favors Novak
•
Men's final predictions
•
Ford, Garber chat wrap

Day 12
•
Henin, Kuznetsova to meet in women's final
•
Ford: Federer's greatest gift
•
Garber: Making the case for Henin, Kuznetsova
•
Chat wrap

•
Aspelin, Knowle win men's doubles title
Day 11
•
Men
•
Azarenka, Mirnyi win mixed doubles title
•
Garber: Late nights at the U.S. Open
•
Ford, Garber chat wrap

Day 10
•
Men
|
Women
•
Ford: Unclearable hurdle for Roddick?
•
Henin vs. Venus for all the marbles … in semis
•
Notebook: Russians to meet in semis
•
Ford, Garber chat wrap

Day 9
•
Men
|
Women
•
Garber: Sulking Serena
•
Garber: Hard courts hard on Nadal
•
Ford: A few good juniors
•
Gallery: Behind the scenes

•
Thacher has eyes on college
•
Chat wrap

Day 8
•
Men
|
Women
•
Garber: What we learned in Week 1
•
Page 2: Being Sharapova
•
Notebook: Venus-Jankovic moved to Wednesday
•
Deportes on Argentina's run
•
Week 1 gallery
•
Week 1 coverage
•
Preview coverage
Video

•
Jensen: Four for Federer
•
Lucky No. 7 for Henin
•
Youth vs. Experience in final
•
Collins final preview
•
Ford: Women's semis recap
•
Bud's breakdown
•
Men's Thursday preview
•
Federer defeats Roddick again
•
Jensen's semifinal preview
•
Venus discusses Serena's loss
•
Venus vs. Henin in semis
•
Serena short with media
•
Jensen: Federer-Roddick preview
•
A Few Good Juniors
•
Roddick rested
•
Blake had his chances
•
Bud Collins looks ahead to Week 2
•
Serena, Venus rolling
•
Sisters showing their strength
•
Bud Collins breakdown
•
Day of upsets
•
Day 6: Defending champ Sharapova ousted
•
Gentlemen Tim
•
Americans in action
•
Day 4
•
Day 4 preview
•
Venus wins with ease
•
Top 5 players to watch
•
Advantage Luke Jensen
•
Courier: How to play Federer
•
Bud Collins on Althea Gibson
•
McEnroe's preview
•
Roddick raring to go
•
Bud Collins preview
•
Pete Sampras interview:
Part I
|
Part II
Blogs
•
Bodo: Blood in the water
•
Bodo: Gentleman Tim
•
TENNIS.com: Rafa's biggest challenge
•
Bodo: The game's latest grinder
Podcasts

•
Isner-Federer preview
•
How far can Hingis go?
•
Go pro or go to school?
•
Nadal's knees