Ferrer ousts Nadal, draws Chela in quarters; Djokovic, Moya to meet
Updated:
September 5, 2007, 2:47 AM ET
Associated Press
NEW YORK -- A worn-out Rafael Nadal winced and dropped to the court, sitting with legs stretched out and head bowed.
U.S. Open scores
Need results from the U.S. Open? Updates from every court and every match from USOpen.org: Scores
• Complete results
The No. 2-seeded Spaniard was moments away from a fourth-round loss at the U.S. Open to No. 15 David Ferrer, but far more surprising than the result was the mere sight of the indefatigable, irrepressible Nadal, down and out.
Nadal is a three-time French Open champion and a two-time Wimbledon finalist, but he has yet to solve the hard courts of Flushing Meadows, and Ferrer ran him ragged, winning 6-7 (3), 6-4, 7-6 (4), 6-2 in a match that ended at 1:50 a.m. Wednesday.
"I prefer not to speak about my body right now," Nadal said afterward, saying he thought it would sound as if he were making excuses. "He played very good and he beat me."
So much for a third consecutive Grand Slam final between Nadal and No. 1 Roger Federer.
"Sure there is disappointment for me, but that is tennis," Nadal said.
He wound up on the ground after failing to handle an on-the-run shot in the next-to-last game. Earlier in the fourth set, Nadal grimaced between points and sometimes reached down to grab his foot, as though it might have been cramping.
After missing a shot late in the third set, the left-hander flexed his racket hand repeatedly. Then, with Ferrer serving at 1-1, 40-30 in the fourth, Nadal called for a trainer and had him put some ice on that left finger.
Nadal injured his left knee during a practice session the day before the tournament began and considered withdrawing. He struggled through the first round, then looked much fitter in his next two matches.
He wore thick strips of white tape below both knees against Ferrer, but that didn't appear to be an issue this time.
Ferrer, however, was.
He leads the ATP in most returning statistics and on this night he broke Nadal seven times, including to go up 4-2 in the fourth set. He also matched Nadal's court coverage and big groundstrokes throughout, often ending points with a flick of his wrist and a loud grunt.
"To beat Rafa, I have to run a lot. Tonight is very special," Ferrer said.
The victory put Ferrer in his first U.S. Open quarterfinal, where he will meet No. 20 Juan Ignacio Chela. The other quarterfinal matches are No. 1 Federer vs. No. 5 Andy Roddick, No. 3 Novak Djokovic vs. No. 17 Carlos Moya and No. 4 Nikolay Davydenko vs. No. 10 Tommy Haas.
Nadal beat Federer in the past two French Open finals and lost to him in the past two Wimbledon finals but never has been past the quarterfinals at the U.S. Open.
The 25-year-old Ferrer, meanwhile, is headed to only the second Grand Slam quarterfinal of his career. The other came at the 2005 French Open, where he lost to -- guess who? -- eventual champion Nadal.
Nadal entered Tuesday having won four straight against his fellow Spaniard, but as the favorite said afterward about Ferrer: "He's a very good player. He's having an unbelievable season."
Early on, Ferrer was unsettled by the overhead video screens in Arthur Ashe Stadium, which sometimes show live shots during play. He complained a couple of times to the chair umpire, who had tournament referee Brian Earley come out to discuss it.
"It's unbelievable," Ferrer told Earley. "It's impossible to focus."
Earley explained to the player the screens would stay on.
"He said it was distracting him. This is his first time playing on this court, so you can understand it," Earley said. "But we're not turning it off."
Once Ferrer got used to the setting, he sparkled.
Meanwhile, Djokovic reached the U.S. Open quarterfinals for the first time by beating No. 23 Juan Monaco 7-5, 7-6 (2), 6-7 (6), 6-1 in a match that included the unusual sight of Monaco losing a point because a ball fell out of his shorts.
"I went nuts! I was cursing at me, I was yelling at my pants," Monaco said.
Monaco was serving while ahead 5-3 in the third-set tiebreak when the players settled into an extended baseline exchange. As Monaco whipped a shot, an extra yellow ball he had tucked away in case of a fault popped out of his pocket -- the second time it happened during the match. He stopped playing, dropped his racket, doubled over and screamed, knowing what was coming.
"Right away I knew I lost that point. It's very weird," Monaco said. "That sort of thing cannot happen twice in the same match."
Chair umpire Jake Garner had no choice.
"By rule," he announced, "he loses the point."
Djokovic gladly took it.
"I never had this situation in match," he said. "First-time experience that I got a point in that way. It was an important point."
That got Djokovic to 5-4, and he held a match point at 6-5. Monaco saved that with a service winner and eventually won that set. But Djokovic grabbed a 3-0 lead in the fourth set and wound up winning in 3 hours, 53 minutes.
A couple hours earlier, Djokovic was flat on the court, his face resting on a white towel, his back being massaged by a trainer. A few feet away, another trainer was attending to Monaco, who wanted his right elbow examined and his right ankle taped after a nasty fall while diving for a shot in the second set.
Djokovic held up better down the stretch, though, and he now faces Moya. The 31-year-old Moya is the oldest man still in the tournament; the player he beat 7-5, 6-2, 6-7 (5), 6-4 in the fourth round Tuesday, 19-year-old Ernests Gulbis of Latvia, was the youngest left.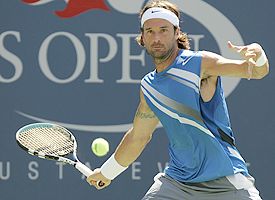 AP Photo/Kathy WillensCarlos Moya advanced to the U.S. Open quarterfinals for the first time since '98.
The Djokovic-Monaco marathon delayed the start of the night session and the most anticipated match of the day: Serena Williams against Justine Henin in a third consecutive Grand Slam quarterfinal. Henin defeated Williams 7-6 (3), 6-1.
Like Djokovic, Chela reached his first U.S. Open quarterfinal. Moya, however, has been there before -- although not since 1998.
"Still beating these young guys," Moya said. "I feel, like, 20 years old."
And Moya, a former No. 1 who won the 1998 French Open, was fresh right down the very end. On his second match point, both players wound up at the net, trading reflex volleys until Moya delivered a cross-court backhander that curled in to end it.
Moya rolled on his back and hopped up, arms raised.
"It was the best point of the match," Moya said. "I was a bit tired, a bit nervous."
It didn't show a bit against Gulbis, who went 4-2 at the majors and 0-10 at every other tournament in 2007.
More often than not, it was Gulbis who blinked first on lengthy points. Moya served spectacularly, facing only one break point all match. He earned 16 break points on Gulbis' serve, converting five.
They say statistics can be deceiving, and that was certainly the case in Chela's victory over Wawrinka.
Consider these numbers: Wawrinka won more points (145-142), produced far more clean winners (65-29) and even broke serve more often (8-7).
But it was Wawrinka who lost the most important point of all, the last one, with his 69th unforced error, 20 more than Chela accumulated.
As Chela walked to the net, smiling a wide smile, Wawrinka took everything out on his poor racket, violently cracking it twice on the court. As if that didn't mangle the tool of his trade enough, Wawrinka whacked the racket one more time as he walked off.
The 4-6, 6-2, 7-6 (6), 1-6, 6-4 victory was Chela's second in a row that went the distance; he was 1-8 for his career in five-setters until this tournament.
Chela trailed 2-0 in the last set before climbing all the way back. The secret to the Argentine's success?
"I didn't think too much," he said.
Wawrinka, meanwhile, was 8-0 in fifth sets at Grand Slam tournaments until Tuesday.
"He played well at the end of the fifth set," Wawrinka said, "so I think he deserved to win."

Copyright 2007 by The Associated Press
2007 U.S. OPEN

Aug. 27-Sept. 9
ChampionsWomen:
Justine Henin
Men:
Roger Federer
USTA
•
Live scores
•&nbsp
Interactive draws
•&nbsp
Schedule of play
•
U.S. Open radio
•&nbsp
Photo galleries
•&nbsp
Press conferences
Day 14
•
Federer wins Open-era record fourth straight title
•
Garber: History on horizon for Federer
•
Ford: Djokovic just what men's game needs
•
Hawkins: Federer inside the numbers
•
Dechy, Safina capture U.S. Open doubles title
•
Chat wrap

Day 13
•
Ford: Fabulous end to Slam season for Henin
•
Djokovic reaches first Grand Slam final
•
Garber: Recent history favors Novak
•
Men's final predictions
•
Ford, Garber chat wrap

Day 12
•
Henin, Kuznetsova to meet in women's final
•
Ford: Federer's greatest gift
•
Garber: Making the case for Henin, Kuznetsova
•
Chat wrap

•
Aspelin, Knowle win men's doubles title
Day 11
•
Men
•
Azarenka, Mirnyi win mixed doubles title
•
Garber: Late nights at the U.S. Open
•
Ford, Garber chat wrap

Day 10
•
Men
|
Women
•
Ford: Unclearable hurdle for Roddick?
•
Henin vs. Venus for all the marbles … in semis
•
Notebook: Russians to meet in semis
•
Ford, Garber chat wrap

Day 9
•
Men
|
Women
•
Garber: Sulking Serena
•
Garber: Hard courts hard on Nadal
•
Ford: A few good juniors
•
Gallery: Behind the scenes

•
Thacher has eyes on college
•
Chat wrap

Day 8
•
Men
|
Women
•
Garber: What we learned in Week 1
•
Page 2: Being Sharapova
•
Notebook: Venus-Jankovic moved to Wednesday
•
Deportes on Argentina's run
•
Week 1 gallery
•
Week 1 coverage
•
Preview coverage
Video

•
Jensen: Four for Federer
•
Lucky No. 7 for Henin
•
Youth vs. Experience in final
•
Collins final preview
•
Ford: Women's semis recap
•
Bud's breakdown
•
Men's Thursday preview
•
Federer defeats Roddick again
•
Jensen's semifinal preview
•
Venus discusses Serena's loss
•
Venus vs. Henin in semis
•
Serena short with media
•
Jensen: Federer-Roddick preview
•
A Few Good Juniors
•
Roddick rested
•
Blake had his chances
•
Bud Collins looks ahead to Week 2
•
Serena, Venus rolling
•
Sisters showing their strength
•
Bud Collins breakdown
•
Day of upsets
•
Day 6: Defending champ Sharapova ousted
•
Gentlemen Tim
•
Americans in action
•
Day 4
•
Day 4 preview
•
Venus wins with ease
•
Top 5 players to watch
•
Advantage Luke Jensen
•
Courier: How to play Federer
•
Bud Collins on Althea Gibson
•
McEnroe's preview
•
Roddick raring to go
•
Bud Collins preview
•
Pete Sampras interview:
Part I
|
Part II
Blogs
•
Bodo: Blood in the water
•
Bodo: Gentleman Tim
•
TENNIS.com: Rafa's biggest challenge
•
Bodo: The game's latest grinder
Podcasts

•
Isner-Federer preview
•
How far can Hingis go?
•
Go pro or go to school?
•
Nadal's knees
MOST SENT STORIES ON ESPN.COM