Commentary
Sullen Serena sent packing by Henin ... again
Contrary to what she said, Serena Williams was soundly beaten at her own game by top-seeded Justine Henin in the quarterfinals at the U.S. Open on Tuesday. So why was she so visibly perturbed after the match?
Updated:
September 5, 2007, 1:25 PM ET
By
Greg Garber
| ESPN.com
NEW YORK -- When you look past the barriers of language, style, size and shape, Serena Williams and Justine Henin aren't really all that different.
They both have been on the planet for a quarter-century and known the exquisite thrill of being the world's No. 1-ranked player. They have won more millions than they can count and collected 14 Grand Slam singles titles between them, with Williams holding an 8-6 edge. Before Tuesday night's U.S. Open quarterfinal match, they had met 11 times, and Williams' modest margin was 6-5. And, beyond the numbers, they have a history. Their misunderstandings of the past have been set aside, and today there seems to be a deep and abiding mutual respect. Not that they don't like to beat each other. To the contrary, they seem to savor it more than almost anything. On Tuesday, they collided again, and Henin, not surprisingly, was the emphatic winner, 7-6 (3), 6-1. The Belgian now has sent Williams home from the past three Grand Slams. Henin will play the winner of Wednesday night's match between Venus Williams and Jelena Jankovic in a Friday semifinal. After her loss Tuesday, in a halting, four-minute interview, Williams was as sullen as she has ever been in public. She said she would have skipped the mandatory session with the press but didn't want to pay the possible $10,000 fine. It would have been money well spent. More than anything, Williams was an exceptionally sore loser, perhaps a window to her consistently vast expectations versus the reality of her current situation. "I really don't feel like talking about it," Williams said. "I can't explain that [result] right now. "I just think she made a lot of lucky shots, and I made a lot of errors." Clearly, she was deeply disappointed, perhaps even demoralized. "No," she said sarcastically. "I'm very happy."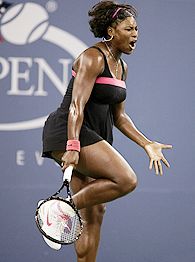 Timothy A. Clary/AFP/Getty ImagesSerena Williams couldn't convert a set point in the first against Justine Henin and it went all downhill from there.
Henin, in her post-match interview, might have best explained why Williams was so distraught. "Tactically, it was very clear in my head what I had to do," Henin said. "It's very important to do it from the first point to the end. She loves to have control of the rallies. She loves to be in the court. She doesn't like to be under pressure, especially on the forehand side." Another possibility: Williams never had lost a match to Henin on the hard courts that complement her game (she was 3-0). "There's nothing [negative] to say about my win today," Henin said. "She's at home. She expected a lot of things here. She had a lot of motivation. So that gives a lot of satisfaction." Make no mistake, Henin won this match more than Williams lost it. She was ruthlessly aggressive; both players approached net 14 times, but Henin won 11 points, compared to only five for Williams. There is a reason Henin is the world's No. 1 player and the top seed here, a chain of events that placed Williams down at No. 8. Although they each have a Grand Slam victory this year -- Williams won the Australian Open and Henin captured Roland Garros -- Henin has been having a far better 2007. She has won six of the 10 tournaments she's played and is a prodigious 48-4 on the year. Williams is 30-6, has won only two titles and lost nearly three times as many games as Henin (32 to 11) through the first four rounds here. Henin skipped the Australian Open this year to deal with her divorce from Pierre-Yves Hardenne. She surfaced in February and has built the best resume in women's tennis this year. Williams often has managed to rise above poor preparation and spotty form coming into an event, but it wasn't going to happen against Henin, who, happy and healthy, was a better player in the handful of points that mattered most. Did the recent lack of match play affect Williams adversely? "No," she said. "I don't think it affected me. I mean, I don't think it did. Maybe it did. "You guys, I think, watched it. Maybe you can analyze it better." Both players held a set point before the first-set tiebreaker, and both were visited by nerves when they attempted to close the deal. It went to a tiebreaker, the CliffsNotes of tennis, in which a dozen games are compressed into a similar number of points. Williams won the opening point, the most electric of the match, with a flying backhand volley winner down the line. That was pretty much it for her, though. Henin won three straight points -- with a deep service return, an ace down the middle and a gorgeous running forehand winner down the line. When a shaky Williams forehand found the net, the set and the match essentially were over. Henin won six of seven games in the second set and now has cobbled together another inspiring comeback story. The smallest player in the top 10, Henin has made a career of overcoming adversity. Why should his season be any different? "I proved so many things," she said. "I'm really proud of what I did this year. It's been great because I came back from a very tough situation personally. It was tough to come back professionally and just do my best -- and that's what I did. "I really had a lot of fun, and that's really important."
Greg Garber is a senior writer for ESPN.com.
Writer, Reporter
Greg Garber joined ESPN in 1991 and provides reports for NFL Countdown and SportsCenter. He is also a regular contributor to Outside the Lines and a senior writer for ESPN.com.
2007 U.S. OPEN

Aug. 27-Sept. 9
ChampionsWomen:
Justine Henin
Men:
Roger Federer
USTA
•
Live scores
•&nbsp
Interactive draws
•&nbsp
Schedule of play
•
U.S. Open radio
•&nbsp
Photo galleries
•&nbsp
Press conferences
Day 14
•
Federer wins Open-era record fourth straight title
•
Garber: History on horizon for Federer
•
Ford: Djokovic just what men's game needs
•
Hawkins: Federer inside the numbers
•
Dechy, Safina capture U.S. Open doubles title
•
Chat wrap

Day 13
•
Ford: Fabulous end to Slam season for Henin
•
Djokovic reaches first Grand Slam final
•
Garber: Recent history favors Novak
•
Men's final predictions
•
Ford, Garber chat wrap

Day 12
•
Henin, Kuznetsova to meet in women's final
•
Ford: Federer's greatest gift
•
Garber: Making the case for Henin, Kuznetsova
•
Chat wrap

•
Aspelin, Knowle win men's doubles title
Day 11
•
Men
•
Azarenka, Mirnyi win mixed doubles title
•
Garber: Late nights at the U.S. Open
•
Ford, Garber chat wrap

Day 10
•
Men
|
Women
•
Ford: Unclearable hurdle for Roddick?
•
Henin vs. Venus for all the marbles … in semis
•
Notebook: Russians to meet in semis
•
Ford, Garber chat wrap

Day 9
•
Men
|
Women
•
Garber: Sulking Serena
•
Garber: Hard courts hard on Nadal
•
Ford: A few good juniors
•
Gallery: Behind the scenes

•
Thacher has eyes on college
•
Chat wrap

Day 8
•
Men
|
Women
•
Garber: What we learned in Week 1
•
Page 2: Being Sharapova
•
Notebook: Venus-Jankovic moved to Wednesday
•
Deportes on Argentina's run
•
Week 1 gallery
•
Week 1 coverage
•
Preview coverage
Video

•
Jensen: Four for Federer
•
Lucky No. 7 for Henin
•
Youth vs. Experience in final
•
Collins final preview
•
Ford: Women's semis recap
•
Bud's breakdown
•
Men's Thursday preview
•
Federer defeats Roddick again
•
Jensen's semifinal preview
•
Venus discusses Serena's loss
•
Venus vs. Henin in semis
•
Serena short with media
•
Jensen: Federer-Roddick preview
•
A Few Good Juniors
•
Roddick rested
•
Blake had his chances
•
Bud Collins looks ahead to Week 2
•
Serena, Venus rolling
•
Sisters showing their strength
•
Bud Collins breakdown
•
Day of upsets
•
Day 6: Defending champ Sharapova ousted
•
Gentlemen Tim
•
Americans in action
•
Day 4
•
Day 4 preview
•
Venus wins with ease
•
Top 5 players to watch
•
Advantage Luke Jensen
•
Courier: How to play Federer
•
Bud Collins on Althea Gibson
•
McEnroe's preview
•
Roddick raring to go
•
Bud Collins preview
•
Pete Sampras interview:
Part I
|
Part II
Blogs
•
Bodo: Blood in the water
•
Bodo: Gentleman Tim
•
TENNIS.com: Rafa's biggest challenge
•
Bodo: The game's latest grinder
Podcasts

•
Isner-Federer preview
•
How far can Hingis go?
•
Go pro or go to school?
•
Nadal's knees
MOST SENT STORIES ON ESPN.COM