Commentary
Season's bragging rights on the line in semis
Justine Henin won the French Open. Venus Williams won Wimbledon. Now they will meet in the year's final Grand Slam -- but not in the final -- with the winner a heavy favorite to take home the U.S. Open title.
Updated:
September 6, 2007, 1:23 AM ET
By
Greg Garber
| ESPN.com
NEW YORK -- When the lilting strains of the theme song for Larry David's "Curb Your Enthusiasm" spilled out of the public address system at Arthur Ashe Stadium, the thought occurred:
Was the United States Tennis Association trying to send a subliminal -- and cautionary -- message to supporters of American tennis? Venus Williams, the final female homegrown product in the tournament, was losing the first set to Jelena Jankovic. Meanwhile, Andy Roddick, the last U.S. man, was awaiting his late match with Roger Federer, insecure in the knowledge that he had lost 13 of 14 career matches against the world's best player. Not to worry, fans, America lives on at the National Tennis Center in the willowy person of Williams, at least for another two days. On Wednesday, Williams rallied to defeat Jankovic in a quarterfinal match so taut it almost snapped, 4-6, 6-1, 7-6 (4). Jankovic, the 22-year-old Serbian player who has risen to No. 3 in the world unraveled in the ultimate tiebreaker by committing five unforced errors, then watched as Williams hammered two massive, swinging forehand volleys for the victory. Saying she was tired after "I played a lot of matches" this year, Jankovic added, "I was maybe a little bit excited" in the tiebreaker. "I felt really strong in the tiebreaker, I felt fresh," Venus said. "I stopped missing -- that helped. "I just went for it all the time, non-stop, and it paid off." We are now free to contemplate the delicious prospect of Friday's final between Williams and No. 1-ranked Justine Henin. What, you say the women's final is scheduled for Saturday? That's a mere formality. Friday's semifinal features the two women playing the best tennis here. The winner of Friday's other semifinal, between Anna Chakvetadze and Svetlana Kuznetsova, will be a distinct underdog.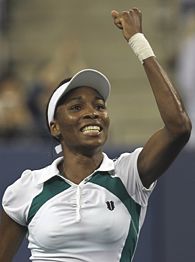 Darron Cummings/AP PhotoIt's a short drought, but Venus Williams is the first American woman to reach the U.S. Open semifinals since 2004.
The ball, then, is very much in Henin's court. The 2007 season on her racket. If she beats Williams and the surviving Russian, she will be the consensus Player of the Year. Henin's credentials, given a title here: • Two of the year's four Grand Slam singles championships, one more than either of the Williams sisters. • Seven titles in 11 events contested. By comparison, Jankovic, who has won a WTA-high 62 matches, has claimed only four of the 22 tournaments in which she's entered. • A searing match record of 50-4, far better than the 30-6 of next-best Serena Williams, whom she sent packing from a third consecutive Grand Slam. Henin is physically fresh -- not always a given for her at the U.S. Open -- and in a stable state of mind after a difficult start to the season; she skipped the Australian Open to deal with the divorce to her husband Pierre-Yves Hardenne. A victory here would give her two of the last three major titles. The 25-year-old Belgian has the chance to complete an exceedingly rare double, drumming both Williams sisters out of the same Grand Slam. Martina Hingis took out Serena 6-2, 3-6, 8-6 in the quarterfinals of the 2001 Australian Open, then blinded Venus 6-1, 6-1 in the semifinals. Six years later, Henin could achieve the same scenario. A title would be her seventh Grand Slam championship, one less than Serena's eight and one more than Venus. Of the three, who will finish their career with the most Grand Slams? Based on Henin's serial success at the French Open and her consistency in recent years, it wouldn't be a stretch to take the Belgian. But that is getting a bit ahead of things. There is the not-so-minor issue of Venus Williams. She happens to have won seven of eight career matches against Henin, including the last seven. And yet, they haven't met since Henin won the first of her six Grand Slams in 2003. "She's definitely improved," Williams said. "She does what it takes to win." It was a late-arriving crowd Wednesday evening; the Williams-Jankovic match felt like something of an appetizer to the Federer-Roddick main event. Both women are ruthless and relentless returners -- Williams with her wingspan and Jankovic with her wheels -- so the match seemed destined to come down to Jankovic's consistency and Williams' power. Could Williams win points before her ground strokes (forehand) broke down? Jankovic won the first set, backing up an opening-game break of Williams' serve with some gritty defensive play. The second set was a strange aberration, with Williams being broken to start then winning the next six games in a scant 29 minutes. With Jankovic holding a break point at 4-3 in the third, Williams ripped a forehand down the line and eventually saved the game. She kept her composure and willed herself to the tiebreaker most of the crowd of 23,000-plus ached to see. They got it, but it was anticlimactic. The Serb, who smiled throughout the match, buried her head in a pink changeover towel after she let it get away. Later, Jankovic said she was amused when commentators, before the fact, confidently predicted that Williams would win their match. "They were so sure that Venus was the favorite," Jankovic said. "They kept going, 'Venus will play Justine.' They already put me out, and I'd beaten her the last three times." Later, she concluded, "Maybe they were right. Now they can say they're right." Jankovic diplomatically declined to pick a winner in the Williams-Henin match. "Venus and Justine will be a great match," she said. "I think one of them will win the whole tournament."
Greg Garber is a senior writer for ESPN.com.
Writer, Reporter
Greg Garber joined ESPN in 1991 and provides reports for NFL Countdown and SportsCenter. He is also a regular contributor to Outside the Lines and a senior writer for ESPN.com.
2007 U.S. OPEN

Aug. 27-Sept. 9
ChampionsWomen:
Justine Henin
Men:
Roger Federer
USTA
•
Live scores
•&nbsp
Interactive draws
•&nbsp
Schedule of play
•
U.S. Open radio
•&nbsp
Photo galleries
•&nbsp
Press conferences
Day 14
•
Federer wins Open-era record fourth straight title
•
Garber: History on horizon for Federer
•
Ford: Djokovic just what men's game needs
•
Hawkins: Federer inside the numbers
•
Dechy, Safina capture U.S. Open doubles title
•
Chat wrap

Day 13
•
Ford: Fabulous end to Slam season for Henin
•
Djokovic reaches first Grand Slam final
•
Garber: Recent history favors Novak
•
Men's final predictions
•
Ford, Garber chat wrap

Day 12
•
Henin, Kuznetsova to meet in women's final
•
Ford: Federer's greatest gift
•
Garber: Making the case for Henin, Kuznetsova
•
Chat wrap

•
Aspelin, Knowle win men's doubles title
Day 11
•
Men
•
Azarenka, Mirnyi win mixed doubles title
•
Garber: Late nights at the U.S. Open
•
Ford, Garber chat wrap

Day 10
•
Men
|
Women
•
Ford: Unclearable hurdle for Roddick?
•
Henin vs. Venus for all the marbles … in semis
•
Notebook: Russians to meet in semis
•
Ford, Garber chat wrap

Day 9
•
Men
|
Women
•
Garber: Sulking Serena
•
Garber: Hard courts hard on Nadal
•
Ford: A few good juniors
•
Gallery: Behind the scenes

•
Thacher has eyes on college
•
Chat wrap

Day 8
•
Men
|
Women
•
Garber: What we learned in Week 1
•
Page 2: Being Sharapova
•
Notebook: Venus-Jankovic moved to Wednesday
•
Deportes on Argentina's run
•
Week 1 gallery
•
Week 1 coverage
•
Preview coverage
Video

•
Jensen: Four for Federer
•
Lucky No. 7 for Henin
•
Youth vs. Experience in final
•
Collins final preview
•
Ford: Women's semis recap
•
Bud's breakdown
•
Men's Thursday preview
•
Federer defeats Roddick again
•
Jensen's semifinal preview
•
Venus discusses Serena's loss
•
Venus vs. Henin in semis
•
Serena short with media
•
Jensen: Federer-Roddick preview
•
A Few Good Juniors
•
Roddick rested
•
Blake had his chances
•
Bud Collins looks ahead to Week 2
•
Serena, Venus rolling
•
Sisters showing their strength
•
Bud Collins breakdown
•
Day of upsets
•
Day 6: Defending champ Sharapova ousted
•
Gentlemen Tim
•
Americans in action
•
Day 4
•
Day 4 preview
•
Venus wins with ease
•
Top 5 players to watch
•
Advantage Luke Jensen
•
Courier: How to play Federer
•
Bud Collins on Althea Gibson
•
McEnroe's preview
•
Roddick raring to go
•
Bud Collins preview
•
Pete Sampras interview:
Part I
|
Part II
Blogs
•
Bodo: Blood in the water
•
Bodo: Gentleman Tim
•
TENNIS.com: Rafa's biggest challenge
•
Bodo: The game's latest grinder
Podcasts

•
Isner-Federer preview
•
How far can Hingis go?
•
Go pro or go to school?
•
Nadal's knees
MOST SENT STORIES ON ESPN.COM