Djokovic beats Moya; Ferrer cruises past Chela
Updated:
September 7, 2007, 12:00 AM ET
Associated Press
NEW YORK -- When the tennis was done, the fun began.
U.S. Open scores
Need results from the U.S. Open? Updates from every court and every match from USOpen.org: Scores
• Complete results
As hilarious after his U.S. Open quarterfinal victory as he was good during it Thursday night, Novak Djokovic stayed on court and treated an appreciative audience to his spot-on impersonations of Maria Sharapova and Rafael Nadal.
It was a scene most likely never before seen at a Grand Slam tennis tournament -- or any sporting event of any significance, for that matter. First Djokovic did Sharapova, hopping behind the baseline the way she does, bouncing the ball the way she does, pretending to tuck strands of hair behind his ears and capping it off by doing a perfect rendering of the two-time major champion's serve.
Next, Djokovic did his take on Nadal, sprinting the way he does, even yanking at the back of his shorts the way the three-time French Open champ does.
The act, prompted by USA Network's postmatch reporter, was the most entertaining portion of Thursday's activity in Arthur Ashe Stadium -- and showed, without a shadow of a doubt, that Djokovic is poised to become tennis' next star. He is already a hit on YouTube, where his imitations of fellow pros are posted.
The No. 3-seeded Djokovic's game is quite impressive, too, as he demonstrated in reaching a third consecutive Grand Slam semifinal by beating No. 17 Carlos Moya 6-4, 7-6 (7), 6-1.
"I'm really happy that the people accept it in a positive way. I'm not trying to make fun of Maria or Rafa or anybody else," Djokovic said. "Just trying to make the people laugh and have a good time, you know, trying to enjoy the tennis on the court and off the court as well."
Moya caught some of the postmatch show.
"It's funny. He does it very well. That's a gift," Moya said. "If he doesn't succeed in tennis, he has a career in that."
Djokovic's pre-serve routine requires attention, too. When he faced a set point in the tiebreak, for example, he kept dribbling the ball, 28 times in all.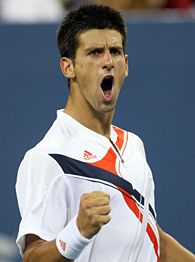 EMMANUEL DUNAND/AFP/Getty ImagesNovak Djokovic reached his third consecutive Grand Slam semifinal.
Eventually, he tossed the ball overhead -- and hit a fault. Before his second serve, Djokovic cut his total to 13 bounces, hit a 113 mph offering and won the point.
"This is just a matter of concentration. I'm trying to really focus and not irritate anybody. Sorry if I'm a bit annoying," Djokovic said. "The thing is, I want to stay longer on this court, so that's why I'm bouncing more and more."
Unlike at the French Open, where he lost to No. 2 Nadal, and at Wimbledon, where he stopped because of an injury while losing to Nadal, Djokovic will finally face a different foe.
In Saturday's semifinals, he'll meet No. 15 David Ferrer -- who just happens to be the man who ran Nadal ragged in the Open's fourth round. Ferrer reached his first major semifinal by beating No. 20 Juan Ignacio Chela 6-2, 6-3, 7-5 on Thursday.
Against Chela, Ferrer kept up his surprising run -- and it turns out he hasn't been eating as well as he's been playing. It was a far shorter and less taxing match than in the previous round, when Ferrer was on court until nearly 2 a.m. while stunning Nadal.
After that rousing victory, the biggest of his career, Ferrer had a hard time finding something for dinner. So he wound up eating a fast-food burger.
"Yeah, really, at 4:15, my coach and me walk into the McDonald's," Ferrer said.
He leads the ATP in most major returning categories, and he was up to his usual tricks against Chela, compiling 16 break points. That count was already up to 12 by the time Chela earned his first break chance on Ferrer's serve.
Chela converted it to take a 2-0 lead in the second set -- and then promptly got broken right back when he sailed a forehand wide.
"That," Chela acknowledged, "was my only real chance."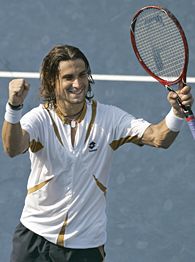 Elise Amendola/AP PhotoDavid Ferrer (pictured) had lost both of his previous matches against Juan Ignacio Chela.
Before seeing off Nadal, Ferrer escaped a match point against 2002 Wimbledon runner-up David Nalbandian in the third round.
"The last three matches is my best tennis," Ferrer said. "For me, it's unbelievable."
Top-ranked Roger Federer is in his record 14th Grand Slam semifinal in a row and plays No. 4 Nikolay Davydenko on Saturday. Federer is 9-0 against Davydenko and hasn't fared too poorly against the semifinalists on the other side of the draw -- he's 7-0 against Ferrer, 4-1 against Djokovic.
Djokovic's one victory over Federer came in their most recent meeting, in the final of a hard-court tournament in Montreal last month. It was at that event that Djokovic became the first man since 1994 to defeat men ranked Nos. 1-3 at the same tournament.
That counted as Djokovic's breakthrough moment. It also gave him four titles in 2007, and his 57 match wins through Thursday rank second only to Nadal.
Federer took Thursday off, skipping practice and resting, a day after improving to 14-1 against 2003 U.S. Open champion Andy Roddick by beating him in straight sets.
There was an all-around more subdued vibe in Arthur Ashe Stadium on Thursday, a sort of hangover effect following up on Wednesday's electric atmosphere for the Federer-Roddick and Venus Williams-Jelena Jankovic matches.
It didn't help that Djokovic and Moya were hardly at their best, combining for only 16 winners and 30 unforced errors in the first set.
Djokovic, though, was just better enough throughout. In the tiebreak, he erased Moya's set point and then converted his second, bouncing the ball 23 times before hitting a 123 mph serve that set up a forehand winner.
Djokovic broke to start the third set, and that was pretty much that against Moya, a former No. 1 who won the 1998 French Open.
"If there's one player who can be compared to Rafa and Roger it's him," Moya said. "He can still improve, but he has a lot of potential to be No. 1 in the world."
Djokovic is still only 20 -- and he has a keen sense of what his sport needs to attract more fans.
"They're looking for a good tennis player and a player with a lot of emotions and a lot of temperament and personality," the Serb said. "I'm really happy that the people are looking at me in that way and are talking positive things about me."

Copyright 2007 by The Associated Press
2007 U.S. OPEN

Aug. 27-Sept. 9
ChampionsWomen:
Justine Henin
Men:
Roger Federer
USTA
•
Live scores
•&nbsp
Interactive draws
•&nbsp
Schedule of play
•
U.S. Open radio
•&nbsp
Photo galleries
•&nbsp
Press conferences
Day 14
•
Federer wins Open-era record fourth straight title
•
Garber: History on horizon for Federer
•
Ford: Djokovic just what men's game needs
•
Hawkins: Federer inside the numbers
•
Dechy, Safina capture U.S. Open doubles title
•
Chat wrap

Day 13
•
Ford: Fabulous end to Slam season for Henin
•
Djokovic reaches first Grand Slam final
•
Garber: Recent history favors Novak
•
Men's final predictions
•
Ford, Garber chat wrap

Day 12
•
Henin, Kuznetsova to meet in women's final
•
Ford: Federer's greatest gift
•
Garber: Making the case for Henin, Kuznetsova
•
Chat wrap

•
Aspelin, Knowle win men's doubles title
Day 11
•
Men
•
Azarenka, Mirnyi win mixed doubles title
•
Garber: Late nights at the U.S. Open
•
Ford, Garber chat wrap

Day 10
•
Men
|
Women
•
Ford: Unclearable hurdle for Roddick?
•
Henin vs. Venus for all the marbles … in semis
•
Notebook: Russians to meet in semis
•
Ford, Garber chat wrap

Day 9
•
Men
|
Women
•
Garber: Sulking Serena
•
Garber: Hard courts hard on Nadal
•
Ford: A few good juniors
•
Gallery: Behind the scenes

•
Thacher has eyes on college
•
Chat wrap

Day 8
•
Men
|
Women
•
Garber: What we learned in Week 1
•
Page 2: Being Sharapova
•
Notebook: Venus-Jankovic moved to Wednesday
•
Deportes on Argentina's run
•
Week 1 gallery
•
Week 1 coverage
•
Preview coverage
Video

•
Jensen: Four for Federer
•
Lucky No. 7 for Henin
•
Youth vs. Experience in final
•
Collins final preview
•
Ford: Women's semis recap
•
Bud's breakdown
•
Men's Thursday preview
•
Federer defeats Roddick again
•
Jensen's semifinal preview
•
Venus discusses Serena's loss
•
Venus vs. Henin in semis
•
Serena short with media
•
Jensen: Federer-Roddick preview
•
A Few Good Juniors
•
Roddick rested
•
Blake had his chances
•
Bud Collins looks ahead to Week 2
•
Serena, Venus rolling
•
Sisters showing their strength
•
Bud Collins breakdown
•
Day of upsets
•
Day 6: Defending champ Sharapova ousted
•
Gentlemen Tim
•
Americans in action
•
Day 4
•
Day 4 preview
•
Venus wins with ease
•
Top 5 players to watch
•
Advantage Luke Jensen
•
Courier: How to play Federer
•
Bud Collins on Althea Gibson
•
McEnroe's preview
•
Roddick raring to go
•
Bud Collins preview
•
Pete Sampras interview:
Part I
|
Part II
Blogs
•
Bodo: Blood in the water
•
Bodo: Gentleman Tim
•
TENNIS.com: Rafa's biggest challenge
•
Bodo: The game's latest grinder
Podcasts

•
Isner-Federer preview
•
How far can Hingis go?
•
Go pro or go to school?
•
Nadal's knees