Commentary
'Motivation is bigger than ever' for Roger Federer
What might be Roger Federer's greatest gift to tennis? Bonnie D. Ford writes that Federer is so dominant that he has forced the rest of the field to try and get better. And that's made the men's game more exciting.
Updated:
September 7, 2007, 9:18 PM ET
By
Bonnie D. Ford
| Special to ESPN.com
NEW YORK -- He is maddening, he is admirable, and these days, Roger Federer is admirably maddening in his ability to impose his will on an entire sport.
As Federer sword fights his way toward a fourth straight U.S. Open championship and seemingly inevitable 12th Grand Slam title, there are times when it resembles fiction -- perhaps a scene from the "Lord of The Rings" trilogy, when Aragorn, his similarly rakish hair flying in battle mode, wades into an army of orcs and slays dozens of them without being dinged. It's not true to life, but Federer does it anyway, with no help from computer-generated imagery. Federer's recent biography by Swiss journalist Rene Stauffer is subtitled "Quest for Perfection." Those whose job it is to chronicle Federer's evolution are currently on a different quest -- the quest for fresh adjectives to describe him. "What we're seeing right now is unprecedented in men's tennis -- the level of his dominance in these matchups in the top 10," said commentator and four-time Grand Slam winner Jim Courier. "Right now, to think that the No. 4 player in the world is 0-and-9 against him, and the No. 5 player is 1-and-14, is just scary." Since the 26-year-old Federer is literally peerless, a critical part of anyone's game plan against him now is simply avoiding utter competitive despair, Courier said. "I see a lot of doubt that's been well-earned by Roger, that he's created with his racket and his results," Courier said. "There's a high level of frustration and a sense of defeat. But sometimes a professional athlete's job is to not accept reality. You have to be in denial." Still, Federer's contemporaries have recalibrated their expectations, not only for a given match, but for what they can hope to accomplish in the next few seasons. "It's still a long way to the first place of the world even though I'm third in the world," 20-year-old Serbian sensation
Novak Djokovic
said after defeating Federer in the final of the Rogers Cup in Montreal last month. "I can't exactly say that I'm thinking about becoming a No. 1 next year [or] in two years." Djokovic, who could face Federer in the final here in Flushing Meadows, and Argentina's
Guillermo Canas
are the only two men to have beaten Federer on the hard courts this season. Federer's routine humbling of the rest of the field for the past few years raises the old, petulant question about whether excellence is boring.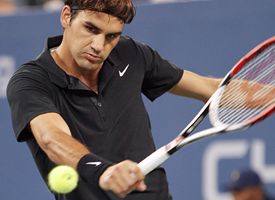 Emmanuel Dunand/Getty ImagesYou have to go back to the 2004 French Open to find the last time Roger Federer did not reach the semifinal of a Grand Slam.
One person who remains notably riveted is Federer himself. That's part of his secret. The fact that
Rafael Nadal
has Federer's number on clay in general and in the French Open in particular helps keep Federer interested, but he also doesn't mind mowing down a few patsies in early rounds. "I think he likes to win easily," said biographer Stauffer, who has known Federer since the world No. 1 was a teenager. "I see him now economizing the way he wins, waiting three or four games and then doing what's necessary to get the [service] break he needs. "His motivation is bigger than ever. It's something astonishing for me. He's talking now about trying to play until he's 35. He's not really driven by records -- he just can't get enough of tennis. He stays up late and watches other guys playing on TV. He's really just a tennis nut." If anyone's eyes glaze over at the thought of Federer carrying on for nearly another decade, maybe it's just a matter of looking at the landscape through a different filter. Remember not so long ago when everyone was predicting doom for the men's game because it was all about thermonuclear serves and short points? People called that boring, too. Now elite players are lining up to take their best shot at Federer, and they've had to raise and diversify their games to do that. Without Federer, would
Andy Roddick
have tried to come out of his comfort zone and hone his volleying? Would Nadal be gunning for a Wimbledon title? "He's made everybody better -- just not good enough to beat him," said Tennis Magazine senior editor Tom Perrotta.

There's really not a game plan against him. Just got to go out there and hope you're playing out of your mind.
A smart young player with a big serve like newly minted pro John Isner, who pickpocketed a set off Federer in their third-round match, will surely benefit from that pressure.
"There's really not a game plan against him," Isner remarked afterward. "Just got to go out there and hope you're playing out of your mind." Isner was understandably in happy-to-be-there land. But if he wants to progress as a pro, he'll figure out that it pays to walk onto the court knowing what he wants to do and having the will to execute it, as Roddick demonstrated the other night. "I would have loved to hear Jimmy Connors' speech to Andy before that [quarterfinal] match, because whatever it was, it must have been incredibly effective," Courier said. "What would I have said? Be remorseless, have conviction in your points, let them fly and see where they fall. He's a superior player, but he's still human and he'll have off days." Not many lately. One measure of Federer's near-hypnotic grip on the game was in evidence Thursday night even though he was nowhere near Arthur Ashe Stadium. Djokovic had just finished entertaining the crowd after his quarterfinal win with his uproarious slapstick impersonations of Nadal and Maria Sharapova. A reporter wanted to know whether there was anyone he thought he couldn't mimic. "Well, the untouchable one, Roger," Djokovic said. "He's too perfect for my style. I cannot." So don't resent Federer. He can't help it if he's beautiful.
Bonnie D. Ford is a frequent contributor who is covering the U.S. Open for ESPN.com.
Enterprise and Olympic Sports
Bonnie D. Ford is a senior writer for ESPN.com.
2007 U.S. OPEN

Aug. 27-Sept. 9
ChampionsWomen:
Justine Henin
Men:
Roger Federer
USTA
•
Live scores
•&nbsp
Interactive draws
•&nbsp
Schedule of play
•
U.S. Open radio
•&nbsp
Photo galleries
•&nbsp
Press conferences
Day 14
•
Federer wins Open-era record fourth straight title
•
Garber: History on horizon for Federer
•
Ford: Djokovic just what men's game needs
•
Hawkins: Federer inside the numbers
•
Dechy, Safina capture U.S. Open doubles title
•
Chat wrap

Day 13
•
Ford: Fabulous end to Slam season for Henin
•
Djokovic reaches first Grand Slam final
•
Garber: Recent history favors Novak
•
Men's final predictions
•
Ford, Garber chat wrap

Day 12
•
Henin, Kuznetsova to meet in women's final
•
Ford: Federer's greatest gift
•
Garber: Making the case for Henin, Kuznetsova
•
Chat wrap

•
Aspelin, Knowle win men's doubles title
Day 11
•
Men
•
Azarenka, Mirnyi win mixed doubles title
•
Garber: Late nights at the U.S. Open
•
Ford, Garber chat wrap

Day 10
•
Men
|
Women
•
Ford: Unclearable hurdle for Roddick?
•
Henin vs. Venus for all the marbles … in semis
•
Notebook: Russians to meet in semis
•
Ford, Garber chat wrap

Day 9
•
Men
|
Women
•
Garber: Sulking Serena
•
Garber: Hard courts hard on Nadal
•
Ford: A few good juniors
•
Gallery: Behind the scenes

•
Thacher has eyes on college
•
Chat wrap

Day 8
•
Men
|
Women
•
Garber: What we learned in Week 1
•
Page 2: Being Sharapova
•
Notebook: Venus-Jankovic moved to Wednesday
•
Deportes on Argentina's run
•
Week 1 gallery
•
Week 1 coverage
•
Preview coverage
Video

•
Jensen: Four for Federer
•
Lucky No. 7 for Henin
•
Youth vs. Experience in final
•
Collins final preview
•
Ford: Women's semis recap
•
Bud's breakdown
•
Men's Thursday preview
•
Federer defeats Roddick again
•
Jensen's semifinal preview
•
Venus discusses Serena's loss
•
Venus vs. Henin in semis
•
Serena short with media
•
Jensen: Federer-Roddick preview
•
A Few Good Juniors
•
Roddick rested
•
Blake had his chances
•
Bud Collins looks ahead to Week 2
•
Serena, Venus rolling
•
Sisters showing their strength
•
Bud Collins breakdown
•
Day of upsets
•
Day 6: Defending champ Sharapova ousted
•
Gentlemen Tim
•
Americans in action
•
Day 4
•
Day 4 preview
•
Venus wins with ease
•
Top 5 players to watch
•
Advantage Luke Jensen
•
Courier: How to play Federer
•
Bud Collins on Althea Gibson
•
McEnroe's preview
•
Roddick raring to go
•
Bud Collins preview
•
Pete Sampras interview:
Part I
|
Part II
Blogs
•
Bodo: Blood in the water
•
Bodo: Gentleman Tim
•
TENNIS.com: Rafa's biggest challenge
•
Bodo: The game's latest grinder
Podcasts

•
Isner-Federer preview
•
How far can Hingis go?
•
Go pro or go to school?
•
Nadal's knees
MOST SENT STORIES ON ESPN.COM