Commentary
No pressure on Kuznetsova in Saturday's final
Justine Henin beat Serena and Venus Williams in straight sets, and in back-to-back rounds, at the U.S. Open. Does Svetlana Kuznetsova stand a chance against the top seed in Saturday's final?
Updated:
September 7, 2007, 9:17 PM ET
By
Greg Garber
| ESPN.com
NEW YORK -- OK, we know this looks bad.
Justine Henin -- who has yet lose so much as a set at this year's U.S. Open -- is 14-2 lifetime against Svetlana Kuznetsova. When they meet in Saturday night's U.S. Open final, there won't be a lot of support for Kuznetsova's chances. However, as we speak the Russian is just as close to collecting her second U.S. Open title as Henin. Below are the arguments that can be made on the behalf of each player: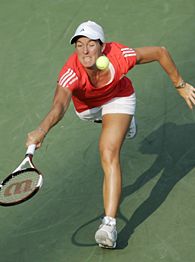 Julie Jacobson/AP PhotoJustine Henin is back in the U.S. Open final for the second straight year.
Justine Henin
In the chaotic world of women's tennis, Justine Henin remains a constant, the enduring monument to consistency. Her pet peeve is people who are chronically late and, rest assured, she is always on point and on time. Her arrival into the final at the 2007 U.S. Open is just another example. A year ago, Venus Williams wasn't even playing in this event. Kuznetsova and Anna Chakvetadze both lost in the fourth round. Henin? She was in the final, losing 6-4, 6-4 to Maria Sharapova. This time, though, she'll finish with a flourish. "I've been playing very well on hard court, but no major, so I hope I can make it," Henin said after beating Williams in Friday's semifinals, 7-6 (2), 6-4. "It would be a big mistake to think that I did the hardest work because tomorrow is going to be the big day, and I hope I can be in my best shape to do it." Henin is already ranked No. 1 in the world and her lead on the field will only increase when she wins her seventh Grand Slam singles title on Saturday night. She is the smallest player ranked in the top 10, but she has the biggest heart. When the draw was announced, it did not look good for the 25-year-old Belgian. Not only did she have both Williams sisters in her half, but No. 3 seed Jelena Jankovic and No. 5 Ana Ivanovic as well. All Henin did was stare down the field and surgically work her way to the final. She is only the second woman to beat Venus and Serena in the same Grand Slam tournament, following Martina Hingis' example in the 2001 Australian Open. Despite missing the Australian Open, Henin has rallied to become the best player among the women. In beating the Williams sisters, she has personally taken them out of the race for player of the year. Regardless of what happens at the year-end championship in Madrid, her two Grand Slams, tour-leading seven titles and the best match-winning percentage make her the only choice for that honor. Henin is a crazy 14-2 against Kuznetsova, crazy because they will be ranked No. 1 and No. 2 in the world come Monday. Henin, based on that track record, will make it 15 out of 17. After her sloppy display against Chakvetadze in the semifinals, there is no reason to think otherwise. Henin is happy and hyphen-less, having dealt with the divorce from her husband, Pierre-Yves Hardenne. She is healthy, too. "I'm really proud of what I've done this year," she said after beating Serena in the quarterfinals. "I came back from a very tough situation personally. It was tough to come back professionally and just do my best, and that's what I did." She has never been more confident, she has never been better. Give her the trophy and, finally, give her the due she deserves. Svetlana Kuznetsova
The rise of the Serbians -- the small, war-torn country currently has landed three players inside the men's and women's top five -- has obscured the surprising and continued success of the Russians. While Nikolay Davydenko and Novak Djokovic both made the men's semifinals, creating a one-one wash for Russia and Serbia, Jelena Jankovic and Ana Ivanovic were nowhere to be seen. Instead of the two Serbian seeds (Nos. 3 and 5), there were two Russians -- Svetlana Kuznetsova and Anna Chakvetadze -- banging around in the nonglamorous semifinal on Friday. When Kuznetsova defeated Chakvetadze 3-6, 6-1, 6-1 -- in an admittedly grotesque match -- Russia had its eighth female Grand Slam finalist in the past four years. Now, can Kuznetsova actually beat Henin, the overwhelming favorite? Why not? First of all, there's no pressure. With all eyes on the Justine Henin-Venus Williams semifinal, no one was giving this Russian a chance. Playing free and fluidly is a big advantage. After an atrocious first set, Kuznetsova settled down and won 12 of the final 13 games -- an impressive turnaround. That's some
serious
momentum. Second, isn't it quite plausible that Henin will experience something of a letdown after beating both Williams sisters in the last two rounds? You bet. And don't discount the extra couple hours of rest; while Williams and Henin were still going at it, Kuznetsova was probably enjoying a massage and a nice meal. Third, despite the head-to-head numbers, there is a ray of hope here. Kuznetsova may have lost 14 of 16 matches to Henin, but their last meeting actually went to Kuznetsova. That's right, after an 0-for-10 streak Kuznetsova surprised Henin 6-4, 5-7, 6-4 earlier this year in Berlin. And then there is the not-so-small issue of experience at the U.S. Open. Kuznetsova, it should be noted, has won the U.S. Open more recently than Henin, in 2004. That year, she beat Lindsay Davenport in the semifinals and fellow Russian Elena Dementieva in the final. It was the first (and only) Grand Slam for Kuznetsova and it carried her into the top five for the first time. After a drop to No. 18 in 2005, she is again playing the kind of tennis that makes her an elite player. "Now I realize how much effort it took me to be here again," she said. "I went through difficult times." No one gives her much of a chance, but she will come into the prime-time final believing she can do it. The fact that no one else does will help drive her to her second Grand Slam title.
Greg Garber is a senior writer for ESPN.com.
Writer, Reporter
Greg Garber joined ESPN in 1991 and provides reports for NFL Countdown and SportsCenter. He is also a regular contributor to Outside the Lines and a senior writer for ESPN.com.
2007 U.S. OPEN

Aug. 27-Sept. 9
ChampionsWomen:
Justine Henin
Men:
Roger Federer
USTA
•
Live scores
•&nbsp
Interactive draws
•&nbsp
Schedule of play
•
U.S. Open radio
•&nbsp
Photo galleries
•&nbsp
Press conferences
Day 14
•
Federer wins Open-era record fourth straight title
•
Garber: History on horizon for Federer
•
Ford: Djokovic just what men's game needs
•
Hawkins: Federer inside the numbers
•
Dechy, Safina capture U.S. Open doubles title
•
Chat wrap

Day 13
•
Ford: Fabulous end to Slam season for Henin
•
Djokovic reaches first Grand Slam final
•
Garber: Recent history favors Novak
•
Men's final predictions
•
Ford, Garber chat wrap

Day 12
•
Henin, Kuznetsova to meet in women's final
•
Ford: Federer's greatest gift
•
Garber: Making the case for Henin, Kuznetsova
•
Chat wrap

•
Aspelin, Knowle win men's doubles title
Day 11
•
Men
•
Azarenka, Mirnyi win mixed doubles title
•
Garber: Late nights at the U.S. Open
•
Ford, Garber chat wrap

Day 10
•
Men
|
Women
•
Ford: Unclearable hurdle for Roddick?
•
Henin vs. Venus for all the marbles … in semis
•
Notebook: Russians to meet in semis
•
Ford, Garber chat wrap

Day 9
•
Men
|
Women
•
Garber: Sulking Serena
•
Garber: Hard courts hard on Nadal
•
Ford: A few good juniors
•
Gallery: Behind the scenes

•
Thacher has eyes on college
•
Chat wrap

Day 8
•
Men
|
Women
•
Garber: What we learned in Week 1
•
Page 2: Being Sharapova
•
Notebook: Venus-Jankovic moved to Wednesday
•
Deportes on Argentina's run
•
Week 1 gallery
•
Week 1 coverage
•
Preview coverage
Video

•
Jensen: Four for Federer
•
Lucky No. 7 for Henin
•
Youth vs. Experience in final
•
Collins final preview
•
Ford: Women's semis recap
•
Bud's breakdown
•
Men's Thursday preview
•
Federer defeats Roddick again
•
Jensen's semifinal preview
•
Venus discusses Serena's loss
•
Venus vs. Henin in semis
•
Serena short with media
•
Jensen: Federer-Roddick preview
•
A Few Good Juniors
•
Roddick rested
•
Blake had his chances
•
Bud Collins looks ahead to Week 2
•
Serena, Venus rolling
•
Sisters showing their strength
•
Bud Collins breakdown
•
Day of upsets
•
Day 6: Defending champ Sharapova ousted
•
Gentlemen Tim
•
Americans in action
•
Day 4
•
Day 4 preview
•
Venus wins with ease
•
Top 5 players to watch
•
Advantage Luke Jensen
•
Courier: How to play Federer
•
Bud Collins on Althea Gibson
•
McEnroe's preview
•
Roddick raring to go
•
Bud Collins preview
•
Pete Sampras interview:
Part I
|
Part II
Blogs
•
Bodo: Blood in the water
•
Bodo: Gentleman Tim
•
TENNIS.com: Rafa's biggest challenge
•
Bodo: The game's latest grinder
Podcasts

•
Isner-Federer preview
•
How far can Hingis go?
•
Go pro or go to school?
•
Nadal's knees