Commentary
Djokovic someone even American fans can get behind
Novak Djokovic might not have won the U.S. Open, but he could not have picked a better city -- or time -- to introduce himself to the rest of the world.
Updated:
September 10, 2007, 10:53 AM ET
By
Bonnie D. Ford
| Special to ESPN.com
NEW YORK -- Men's tennis cried out for two things when the 2007 season began: a player to challenge Roger Federer and Rafael Nadal, and a personality to fill the vacuum left by Andre Agassi's retirement. Most players would have been daunted by the help wanted ad.
Seeking attractive, articulate, multi-lingual player with a keen sense of humor and obvious joy in his work. Appealing family and struggles in early years preferred. Must be capable of reaching late rounds of Grand Slam events. Ability to attract celebrities to his player's box for big matches a plus.
Then, out of a country much of the world associated with war and sadness, came
Novak Djokovic
, who seemed to fill the bill in every way. Djokovic first auditioned for the role this spring in Indian Wells, Calif., where he was runner-up to Nadal, and Miami, where he won his first major tournament. He solidified his grip on it by reaching the French Open semifinals along with two similarly charismatic Serbian women in the distaff draw, and further asserted himself by beating Federer in the final at Montreal. Although he couldn't conquer Federer in Sunday's U.S. Open final, Djokovic managed to do something nearly as tricky -- he put his personality on the line in the entertainment capital of the world, and New York bought it. "If you have to pick one place in the world to do it, I think this was the place," said his manager, Benito Perez Barbadillo. It wasn't just about the impersonations of Nadal and Maria Sharapova the other night, although they sent the sellout crowd away happy and apparently didn't displease Sharapova, who sat in Djokovic's family box Sunday, along with actor Robert DeNiro and his wife. Djokovic makes every match ready for prime time whether it's day or night, by letting a full range of emotions play across his face and inviting the fans to share in whatever drama is going on at the moment. How much more tense could it get than holding a set point against the best player in the world, whacking a forehand that appears to tick the line, and having it called out? Yet as he considered challenging the call, Djokovic looked not to his box, as many players do, but to the fans nearest the baseline. He lost by the width of one of the impossibly straight, shiny hairs on his head. It wasn't the first or last critical point Djokovic let slip off his strings in this match, yet even that became grist for rueful wit in his post-match press conference.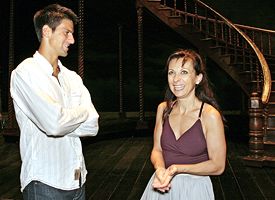 AP Photo/Metropolitan Opera, Ken HowardNovak Djokovic picked the right city to introduce himself to the world. On the eve of the U.S. Open semifinals, he was out on the town, meeting French soprano Natalie Dessay at the Metroploitan Opera.
"My next book is going to be called 'Seven Set Points,'" Djokovic said. But he quickly returned to the more poignant subject of competitive regret. "Right now I would dress up and go to the court and play this 40-love point," he said, in a way that almost made you expect to see him exit, stage right. Is it fair to expect this 20-year-old from Serbia to satisfy the collective craving for a player who turns tennis into performance art? "I think he can do both," said his Slovakian coach, Marian Vajda. "He knows he can stay [at the top] for many years. He wants to enjoy his life, besides the hard work of tennis." Many of the sport's livelier characters have been tantrum-throwers, flakes, or guys who were comedians off the court but all business once they got there. Djokovic's combination of self-deprecating wit and talent is a rare one, especially in someone his age. It speaks to perspective and uncommon maturity, and our guess is that it started at home, with hard-working parents who were supportive without being smothering. "We are the family who likes to smile," said his mother, Dijana, and that was obvious Sunday or any other day she and her husband show up to cheer on their son. Djokovic clearly has a gift for mimicry. That probably came in handy for a young boy hungry to learn technique and toughness, and it will continue to be useful as he does the tweaking he needs tactically and psychologically to take the final steps up the ladder. Not even two hours after the match, he already had absorbed some of the reasons Federer has been able to win 12 of 14 Slam finals. He called himself "mentally weaker" without even a flicker of embarrassment. "To come in that situation, he had to work a lot," Djokovic said. "He had to wait. It cannot happen right away. Time is very valuable and time is experience. He has much more experience than I have." As the old sports cliché goes, Djokovic might be No. 3 on the ATP charts, but he is concluding the Grand Slam season with a legitimate claim to No. 1 in a lot of hearts. If his play and his stage presence continue along the same upward trajectory, he might not have very long to wait to be promoted from understudy to leading man.
Bonnie D. Ford is a frequent contributor who is covering the U.S. Open for ESPN.com.
Enterprise and Olympic Sports
Bonnie D. Ford is a senior writer for ESPN.com.
2007 U.S. OPEN

Aug. 27-Sept. 9
ChampionsWomen:
Justine Henin
Men:
Roger Federer
USTA
•
Live scores
•&nbsp
Interactive draws
•&nbsp
Schedule of play
•
U.S. Open radio
•&nbsp
Photo galleries
•&nbsp
Press conferences
Day 14
•
Federer wins Open-era record fourth straight title
•
Garber: History on horizon for Federer
•
Ford: Djokovic just what men's game needs
•
Hawkins: Federer inside the numbers
•
Dechy, Safina capture U.S. Open doubles title
•
Chat wrap

Day 13
•
Ford: Fabulous end to Slam season for Henin
•
Djokovic reaches first Grand Slam final
•
Garber: Recent history favors Novak
•
Men's final predictions
•
Ford, Garber chat wrap

Day 12
•
Henin, Kuznetsova to meet in women's final
•
Ford: Federer's greatest gift
•
Garber: Making the case for Henin, Kuznetsova
•
Chat wrap

•
Aspelin, Knowle win men's doubles title
Day 11
•
Men
•
Azarenka, Mirnyi win mixed doubles title
•
Garber: Late nights at the U.S. Open
•
Ford, Garber chat wrap

Day 10
•
Men
|
Women
•
Ford: Unclearable hurdle for Roddick?
•
Henin vs. Venus for all the marbles … in semis
•
Notebook: Russians to meet in semis
•
Ford, Garber chat wrap

Day 9
•
Men
|
Women
•
Garber: Sulking Serena
•
Garber: Hard courts hard on Nadal
•
Ford: A few good juniors
•
Gallery: Behind the scenes

•
Thacher has eyes on college
•
Chat wrap

Day 8
•
Men
|
Women
•
Garber: What we learned in Week 1
•
Page 2: Being Sharapova
•
Notebook: Venus-Jankovic moved to Wednesday
•
Deportes on Argentina's run
•
Week 1 gallery
•
Week 1 coverage
•
Preview coverage
Video

•
Jensen: Four for Federer
•
Lucky No. 7 for Henin
•
Youth vs. Experience in final
•
Collins final preview
•
Ford: Women's semis recap
•
Bud's breakdown
•
Men's Thursday preview
•
Federer defeats Roddick again
•
Jensen's semifinal preview
•
Venus discusses Serena's loss
•
Venus vs. Henin in semis
•
Serena short with media
•
Jensen: Federer-Roddick preview
•
A Few Good Juniors
•
Roddick rested
•
Blake had his chances
•
Bud Collins looks ahead to Week 2
•
Serena, Venus rolling
•
Sisters showing their strength
•
Bud Collins breakdown
•
Day of upsets
•
Day 6: Defending champ Sharapova ousted
•
Gentlemen Tim
•
Americans in action
•
Day 4
•
Day 4 preview
•
Venus wins with ease
•
Top 5 players to watch
•
Advantage Luke Jensen
•
Courier: How to play Federer
•
Bud Collins on Althea Gibson
•
McEnroe's preview
•
Roddick raring to go
•
Bud Collins preview
•
Pete Sampras interview:
Part I
|
Part II
Blogs
•
Bodo: Blood in the water
•
Bodo: Gentleman Tim
•
TENNIS.com: Rafa's biggest challenge
•
Bodo: The game's latest grinder
Podcasts

•
Isner-Federer preview
•
How far can Hingis go?
•
Go pro or go to school?
•
Nadal's knees
MOST SENT STORIES ON ESPN.COM